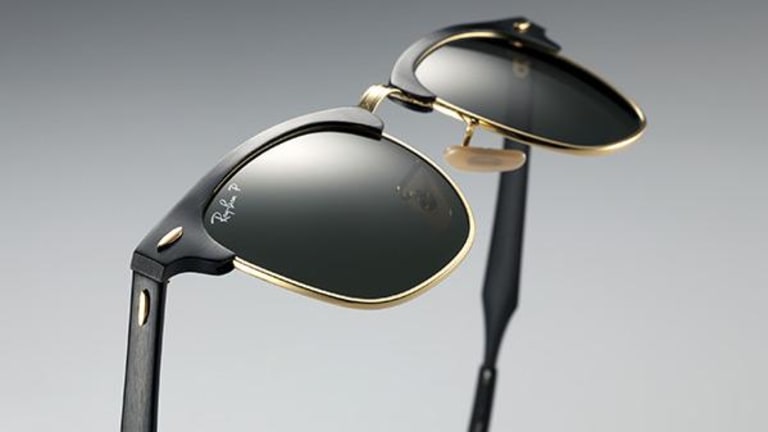 Essilor Says $49 Billion Luxottica Deal On Track as it Posts Solid Q4 Results
The world's biggest lens maker posted a slim consensus beat on earnings and said sales should grow 3% to 5% next year.
France's Essilor (ESLOY) the world's biggest eye lens maker, posted a 4% increase in operating profit for 2016 and said revenues should grow between 3% and 5% this year, giving investors in Italian frames maker Luxottica (LUX) little reason to question the logic of the companies' €46 billion all share merger.
Essilor said Friday that operating profit was €1.32 billion over 2016, up from €1.26 billion in 2015, on sales of €7.12 billion, up 5.9% year-on-year. Earnings per share were €3.79, up 6.2%.
Essilor Chairman and CEO Hubert Sagnieres said that preparations for the merger with Luxottica, announced in January, were on track and the deal was still expected to close in the second half of the year. "We are going to present resolutions in May (at Essilor's annual shareholder meeting), said Sagnieres in a presentation to analysts. "The situation is moving forward successfully as the companies' separate teams work on anti-trust filings. The process has been smooth."
Essilor shares rose more 1% in early trading on Friday before the wider fall in European stock markets caught up with the stock, dragging it lower to €108.40, down €0.25.
Sales in the fourth quarter of €1.81 billion was a slim 1% above consensus analyst forecasts, while second half net profit of €397 million was 2.4% ahead of consensus.
"We view fourth quarter/ second half 2016 as broadly in-line, which given the stock's meaningful underperformance in the last six months (-730 basis points vs EU Medtech) is likely to be seen as a modest positive," noted Goldman Sachs analysts. "That said, the FY17 (revenues) guidance only captures (our) estimates at the top-end, and the lack of margin expansion in 2017 may raise some questions."
Growth should accelerate in the second half of the year as new corrective lens products are launched and as the company expands it sun-wear range and online eye care product sales, according to Essilor
Essilor on Jan. 16 said it will swap 0.461 of a newly issued share for each Luxottica share, in a deal that will create the world's largest eyewear company with combined revenues of over €15 million. Luxottica is the world's-largest eyewear company, with brands including Oakley, Oliver Peoples, Persol and Ray-Ban. The Italian group also operates over 7,000 stores, including Sunglass Hut and the optical businesses of Sears (SHLD) and Target (TGT) - Get Target Corporation Report .
The deal has the support of Luxottica founder Leonardo Del Vecchio, who owns 61.9% of the Italian group and will be the combined operations largest shareholder with a 31% to 38% stake.
"Essilor really had to get closer to consumers so the Essilor and Luxottica deal makes perfect strategic sense and we should feel its effects in 2017 and 2018," said Sagnieres  

Essilor will propose an annual dividend of €1.50 per share, an increase of 35.1% compared with 2015.