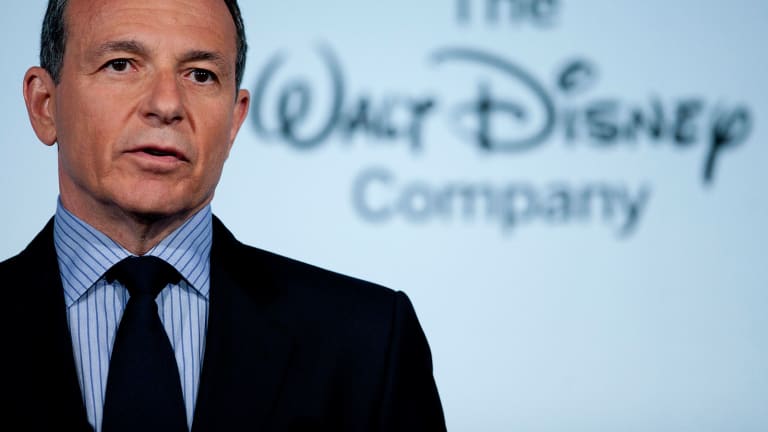 Eric Jackson: Disney's CEO Bob Iger Needs to Talk Straight
There have been questions about how Disney will fare in a world of streaming and cord-cutting. CEO Bob Iger isn't adding any clarity, either, says RealMoney's Eric Jackson.
After Star Wars had a record opening, Bob Iger, the CEO of Disney (DIS) - Get Walt Disney Company Report went on Bloomberg TV last Monday to take a bow. And he was allowed to, mostly.
Iger was asked, however, about an unnamed analyst -- in fact it was Rich Greenfield of BTIG -- who had recently turned negative on the stock and downgraded it to a $90 price target on Friday Dec. 18.
The call looks smart now. Disney was down 4.5% in the week following the release of the new blockbuster that will likely pass Avatar as the biggest grossing film ever.
Iger's comments about Greenfield -- who was never mentioned by name by either him or the TV hosts -- were odd, as he suggested that the analyst had been consistently wrong before on his Disney calls. Therefore, why should anyone believe him now? Iger asked rhetorically: "Where's the accountability for these analyst guys?"
Greenfield's calls on Disney's stock, in fact, have been pretty accurate, as he tweeted out later in the day.
I'm no Greenfield apologist. He hasn't always been right. I remember seeing him on CNBC's "Squawk Box"after the August media stock massacre and he was challenged by Joe Kernan about being negative on Disney. Greenfield advised not shorting Disney then. That might have been a right call then, based on timing and valuation, but it's the call he's now made in December. 
But, let's face it, Iger lashing out at Greenfield irrationally makes him look bad and Greenfield look good. Just what is Iger worried about?
Greenfield's points apparently are hitting the mark. That was demonstrated by Iger's reaction and lack of details in responding to his critics with any specifics about how and when they will go direct-to-consumer without upsetting his cable and satellite partners.
It would be nice to see Iger have to answer some specific questions about just how he will respond to the issues facing his business. It's not enough to just make statements about a mature business like it will still grow well in the future.
Editor's Note: This article was originally published at 1:00 PM EST on Real Money on Dec. 28, 2015.
At the time of publication Jackson had no shares in any stocks mentioned, but positions are subject to change.