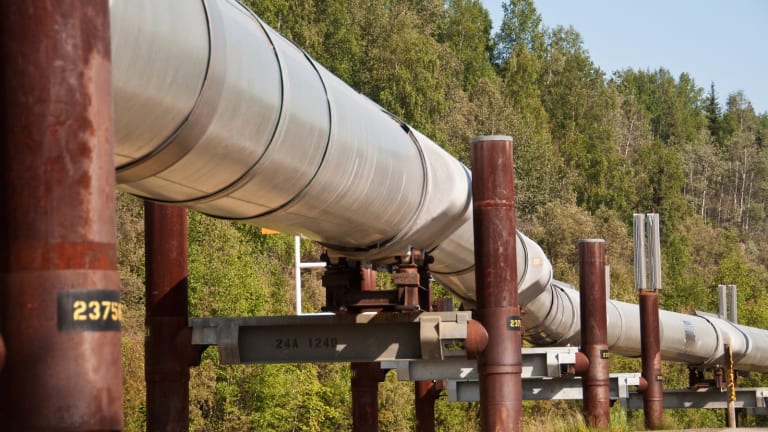 Publish date:
Energy Transfer, Sunoco Sell Pipeline Stake to Marathon, Enbridge for $2 Billion
The deal is a good solution to ETP's financing overhang but the reduction in cash flow doesn't help its stretched distribution profile, analysts say.
The deal is a good solution to ETP's financing overhang but the reduction in cash flow doesn't help its stretched distribution profile, analysts say.
Energy Transfer Partners (ETP) and Sunoco Logistics Partners (SXL) said late Tuesday that they agreed to sell 36.75% of their Bakken pipeline project in the Rockies to MarEn Bakken Co. LLC, a unit of Enbridge Energy Partners (EEP) and Marathon Petroleum (MPC) - Get Marathon Petroleum Corporation (MPC) Report , for $2 billion in cash.
ETP expects the sale to close in the third quarter, when it will receive $1.2 billion and SXL will get $800 million.
The Bakken pipeline entities already arranged a $2.5 billion financing facility to fund the remaining capital needed to complete the project, so ETP and SXL plan to use the proceeds to pay down debt and help fund their current growth projects. All the owners of the project will contribute whatever capital is needed to complete the project based on the size of their stakes, they said.
A unit of MPC has committed to participate in a forthcoming Dakota Access/Energy Transfer Crude Oil Pipeline open season and make a long-term volume commitment on the Bakken project. A new open season is expected to be launched in the third quarter.
Bakken Holdings  Co. LLC, a joint venture between ETP and SXL, owns a 75% interest in Dakota Access LLC and Energy Transfer Crude Oil Co. LLC, or ETCO, which are developing and will own and operate the project.
The project consists of 1,172 miles of new 30-inch diameter crude oil pipeline from North Dakota to Patoka, Ill., and more than 700 miles of pipeline converted to crude service from Patoka to Nederland, Texas.
Bakken Holdings is selling 49% of its 75% interest in Dakota Access and ETCO. The remaining 25% of Dakota Access and ETCO is owned by units of Phillips 66 (PSX) - Get Phillips 66 Report .
ETP and SXL will end up with 38.25% of the project while MarEn will hold 36.75% and PSX will have 25%. ETP continues to oversee construction, which is expected to be completed by year-end, and SXL will operate it.
MPC said separately it will own 25% of the new joint venture with Enbridge and will hold around 9.2% of the pipeline system in exchange for its $500 million investment.
"This system is planned to provide cost-effective access to Bakken crude oil production for the Midwest and Gulf Coast, which will increase MPC's refinery supply flexibility," MPC chairman, CEO and president Gary Heminger said in the statement. "In addition, MPC's equity-ownership interest in these major pipelines will make a significant contribution toward the company's plan to grow its midstream logistics business."
MPC added that it and Enbridge agreed to cancel MPC's transportation services agreement related to the Sandpiper project and liquidate MPC's indirect ownership interest in North Dakota Pipeline Co. LLC. The move would cancel MPC's commitment to fund any more construction costs for that project, for which it's already contributed $301 million, resulting in an impairment review of the carrying value of the investment in the third quarter.

Heminger said MPC's investment in the Bakken Pipeline system substantially reduces the company's expected capital investment in North Dakota crude oil-related pipelines.
Analysts at Tudor, Pickering, Holt said the deal is a solid solution to ETP's financing overhang but the reduction in cash flow "does little to help ETP's stretched distribution profile."
The Dakota Access pipeline is expected to deliver more than 470,000 barrels per day of crude oil from the Bakken/Three Forks production area in North Dakota to market centers in the Midwest. The pipeline will provide shippers with access to Midwestern refineries, potential unit-train rail loading facilities to facilitate deliveries to East Coast refineries and the Gulf Coast market.
The Energy Transfer Crude Oil pipeline, through an interconnection in Patoka, Ill., with Dakota Access, will provide crude oil transportation service from the Midwest to SXL and Phillips 66 storage terminals in Nederland, Texas.
Brian McCabe, John Ciolek and Chris Ludwig of Credit Suisse Securities (USA) LLC and Corey Brown, Bob Thomas, Brian Rose, Geoff Schultz, Adam Nalley and Matt Savage of Porter Hedges LLP advised ETP and SXL.