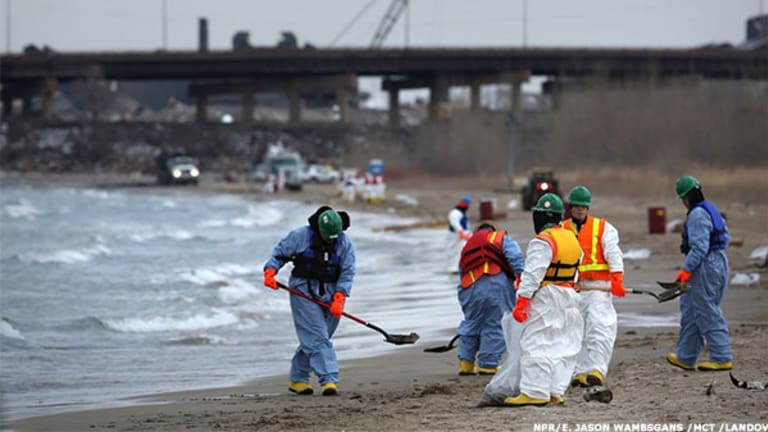 Energy Transfer's Pipeline Spill Problem Is Causing It Another Headache
Should Energy Transfer's checkered environmental record be of concern to shareholders?
After blitzing through Ohio's wetlands, Energy Transfer Equity (ETE)  is once again facing a problem of its own making: pipeline construction delays. 
Until recently, the company's subsidiary Energy Transfer Partners (ETP) has defied long odds and analyst expectations in its rush to complete its new giant, Rover, a $4 billion, 713-mile natural gas pipeline designed to deliver natural gas from the Marcellus Shale to markets in the northeast.
But the storyline shifted in April after the company spilled 2 million gallons of drilling fluid near the Tuscarawas River. Following the spill, the Federal Energy Regulatory Commission halted new horizontal drilling on the project. FERC then opened an investigation into the spill in June after diesel was detected in samples collected from the spill site.
The halt in horizontal drilling, a type of drilling that is necessary for the project to be completed, turns into a near-impossibility the longshot bid to complete the project on time and raises questions about whether Energy Transfer's checkered environmental record should be of concern to the company's shareholders.
The parent company's share price is down 11% since FERC's halt order. ALPS Alerian MLP (AMLP) , an exchange-traded fund that includes substantial holdings of Energy Transfer as well as other MLPs, fell only 4% in the same period.
While the Rover pipeline will carry natural gas, not hazardous liquids -- and the drilling fluid that leaked April 13 is considered non-toxic -- Energy Transfer stands out among its peers for both the frequency and amount of its hazardous liquid leaks, a metric for pipeline safety.
According to TheStreet's analysis of government data compiled by the Pipeline and Hazardous Materials Safety Administration, Energy Transfer has spilled hazardous liquids near water crossings more than twice as frequently as any other pipeline company in the country this decade.
The company has spilled hazardous liquids five times near water crossings since 2010 when PHMSA started collecting detailed data. The company's spills account for almost 20% of all hazardous liquid spills near water crossings since 2010, primarily because of a 55,000-gallon gasoline spill in 2016 near the Susquehanna River in Lycoming County, Pennsylvania. TheStreet only included onshore spills in its analysis, and included subsidiary companies.
Since 2010, the company has spilled hazardous liquids 204 times in all, ranking only behind Enterprise Products Partners LP (EPD) and Magellan Midstream Partners LP (MMP) , according to TheStreet's tally.
"Energy Transfer seems to have an approach where they stick to the minimum requirements instead of exceeding them," Genscape natural gas analyst Colette Breshears said. "It's the culture of how these projects are being done."
Alexis Daniel, an Energy Transfer spokesperson, said in an email that Breshear's claim was "incorrect information."
"Not only does Energy Transfer Partners adhere to the approved regulatory standards, but it is always Energy Transfer Partners' priority to go above and beyond when building pipelines and is a common practice on all projects," she said. "For example on Rover, the pipeline route will be flown every ten days, weather permitting, versus every 14 days which is the current requirement, for visual inspection of the pipeline."
Rover has said there is no evidence that the diesel found at the April 13 spill is related to Rover's drilling activities, and the Ohio EPA has said the spill does not present an imminent threat to human safety or the environment. Pipelines are considered by experts to be the safest way to transport natural gas.
"It is important to note this is a common and normal component of executing directional drilling operations," ETE said in a statement following the April 13 spill. The company added that bentonite is a common ingredient in household products such as sugar, honey, baby powder, laundry detergents and hand soap.
In any case, ETE is now in a precarious position. Breshears said that new horizontal drilling on the project could take six to eight weeks to complete once FERC allows the company to proceed. On May 25, FERC denied Rover's request to re-open two drill sites -- including Captina Creek in southeastern Ohio, which will be essential for the project's completion.
Lined up behind Energy Transfer are two other major pipelines seeking to deliver to the same market. 
DTE Energy  (DTE) and Enbridge (ENB) have submitted a proposal to FERC to build a 255-mile natural gas pipeline called Nexus that would run almost parallel to Rover, while TransCanada (TRP) has proposed lowering its rates into the Northeast to remain competitive.
Michael Weinstein, an analyst at Credit Suisse, said that some people believe there is not enough demand for all 3 pipelines -- there is doubt about whether there will be enough demand for 2 -- but added that he thought it was likely that TransCanada, which is sourcing its gas from thousands of miles away, would bear the brunt of a demand shortage. 
Though ETE's spokesperson said Wednesday, June 14 that the company is sticking to its July deadline to begin service, Breshears said it's unlikely the company will be able to commence full service until September, burdening the company with serious delay in a competitive market. Genscape has been flying over the pipeline's path each month to photograph the route and chart Rover's progress.
The company, which boasts one of the most widely held stocks in the U.S., has a history of attracting negative headlines for its projects. Its share price fell almost 30% last year as protesters threatened to delay construction of the controversial Bakken oil play pipeline in North Dakota, also known as the Dakota Access Pipeline. That saga hasn't ended either. On Wednesday, U.S. District Judge James Boasberg ordered further environmental review of the project, which may suspend its operations.
The surprise election of President Donald Trump sent the company's share price to new highs, peaking March 31, when the company met its federally mandated deadline for tree removal on the Rover project. Since then, however, the stock has slid more than 15% amid the construction delay and a proposed fine from the Ohio EPA of almost $1 million. Alerian, the MLP fund, fell 6% in the same period.
To be sure, a $1 million fine or a delay of several months would be a drop in the bucket for a company with a $17 billion market capitalization and $370 million in cash and cash equivalents on the balance sheet as of March 31. But the company continues to face headline-risk, unlimited potential liability for serious environmental issues and competitors who can build while avoiding the same hazards.
After all, the construction problems Energy Transfer has faced haven't challenged other Ohio pipeline builders to the same degree.
"Other pipelines in Ohio are not having similar environmental issues," Ohio EPA spokesman James Lee said.
Lee said that TransCanada unit Columbia Pipeline Group's Leach Xpress, a smaller pipeline under construction in Ohio that faces similar technical constraints to Rover, has not run into major environmental issues.
In an email, Lee said he knew of two spills -- of 5 and 10 gallons -- that were "cleaned up with a vacuum and shovel." In comparison, Rover has had seven spills, including four that were at least 1,000 gallons.
Credit Suisse's Weinstein said the Nexus pipeline proposed by DTE and Enbridge is unlikely to have environmental challenges similar to Rover's. After Rover's April spill, he said he asked DTE and Enbridge if they were at risk of a similar spill. The companies told him they believed they were in "no danger" of a similar incident because they used different techniques, he said.
A spokesperson for Enbridge said in an email that the company is "committed to a strict program of environmental compliance with our project plans, permits, and regulatory requirements." Nexus and Rover both require horizontal drilling.
FERC spokeswoman Tamara Young-Allen said in an email that an exact comparison between the two pipelines was impossible, noting that the pipelines are "distinct and different projects that cross different resources and in differing locations." She declined to comment on the status of the investigation into the April 13 spill.
A spokesperson from Energy Transfer said she could not comment on Nexus's construction techniques, but that "the techniques we are using are industry best practices for the construction."
In filings with the SEC, the company has said it has financial reserves in place to cover costs related to environmental liabilities.
"Historically, our environmental compliance costs have not had a material adverse effect on our results of operations, but there can be no assurance that such costs will not be material in the future," the company wrote.
--This story was originally published June 15.