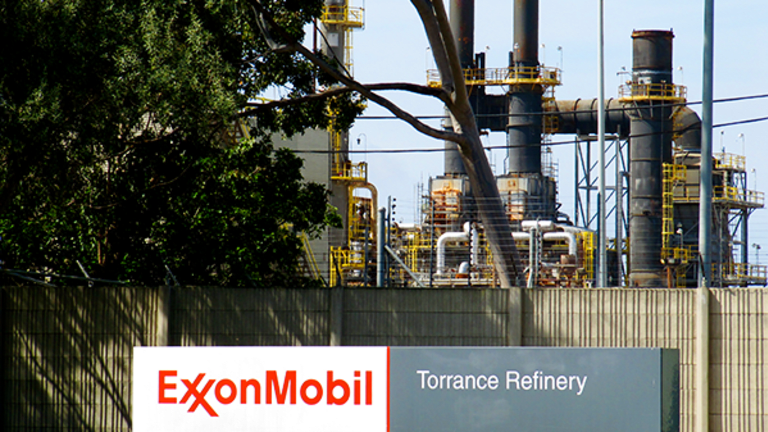 Exxon Hits 52-Week Low and Breaks Below $80 as NY Official Suggests Firm Misled Investors
Ugly week for oil.
Exxon (XOM) - Get Report shares led major U.S. energy stocks lower on Friday, breaking below $80 and setting a new 52-week low for the second consecutive day as news that New York authorities suggested the firm misled investors about the role climate change will play in its business. U.S. energy stocks fell on Friday as oil continued a slide that began when OPEC disappointed the market with more modest than expected production cuts and Exxon shares stand at a 52-week low following the company's most contentious annual meeting in years.
New York Attorney General Eric Schneiderman on Friday alleged in court papers that Exxon may have misled investors about how much climate change would likely affect its business, saying that it had one metric it made public but another metric it used for internal decision-making. Schneiderman said in the filing that tExxon's practices amount to what "may be a sham."
Exxon shares fell 1.7% to $79.32, its lowest level in 52 weeks.
The iShares Energy Select Sector Spyder XLE, the ETF that tracks the energy sector, shed 1.2% to $65.05.
Global crude prices fell sharply Friday on concerns Donald Trump's decision to leave the Paris Accord on climate change could spark increased drilling and production rates from American oil companies. Trump pledged to quit the nearly-200 nation agreement on the campaign trail, but after his election hope surged that he might change his mind. Prices have already been under pressure in recent days on worries over a global supply imbalance.
West Texas Intermediate crude was down 1.3% to $47.72, coming off earlier lows.
In addition, an activist shareholder proposal seeking to have Exxon produce a report on the impacts of "technological advances" and "climate change policy" on its oil and gas reserves received the backing of a majority of participating shares at the company's annual meeting Wednesday, May 31, a major blow to the energy behemoth and one that suggests it will need to respond in some way in the coming weeks.
The proposal is nonbinding, which means Exxon is under no obligation to implement any changes in response to shareholder support. Nevertheless, the strong showing of support could embarrass the oil and gas titan into producing a detailed report or taking other actions.
"This is an unprecedented victory for investors in the fight to ensure a smooth transition to a low carbon economy," said New York State Comptroller Thomas DiNapoli in a statement. "Climate change is one of the greatest long-term risks we face in our portfolio and has direct impact on the core business of ExxonMobil."
Click here for the latest business headlines.
Read More Trending Articles:
Why We Might Not See Another Nasty Recession Until 2024
Biotech Movers: Synergy Pharmaceuticals Explodes 15%, and Bluebird Bio May Be Next
Jim Cramer -- Canada Goose and Workday Are Killing It, and Critics Have Now Stopped Laughing