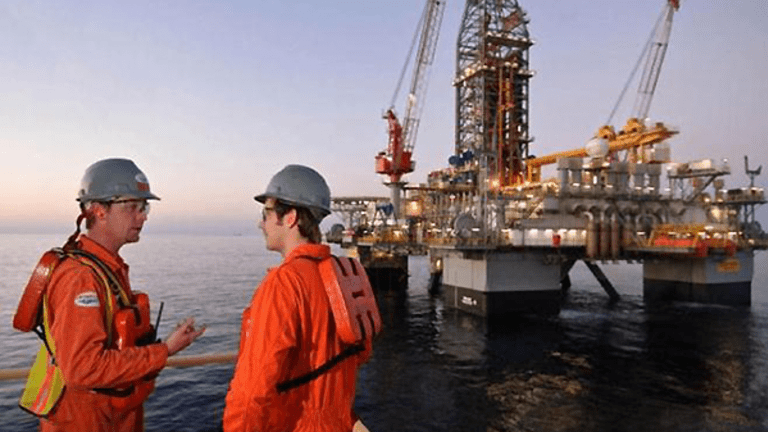 New 52-Lows in Oil Stocks Are Spreading Like a Wildfire -- Schlumberger Is One of Many Struggling
Transocean is under pressure, too.
Transocean shares fell more than 5% on Wednesday, leading decliners in a sector that is suffering from its success as new production and new discoveries have the firms producing so much oil that making a profit from it is getting harder. 
The company said Wednesday in an SEC filing that it expects to record a $1.5 billion, second-quarter charge related its sale of certain assets including 10 existing rigs and contracts to for five new ones. 
It also said it's evaluating the long-term opportunities for its drilling fleet and may identify other candidates for sale. 
The iShares Energy Select Sector ETF (XLE) fell 0.5% to $65.27 while the iShares Dow Jones US Oil & Gas Exploration & Production Index Fund (IEO) fell 1.4% to $54.73.
Transocean's Wednesday drop follows news of the latest consolidation in the sector unveiled on Tuesday Enscoundefined agreed to buy Atwood Oceanics (ATW) for for $10.72 per share in an all-stock deal.
Consolidation in the oil space has been long awaited, TheStreet's Jim Cramer, manager of the Action Alerts PLUS portfolio, said on CNBC's "Stop Trading" segment on Tuesday.
But at this point, it's "join or die," he said for many in the energy space, particularly in offshore drilling. There are too many companies and not enough business to go around. Companies are forced to buy others for more business.
Look at Ensco. Three years ago shares were above $50 with a hefty yield. Now the stock is below $7 and has a minuscule dividend payout. It's down 86% over the past five years, and its offshore operations are struggling as it costs too much to extract oil from the ocean.
The offshore industry has been crushed, and it's unclear if Atwood will help. But there's few choices left for the struggling group, he concluded.
Onshore drillers are also getting hit. In May alone there were 11 new 52-week lows set in the sector, including Schlumberger, Noble Energy, and Apache.
Jim Collins writing for The Street's Real Money subscription service said earlier this month that the opportunities for "earnings plays" next quarter will likely be in smaller, less-covered names. In energy, that means stocks like Gastar Explorationundefined , Torchlight Energy (TRCH) and Evolution Petroleum (EPM) -- all of which should have more upside than the major integrateds like Chevron (CVX) and Exxon  (XOM) . 
Click here for the latest business headlines.