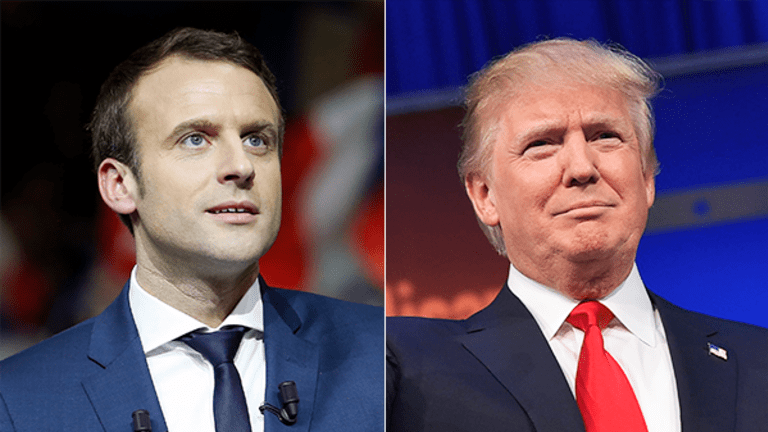 Publish date:
Emmanuel Macron: France's Presidential Front-Runner Is More Trump Than You Think
France's news political star has a lot more in common with Donald Trump than the right-wing rival the President endorsed last week.
France's news political star has a lot more in common with Donald Trump than the right-wing rival the President endorsed last week.
He's a wealthy political outsider with a reputation for brokering billion-dollar deals. He wants to slash corporate taxes and make it easier for companies to hire domestic employees. He's never been elected to office before and has a glamorous wife who comes from a very different generation.
All of the above could easily describe U.S. President Donald Trump, but each description is equally apt for Emmanuel Macron, the 39-year old former investment banker who has led one of the most remarkable victories in modern French political history.
Macron, who decided to run for president only last year, formed a party from scratch (it's called En Marche, which roughly translates to "on the move") and beat all of the country's establishment infrastructure into the dust. 
And while the symmetry of Macron's first round victory and the market reaction to President Trump's improbable November win are impossible to ignore, with markets reaching multi-year highs, it's worth exploring some of the many similarities the two political upstarts share as Macron gathers his team for a second-round runoff against Trump's favored candidate: Marine Le Pen.
Macron, like Trump, wants to take a major swing at corporate tax reform, slashing France's rate to 25% from its current 33%, and allow companies more flexibility within the country's controversial 35-hour working week directive. Trump campaigned on a pledge to reduce the U.S. corporate tax rate to 15%.
Macron also wants to limit some state benefits to welfare recipients and has ambitions of a €50 billion ($54.4 billion) infrastructure spending spree. Trump promised to leave entitlement programs Medicare and Social Security untouched on the campaign trail, though efforts to repeal and replace Obamacare could come at a cost to Medicaid. And, he has proposed a $1 trillion infrastructure package.
It doesn't stop there.
Macron wants to increase defense spending, build new prisons and hire thousands of new law enforcement officials to police the country's streets, all of which would make for good golf-course conversation with the U.S. Commander-in-Chief, who also wants to increase the defense budget and has cast himself as tough on crime.
The two men are even fond of social media, each using Twitter in an alarmingly similar fashion, with photographs of themselves in various acts of serious civil service and phrases that speak to past national glories and shinning accomplishments to come.
Added to all this is Macron's past accomplishments as an investment banker with Rothschilds, where he reportedly made millions as part of his key role in negotiating Nestle SA's (NSRGY) - Get NSRGY Report $12 billion acquisition of Pfizer Nutrition in 2012. Trump often touts his business acumen and claims to have a net worth of $10 billion.
There is also the nature of Macron's marriage to Brigitte Trogneux, his wife of 10 years, whom he first met as a 15-year-old schoolboy in the small northern town of Amiens when she was a 39-year-old teacher at Macron's high school. The U.S. president is married to Melania Trump, a former model 24 years his junior.
That's likely where the similarities end.
Macron is a committed European, keen on deeper ties between Paris and Brussels. He thinks immigration and law enforcement unfairly targets Muslims and has vowed to hold a hard line in Europe's upcoming EU exit negotiations with the United Kingdom.
All that said, the two men do seem to have found common ground on perhaps the biggest national security issue facing both of their nations: the ongoing conflict in Syria.
With President Trump having seemingly changed tack in favor of airstrikes and possible military intervention, Macron has largely supported the idea of troops on the ground, although he would prefer they were under U.N. as opposed to U.S. command.
"An international intervention is needed," he told French television earlier this month. "My preference is that there should be (military intervention) under the auspices of the United Nations."
Sometimes politics -- and populism -- make strange bedfellows.