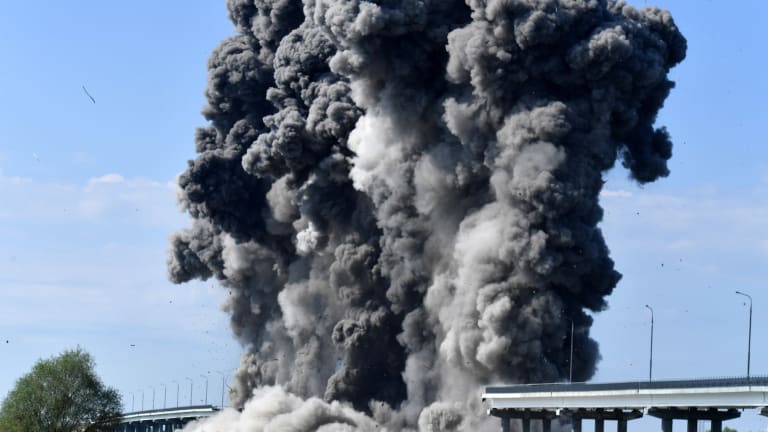 Emerging Market Stocks Are Falling Apart and U.S. Investors Should Care
Emerging markets are getting smashed again, and it's a concern to U.S. investors. Facebook and Twitter execs will be grilled in front of lawmakers Wednesday.
Emerging markets are getting smashed again, and it's a concern to U.S. investors. Facebook and Twitter execs will be grilled in front of lawmakers Wednesday.
When some lame pundit starts talking about emerging markets on TV or an internet live show you turn off the station or click out of the browser. You historically couldn't care less about emerging market stocks seeing as you have never been to China, India or other markets deemed "emerging." I get it, but then I don't.
Following emerging market stocks are critical to understanding where U.S. markets could be headed in the months ahead. Think of emerging market stocks on par with something like the Dow Transports in terms of forward predictive power. That said, at this moment paying attention to emerging market stocks -- and those with operating exposure to emerging markets such as Starbucks (SBUX) - Get Report -- is vital given their sharp selloffs.
The performance overnight was ugly on rising fears of slowing growth, a less accommodative Federal Reserve and ongoing U.S. trade war. Via the trusty Bloomberg terminal: (1) The MSCI Emerging Market Index tanked 1.7%, hitting the lowest in roughly three weeks. The index has dropped for six straight sessions; and (2) the MSCI Asia Pacific Index dropped 1.4% to the lowest level in about three weeks. The index has fallen in five straight sessions.
Problem for market bulls: U.S. markets are taking their cue from the renewed emerging market rout (Dow futures down more than 100 points early Wednesday) and the subsequent strengthening in the dollar (not good for third-quarter earnings for big companies).
Proceed with caution.
Tech Talk
I joked (sort of) on Twitter last night that when mighty Amazon (AMZN) - Get Report hit a $1 trillion valuation for the first time Tuesday, I was calculating how long it would take for the company to reach $5 billion. That's unlikely to happen in our lifetime, though you never know. What we do know is that Amazon's stock -- up about 70% year to date -- is now in dangerously overbought land. In other words, there could be a sharp reversal lurking within weeks if not days.
Pointed out Miller Tabak strategist Matt Maley:
"The weekly RSI chart on Amazon now has a reading of 85.69, which is higher than it was back in January (just before it began an almost 10% correction). In fact, it's higher than we saw at the 2007 top, and it's the highest reading we've seen since January of 1999!!! Also, it's monthly RSI chart has almost reached 90 - 89.95 to be exact - which is the highest reading ever on a monthly basis. Finally, we'd also point out that Amazon is now trading at a 135% premium to its 200-week moving average. That's also a record, surpassing the 130% premium it reached back in January."
Happy Amazon trading. Amazon is a holding in Jim Cramer's Action Alerts PLUS.
Around TheStreet
Game on for TheStreet's newsroom.
@KatherineRoss will be providing live analysis of the testimony to lawmakers Wednesday of Twitter (TWTR) - Get Report CEO Jack Dorsey and Facebook (FB) - Get Report  Operating Chief Sheryl Sandberg. @AnnieGaus previewed the event here. When Facebook CEO Mark Zuckerberg testified months ago after Cambridge Analytica, it was largely viewed as a victory for Facebook. Zuck took the heat, and came out relatively unscathed. But this time will likely prove different as the news around Twitter and Facebook has seemingly worsened since Zuck's April D.C. spectacle.
Stay engaged with TheStreet during the proceedings if you care about your investment in either tech company (or their competitors).
Yours truly will be at the Nasdaq this morning to chat with Sprouts (SFM) - Get Report CEO Amin Maredia. With Sprouts shares really coming on after the company's second-quarter results there is a lot to chat about. Have you ever shopped at Sprouts? I haven't. Let me know what you think of the 300-plus organic food store chain @BrianSozzi -- I could use your perspective.
Dunkin' Brands (DNKN) - Get Report will open three of its next generation stores Wednesday in New York (yes, these are the stores just called 'Dunkin'). The stores are rather snazzy, sporting cold brew coffee taps and an emphasis on grab-and-go items like packaged brownies. The new stores are part of a broader roll out for Dunkin' amid its focus on coffee as opposed to donuts.
@JacobSonenshine will be talking with Dunkin's marketing chief inside one of the new stores to learn more. As background, here is my chat with Dunkin's new CEO. Sidenote: Dunkin' shares percolated on takeover rumors on Tuesday. These are nothing new to Dunkin' - the company has been approached before. Look for the company to be private within three years.