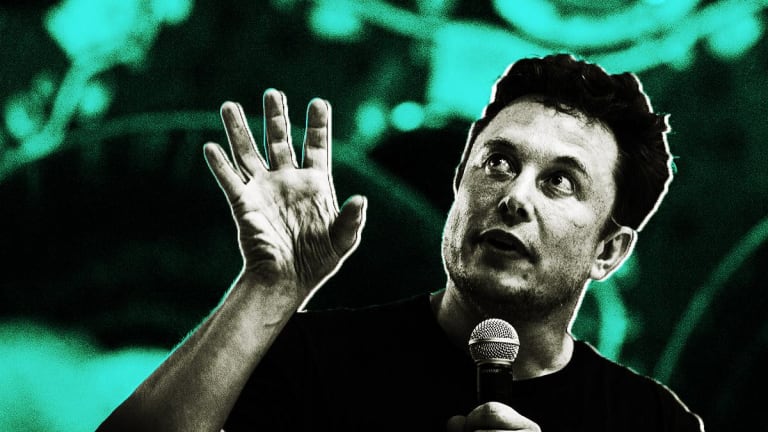 Tesla's Troubles: 4 Things Elon Musk Needs to Do Now to Restore Confidence
With Tesla shares now at their lowest level in two-and-a-half years, investors need reassurance that the carmaker is on the right path.
Tesla (TSLA) - Get Tesla Inc. Report has plenty of work to do in soothing investors' nerves.
The carmaker's stock is down almost 3% so far this week on a pair of gloomy analyst notes citing major concerns around Tesla's growth profile going forward, and they're down almost 38% this year. On Wednesday morning, shares were down 3.5% in pre-market trading. Overall, Tesla shares are trading at their lowest level in almost two-and-a-half years.
Asked what priorities Tesla should tackle in reassuring shareholders, Wedbush analyst Dan Ives told TheStreet: "Model 3 demand, Model 3 demand and Model 3 demand." In a note on Monday, Ives described a "perfect storm" of softer demand paired with doubts about Tesla's profitability prospects. And on Tuesday, Morgan Stanley's Adam Jonas outlined a "bear case" for Tesla in which volatile trade relations and other factors could push the stock as low as $10 per share. 
Recent headlines around Tesla have confounded many investors. CEO Elon Musk informed employees last week that the company is in "hardcore" belt-tightening mode, with CFO Zach Kirkhorn and/or Musk himself reviewing all expenses from here on out. But Musk also announced a number of ambitious new initiatives several weeks ago, such as an insurance business and a robotaxi service, in addition to capital-intensive existing projects like ramping up a Shanghai Gigafactory. That apparent disconnect is making investors nervous.
"The frustration from investors is that, at a time when Tesla should be focused on the core, instead they're continuing to add more stories to the building," said Ives.
Here are four steps Tesla needs to take nowto help restore confidence that it's truly on the straight and narrow.
1. Get 'Hardcore' on Marketing & Sales
Did we mention it's all about Model 3 demand? Belt-tightening is well and good, but getting Model 3s into the hands of as many buyers as possible, while also chipping away at production costs, is Tesla's only viable path to profitability. With EV credits in the U.S. phasing out this year and more competition in the electric vehicle market, achieving those goals will require doubling down on marketing and sales, according to Ives.
Tesla's brand cachet has carried it this far, but to shore up and strengthen demand, they simply need more butts in car seats: "They need individuals to go into dealerships and test drive these models," Ives said. 
2. Spend Cash Wisely
Weeks ago, Tesla opted to raise $2.7 billion in fresh capital, a welcome development even as analysts questioned whether it would be enough to cover capital expenditures, meet debt obligations and offset cash burn from lower-than-expected Model 3 sales in the first quarter. In another sign of diminishing confidence in Tesla, the price of its debt has fallen in recent days alongside its stock price.
In a May 3 note, Cowen analyst Jeff Osborne speculated that the capital raise may only be sufficient to cover "3-4 quarters of offsetting operating losses if the sales and margin weakness we saw in 1Q continues, and even shorter if sufficient capex funding is used for the company's aggressive expansion plans and Tesla gets off the 'spartan diet.'" The razor-thin margins underscore the urgency in letting investors know that resources are deployed with precision. 
3. Iron out Delivery Logistics
Softening Model 3 demand domestically has led investors to pin their hopes on new markets such as China and Europe. But getting the cars there has not been an easy task. In February, Musk blamed unanticipated delivery challenges in slashing Tesla's first quarter outlook, which wound up falling short of estimates on both earnings and revenue. 
If Tesla manages to smooth out the kinks in shipping vehicles to Europe, which potentially are a fertile market for Tesla vehicles, they'll be in better shape than they are today. "In the second half, they have a fighting shot in hitting their numbers," if they are successful in improving their overseas delivery logistics, Wedbush's Ives added. 
4. Tamp Down the Chaos
Morgan Stanley's Jonas spelled out what many who follow Tesla were already thinking: From the outside, Tesla appears to be in a perpetual state of chaos. "The departure of key executives, price discounting and extraordinary cost-cutting efforts add to the narrative of a company facing real potential stress," Jonas wrote. The seeming indecision by Musk & Co on fundamentals such as vehicle pricing and sales -- it slashed base prices for the Model S and Model X on Tuesday, cut prices for the Model 3 earlier this year, and made a U-turn on a plan to close all its dealerships months ago -- has investors rattled.
Belt-tightening isn't enough; Musk and Tesla management must stick to a plan and project an air of stability from here on out for its stock to rebound.
Trending Videos on TheStreet