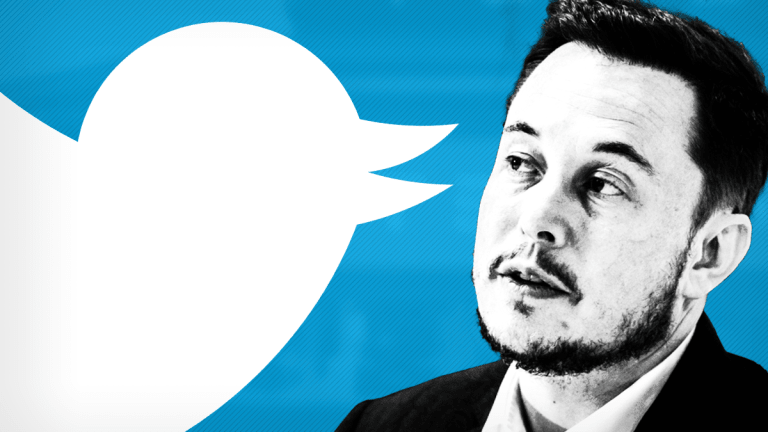 Tesla Soars as Musk Doubles Down on Controversial 'Going Private' Tweet'
CEO Elon Musk tweets that he is considering taking Tesla private at $420 a share.
Tesla (TSLA) - Get Tesla Inc. Report CEO Elon Musk just dug his heels in even harder on a tweet that's raised legal and ethical concerns, including from a former chairman of the Securities and Exchange Commission.
Tesla shares, which were halted for more than an hour, rose more than 11% to over $381 apiece after trading resumed at about 3:45 p.m.. 
Musk tweeted: "Investor support is confirmed. Only reason why this is not certain is that it's contingent on a shareholder vote."
Just before that tweet, there was this:
"Def no forced sales. Hope all shareholders remain. Will be way smoother & less disruptive as a private company. Ends negative propaganda from shorts," Musk tweeted Tuesday afternoon. This seems to be a strong implication that maybe Tesla is actually exploring a sale that would take the electric car company private. Tesla has not made any official announcement on a sale whatsoever.
Those two tweets came hours after the initial tweet, which read as follows:
"Am considering taking Tesla private at $420. Funding secured." The stock rallied as much as 8% on that tweet, as a $420 per share valuation would be a huge premium over the current share price.
But trading was halted at around 2:10 Tuesday, making the closing price $366.94, a 7% intraday gain, because the tweets raise a legal concern. Former SEC Chairman Harvey Pitt told TheStreet in a telephone interview just after the tweet that if the purpose of the tweet was to boost the share price, and it was untrue, that is considered securities fraud. "What occurred here is highly unusual," Pitt said. "If this were solely an effort to artificially move the price of the stock, it would be manipulative. And if the claims [in the Tweet] aren't true, it would be fraud."    
Musk sent
a letter to all employees addressing the issue
. In the letter he said, "a final decision has not yet been made, but the reason for doing this is all about creating the environment for Tesla to operate best." 
Musk had a series of tweets after the initial tweet, and before the latest. Here are those tweets:
"Am super appreciative of Tesla shareholders. Will ensure their prosperity in any scenario," he wrote. 
Musk was asked whether he would retain control over the company if it were taken private and tweeted his response. 
Tesla is one of the most shorted stocks on the market and Musk has used Twitter as his instrument to taunt shorts in the past. 
Musk has repeatedly said that Tesla will not need to raise capital this year in spite of the fact that the company still isn't profitable. 
Tesla's shares have risen almost 25% over the past five sessions following the company's earnings release on Aug. 1. 
Earlier Tuesday it was reported that Saudi Arabia's sovereign wealth fund had built an undisclosed stake in the electric vehicle maker, with the Financial Times estimating the stake at between 3% and 5%. 
Emails to Tesla about the validity of Musk's comments were not immediately returned. 
Read more on Tesla's future from TheStreet.