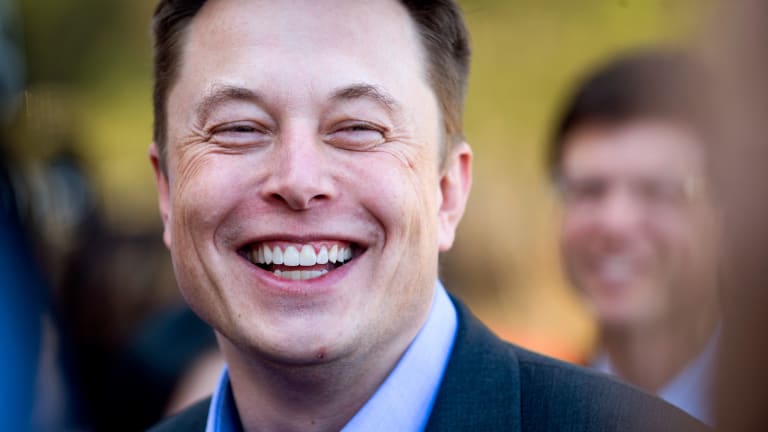 Elon Musk's Tesla Wins Gamble on Australian Battery Park Giveaway
Tesla has finished installing the world's biggest lithium-ion battery park, beating a 100-day deadline after which Elon Musk promised to give the facility to Australia for free.
Elon Musk is poised to deliver on his promise to build the world's largest lithium-ion battery farm in 100 days, meaning he will avoid giving away the $50 million storage for free.
Jay Weatherill, premier of the state of South Australia -- where the park has been built -- said Thursday, November 23, that Tesla Inc. (TSLA) - Get Free Report had finished installing battery packs at the 100MW facility and was ready to energize and test the site.
Tesla stock closed Wednesday, ahead of the announcement, at $312.60, down 1.64% on the day.
The park will officially launch next week, meeting a start of December deadline agreed by Musk in July. The Tesla CEO, in March, promised to deliver the storage facility within 100 days of signing a contract with the State Government and said, via Twitter, he would swallow the entire cost of the project and hand it over for free if he missed the deadline.
The 100 MW/129 MWh park is a key part of South Australia's A$550 million ($419 million) plan to overhaul its failing energy grid, which has struggled to cope with increased demand during peak periods.
Tesla claims the park can store enough energy to power 30,000 homes and will be the biggest lithium-ion battery farm by a factor of three. It will be paired with a wind farm operated by France's Neoen Energy SA, which will supply power that will be stored in the Tesla batteries for redistribution into the power grid during peak periods of demand or when supply from South Australia's wind farms dip.
"The world's largest lithium ion battery will be an important part of our energy mix, and it sends the clearest message that South Australia will be a leader renewable energy with battery storage," said Weatherill.
The success is another public relations coup for Musk, who last week grabbed headlines with the unveiling of his company's new all-electric semi-truck and a surprise new roadster sports car. It also comes at a critical moment for the company, which has struggled to deliver on the promise of its lowest-cost Model 3 vehicle due to production difficulties described by Musk as "hell".
Tesla's Elon Musk Has Been Busy While You've Been Waiting for Your Model 3
More of What's Trending on TheStreet:
Editors' pick: Originally published Nov. 23.