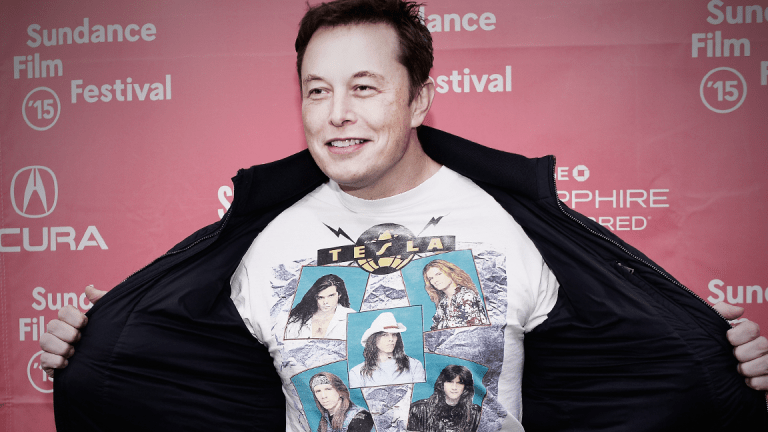 Elon Musk's Startling Proposal to Take Tesla Private Is Nothing if Not Risky
Taking the electric vehicle maker private would be a dangerous and costly luxury for the mercurial Musk.
Just days after Elon Musk made peace with equity analyst community, Tesla Inc.'s (TSLA) - Get Tesla Inc. Report mercurial chairman and CEO tweeted that the electric car maker may leave the public markets.
Shares gained 11% to $379.57 on Tuesday, Aug. 7, after Musk tweeted that he is considering taking Tesla private at $420 per share and has the funding to do so (shares were previously up roughly 8% after Musk's initial tweets earlier in the day, before  trading was halted for several hours).
While Musk's personality and his outsized ambition to disrupt the auto industry are arguably better suited for a public company, the debt burden of going private could create problems if the company needs to raise more capital. 
"It would be high risk," Efraim Levy of CFRA Research said of a potential Tesla leveraged buyout (LBO). "Right now the capital markets are willing to back him, would that still be true with the addition of debt from a going private transaction?"
Full Coverage:
Musk outlined the rationale for taking the "most shorted stock in the history of the stock market" private in a letter to staffers posted on Tesla's blog page.
"As a public company, we are subject to wild swings in our stock price that can be a major distraction for everyone working at Tesla, all of whom are shareholders," Musk wrote. "Being public also subjects us to the quarterly earnings cycle that puts enormous pressure on Tesla to make decisions that may be right for a given quarter, but not necessarily right for the long-term."
Musk has said he does not want to raise more capital. Still, Morgan Stanley analyst Adam Jonas projected in a Monday note that Tesla would have to raise $2.5 billion in the fourth quarter. 
According to Gene Munster of Loup Ventures, Musk has a one-in-three shot of taking Tesla private, given the 16% premium he would pay to shareholders. "Musk does not want to run a public company," Munster wrote in a note on Tuesday. "His mission for Tesla to accelerate the globe's adoption of sustainable energy is both grand and long-term, making it difficult to accommodate investors' quarterly expectations."
Added Munster in an email to TheStreet: "Fundamentally, Tesla is not a good LBO candidate given it's not profitable, not cashflow heavy, and has high R&D and capex. However, the structure of the pending deal is unknown and may not take the form of an LBO."
Editor's note: The full version of this article was published by The Deal, a sister publication of TheStreet that offers sophisticated insight and analysis on all types of deals, from inception to integration. Click here for a free trial.