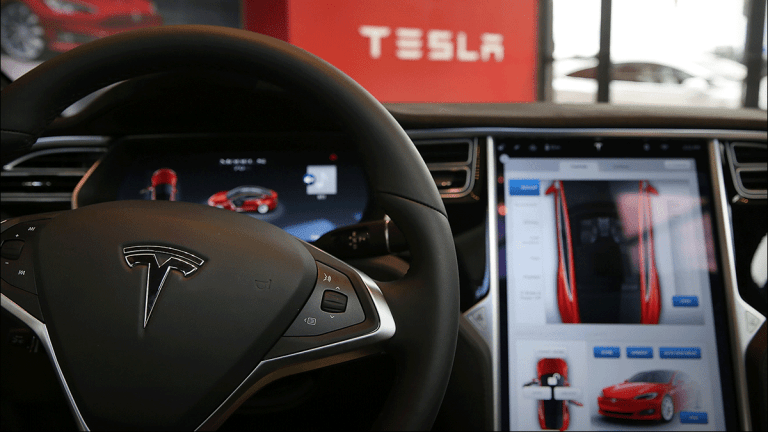 Elon Musk Promises 'Over a Million' Tesla Robotaxis by the End of 2020
The Tesla CEO told investors that Tesla would have a fleet of autonomous robotaxis by the end of next year.
Tesla is taking a page from Uber and Airbnb in its latest ambitious proclamation.
During an investor event on Monday focusing on Tesla's (TSLA) - Get Tesla Inc Report autonomous driving projects, CEO Elon Musk and a handful of executives walked investors and analysts through the technology behind its "full self-driving" (FSD) features, which are meant to be enabled in every Tesla car produced from here on out. Tesla shares closed 3.85% lower on Monday and were roughly flat after-hours following the autonomy event.
"All Tesla cars being produced right now have everything necessary for full self-driving; all you have to do is improve the software," Musk told a group in Palo Alto, Calif., as part of a lengthy demonstration of the FSD system's core components, which include a custom chip setup referred to as the FSD computer -- described by Musk as the "best chip in the world" for self-driving cars, above others like Nvidia's (NVDA) - Get NVIDIA Corporation Report Xavier system -- and a particular focus on computer vision software.
Musk trashed the Lidar-based systems that leading self-driving competitors, such as Waymo, rely on in their units, declaring that Lidar is "doomed" and "expensive and unnecessary" and saying that Tesla's software will eliminate the need for Lidar entirely, even as a backup data source should others fail. Tesla's FSD-enabled vehicles will include eight exterior cameras, ultrasonic sensors and a radar. 
All of that will make self-driving possible at no sacrifice to range or at any extra cost, said Tesla's autonomy lead Pete Bannon. 
But it wasn't just technical details presented at the event; Musk also said that vehicles produced with the FSD system will comprise a fleet of robotaxis of "over one million" by the end of 2020. 
That will be made possible through a ride-sharing app, a preview of which Musk briefly showed to the audience. The idea behind that app is to allow people to lease them out for robotaxi rides on its own exclusive Tesla network -- described by Musk as a "combination of the Airbnb and Uber model" -- of which Tesla would take a 25% to 30% cut. He estimated the gross profit of a single robotaxi as $30,000 per year. 
He expressed confidence that robotaxis would be fully usable with no hands on the steering wheel or "looking out the window" by the second quarter of next year, and that they would be allowed in some jurisdictions by the end of 2020. 
By contrast, Alphabet's (GOOGL) - Get Alphabet Inc. Class A Report Waymo began offering rides to the public on a limited basis in one jurisdiction, a Phoenix suburb, last December. 
One audience member probed why one couldn't just buy a number of Tesla Model 3s and run a robo-fleet as a money-making operation, akin to the way one could run multiple Airbnbs to make more money passively.
Musk replied that doing such a thing simply seemed "unwieldy" and then added: "Okay, try it."
Ahead of the event, analysts seemed to be more focused on Tesla's forthcoming first-quarter financial results -- and concerns about a weak first quarter spilling over into the second -- than the details of Tesla's self-driving technology. In late February, Musk warned investors that Tesla does not expect to be profitable this quarter, pinning the weakness on costs associated with delivering cars to Europe and China as well as certain one-time costs.
"We believe Q1 results are likely to fall considerably short of consensus (-$0.68 currently), given negative fixed cost absorption impacts," wrote CFRA's Garrett Nelson in a note last week.
Tesla shares are down 11.89% so far this year.
Alphabet is a holding in Jim Cramer'sAction Alerts PLUS Charitable Trust Portfolio. Want to be alerted before Cramer buys or sells GOOGL? Learn more now.