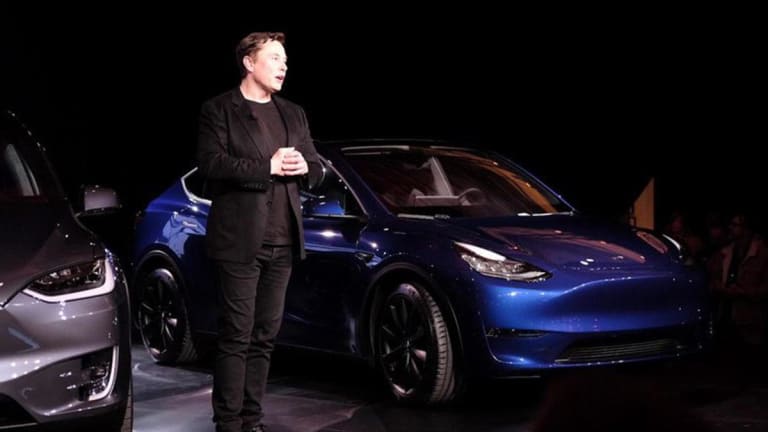 Elon Musk Attorney: 'SEC's Position Is Wrong at Virtually Every Level'
Attorneys for Telsa CEO argue that the question is 'whether Musk complied with Tesla's Policy, not whether the SEC is satisfied with Tesla's Policy.'
Tesla (TSLA) - Get Tesla Inc Report CEO Elon Musk renewed his arguments in a court filing Friday that he shouldn't be held in contempt of court for tweets he made last month about Tesla's production numbers.
"The SEC's position is wrong at virtually every level," write Musk's legal team in the filing, led by attorney John C. Hueston of Hueston Hennigan LLP.
Musk's lawyers argue that U.S. Securities and Exchange Commission lawyers misinterpreted the deal he struck with them to settle securities fraud charges last September, saying that "The SEC's Reply makes clear that its effort to hold Musk in contempt relies on a radical reinterpretation of the Order that would impose sweeping restrictions to which Musk never consented."
His team also argues that a tweet saying Tesla would produce 500,000 vehicles in 2019 was based on information already made public.
"The key question is whether Musk complied with Tesla's Policy, not whether the SEC is satisfied with Tesla's Policy," wrote Musk's attorneys.
Musk's belief that his tweet, say his lawyers, "did not require pre-approval was correct. Every hallmark of immateriality is present: the tweet restated previously-disclosed information, used generalized terms, was aspirational and optimistic, and caused no reaction in after-hours trading."
The post was made on Twitter on Feb. 19 at 7:15 p.m. ET and read: "Tesla made 0 cars in 2011, but will make around 500k in 2019."
Musk's attorneys say that this information was not new and could be inferred from earlier disclosures, such as a Jan. 30 earnings call announcing that Model 3 production would be 350,000-500,000 and announcements that Model S and X vehicles were already being produced at a rate of 100,000 per year.
SEC lawyers moved late last month to have Musk found in contempt of court because Twitter posts the CEO put out about production numbers weren't reviewed by corporate authorities.
In a court filing on Monday the SEC called the billionaire's behavior "stunning," given the settlement he agreed to last September to resolve an earlier case in which he tweeted falsely that he had secured funding to take Tesla private at $420 a share.
The consequences of contempt of court finding could be serious for Musk.
The possibilities include new fines on Musk, a court-appointed communications monitor at Tesla, or even a trial that could result in the outspoken entrepreneur from being barred from serving as an officer or director of any public company, former SEC commissioner Harvey Pitt told TheStreet in late February.
Shares of Tesla closed down 3.46% on Friday to $264.53.
Will You Have Enough Money Retire?
Want to learn about retirement planning from some of the nation's top experts? Join TheStreet's Robert "Mr. Retirement" Powell live in New York on April 6 for our Retirement Strategies Symposium. For a limited time, tickets are available for $99 for this full-day event. Check out the agenda, learn about the speakers and sign up here.