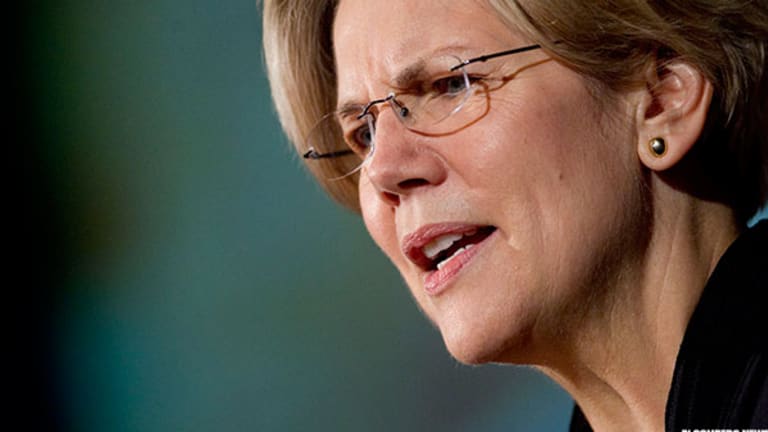 Elizabeth Warren Slams Obama's SEC for Approving Steven Cohen's New Hedge Fund
Elizabeth Warren blasted the SEC's Mary Jo White for approving billionaire Steven A. Cohen's application to set up a new hedge fund.
Editors' pick: Originally published April 21.
While most of Washington is talking politics, Massachusetts Senator Elizabeth Warren is reading SEC filings.
In a letter to Mary Jo White, chair of the Securities and Exchange Commission, Warren slammed the agency for approving billionaire Steven A. Cohen's application to launch a new hedge (Stamford Harbor Capital) fund just two months after barring him "supervising funds that manage outside money until 2018."
"This is an unacceptable outcome from the nation's primary enforcer of securities laws, and it is the latest example of an SEC action that fails to appropriately punish guilty parties, deter future wrongdoing, and protect investors," writes Warren, a member of the senate's Banking, Housing and Urban Affairs committee. "I urge the Commission to put procedures in place that ensure that future settlement agreements cannot be so easily undermined."
Warren asks White to provide a meeting with SEC staff to explain the decision to approve Cohen's application to manage money from outside client through a new fund called Stamford Harbor. In January, the SEC ruled that while Cohen could continue to manage family monies he would be barred from managing funds from outside investors for two years.
In response, the SEC's Andrew J. Ceresney, director of enforcement, released the following statement:
"As the only law enforcement agency to charge Steven Cohen, the SEC imposed important restrictions, including a supervisory bar plus the additional oversight requirements in the settlement that are even stronger than typical remedies available under the securities law, particularly given the impact of the Second Circuit's intervening Newman decision on the charge. Under the settlement's significant requirements, the SEC will scrutinize his trading activity closely going forward to protect investors."
After nearly a decade investigating Cohen's role in a series of insider-trading allegations, the commission elected not to slap the well-known and very successful hedge fund manager with a lifetime ban, choosing a shorter two-year restriction instead.
Cohen's former firm, SAC Capital Advisors, was the focus of a  sweeping investigation into the fund's working, stemming in part from how it was able to outperform the rest of the securities industry for so long and at such a premium. In 2013, SAC Capital pleaded guilty to insider trading charges and agreed to pay a record fine of $1.8 billion. Cohen's fund was also forced to return outside money to investors.
With that kind of a backdrop, Warren demanded an explanation of how the SEC could seemingly reverse the decision to bar Cohen from managing non-family money made with great fanfare earlier this year. The Massachusetts senator also asked White if there are other fund managers for whom the agency has penalized and then are given a green light to be involved with SEC-registered entities.
Warren's very public criticism of the SEC, and by extension a Democratic administration, is what has brought her great popularity among many of the people who support Vermont Senator. Bernie Sanders' presidential campaign.
Her knowledge of banking and finance, as well as her doggedness, is another reason some wished she, rather than Sanders, had represented progressives in running for the Democratic nomination against Hillary Clinton.