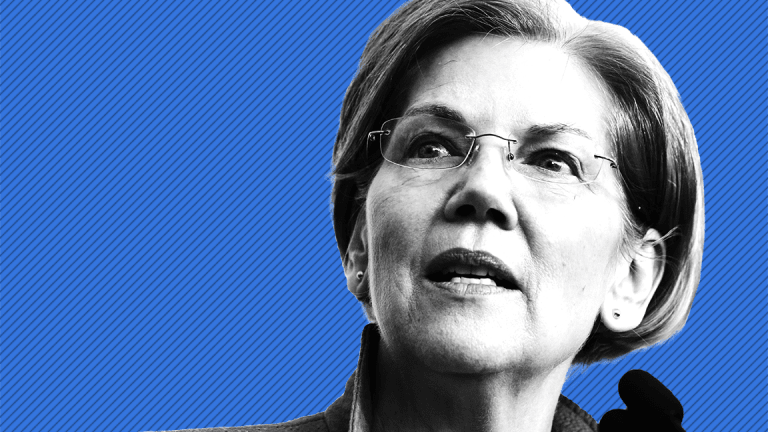 Elizabeth Warren Says Apple Needs to Be Broken Up, Too
The Democratic presidential candidate isn't exempting Apple from her plan to fix Big Tech.
Elaborating on her proposal to break up the biggest tech companies, Democratic presidential hopeful Elizabeth Warren said Apple (AAPL) - Get Apple Inc. Report needed to be split up, as well.
Last week, Warren had said that companies like Facebook (FB) - Get Meta Platforms Inc. Report , Amazon (AMZN) - Get Amazon.com Inc. Report and Alphabet (GOOGL) - Get Alphabet Inc. Report had become too dominant and that breaking them up would spur competition and force the companies to be more responsive to users. In particular, Warren said that companies should not be able to both own major platforms and sell their own goods and/or services on them.
In an interview with the Verge over the weekend, Warren indicated that she would include Apple among the tech companies that needed breaking up.
"Apple, you've got to break it apart from their App Store," Warren said. "It's got to be one or the other. Either they run the platform or they play in the store. They don't get to do both at the same time."
Warren noted that both running a platform and selling on it gives companies two big advantages.
"One, you've sucked up information about every buyer and every seller before you've made a decision about what you're going to to sell," Warren said. "And second, you have the capacity - because you run the platform - to prefer your product over anyone else's product. It gives an enormous comparative advantage to the platform."
Michael Pachter of Wedbush Securities pointed out, however, that any action to break up a company on these grounds would have to prove that it held monopoly power. Pachter noted that the App Store works only on Apple devices, so it's not "even remotely arguable as a monopoly."  
"Under current law, there is zero chance the law could be changed to trigger a break up of Apple or any other tech company," Pachter wrote in an email. "They simply don't have monopolies under current law. They could be broken up if the law changes, but Congress can't agree on something like this."
Daniel Ives, Pachter's colleague at Wedbush, noted, though, that there are investor concerns about Apple, given a pending Supreme Court antitrust case involving the App Store, and Netflix's recent decision to leave the App Store to avoid paying a fee to Apple. 
"These Warren comments fan the flames of these worries for tech investors on the Apple story," Ives said in an email.
Apple shares rose 3.5% to $178.90 on Monday following an upgrade from Bank of America Merrill Lynch.
Apple, Facebook, Amazon and Google are holdings in Jim Cramer'sAction Alerts PLUS Charitable Trust Portfolio. Want to be alerted before Cramer buys or sells these stocks? Learn more now.
A Special Invitation:Do you want to learn more about planning for and living retirement from the nation's top experts, including Ed Slott and Robert Powell, the editor of TheStreet's Retirement Daily? Want to learn how to create tax-efficient income in retirement and how to manage and mitigate all the risks you'll face in retirement? Then sign up to attend TheStreet's Retirement Strategies Symposium on April 6 in New York City. For a limited time, you can attend this extraordinary symposium for $149 - a cost savings of $50 off the general admission price of $199.
You can see the full day's agenda, learn about the guest speakers and sign up HERE for this special event.