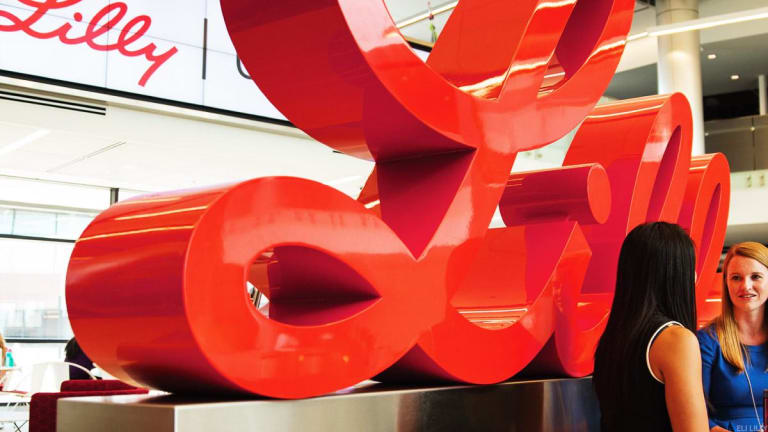 Eli Lilly Shares Jump After Dividend Boost, Robust 2019 Outlook
Eli Lilly jumps Wednesday after it boosts its quarterly dividend and issues stronger-than-expected 2019 profits forecasts thanks to stronger demand for new medicines and its existing diabetes drug franchise.
Eli Lilly (LLY) - Get Report shares jumped Wednesday after it boosted its quarterly dividend and issued stronger-than-expected 2019 profits forecasts thanks to stronger demand for new medicines and its existing diabetes drug franchise.
Eli Lilly said it sees full year 2019 earnings of between $5.90 and $6.10 per share, firmly ahead of the $5.82 Street forecast and some 9% higher than the top end of its current year forecast, which is reaffirmed at $5.55 to $5.60 per share on a non-GAAP basis. Eli Lilly also sees 2019 revenues in the region of $25.3 billion to $25.8 billion, a year-on-year increase of "mid-single-digits" driven by new medicines such as its type-2 diabetes treatment Trulicity. Eli Lilly added that its next quarter dividend payout will rise by 15% to 64.5 cents per share.
 "Over the past five years, Lilly has successfully launched 10 new medicines, bolstered our pipeline with new candidate medicines from our own labs and from external partners, reshaped the company to be more productive, and attracted world-class scientific talent to our labs," said CEO David Ricks. "Our actions over the past several years have positioned Lilly to deliver significant value to our key stakeholders."
"Most importantly, they have benefited patients, many of whose lives are better because of new Lilly medicines," he added.
Eli Lilly shares rose 3.3% to $110.06 in midday trading on Wednesday.
Eli Lilly posted stronger-than-expected third-quarter earnings last month thanks in part to Trulicity sales of $816.2 million, which rose 55% from the same period last year and were $46.2 million ahead of the second quarter pace.
Eli Lilly said earnings for the three months ended in September came in at $1.39 per share, topping the consensus forecast of $1.35 and rising 32.4% from the same period last year. Group revenues, Eli Lilly said, rose 7.1% to $6.06 billion, again beating Street forecasts.
The company had earlier said the drug was found to reduce the risk of major adverse cardiac events in patients with the disease following its key REWIND trials, which it will detail to the American Diabetes Association in June of next year.
"We are encouraged by the commercial execution across our new launches, and are excited about their prospects for future growth," said CFO Joshua Smiley. "The success of these medicines gives us confidence that we will continue to deliver strong results and generate significant cash balances in 2019 and beyond."
The group's erectile dysfunction drug Cialis, however, saw sales fall 17% to $467 million, taking its year-to-date total to $1.5 billion, as it continues to face increased competition from generic rivals such as Teva Pharmaceutical's Sildenafil, which has been available since December 2017.