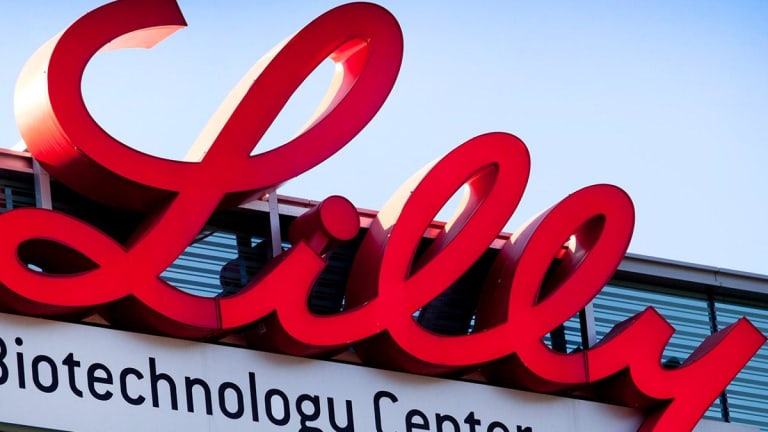 Eli Lilly Reports Better-Than-Expected Earnings but Shares Decline
The company expects fiscal-year adjusted earnings of $5.60 to $5.70 a share.
Giant pharmaceutical company Eli Lilly (LLY) - Get Report reported better-than-expected first-quarter earnings and said it expects full-year earnings to grow by up to 5%, but still investors were disappointed sending the stock lower in premarket trading.
The company reported non-GAAP earnings of $1.33 a share for the first quarter, beating estimates by 2 cents. The figures exclude a number of items including discontinued operations from the disposition of its Elanco animal health business.
"We delivered volume-based revenue growth despite the loss of patent exclusivity for several products, increased our investments in new brands, and further funded our pipeline of potential new medicines," the company said Tuesday.
Revenue of $5.09 billion in the first quarter was up 3% from the same period a year ago, driven by a 7% jump in volume which was partially offset with lower prices and the effects for changes in the value of foreign currencies. Analysts expected revenue of $5.2 billion.
Revenue for the company's diabetes drug Trulicity was $879.7 million but missed forecasts of $948.8 million, while sales of Humalog, a fast-acting insulin product, fell 8% to $730.8 million but came in higher than estimates.
Eli Lilly said it expects to record non-GAAP earnings of $5.60 to $5.70 a share this year, an increase of 3% to 5% from 2018.
Shares fell 3% in premarket trading to $116.06.
Constable owns none of the securities listed in this story.