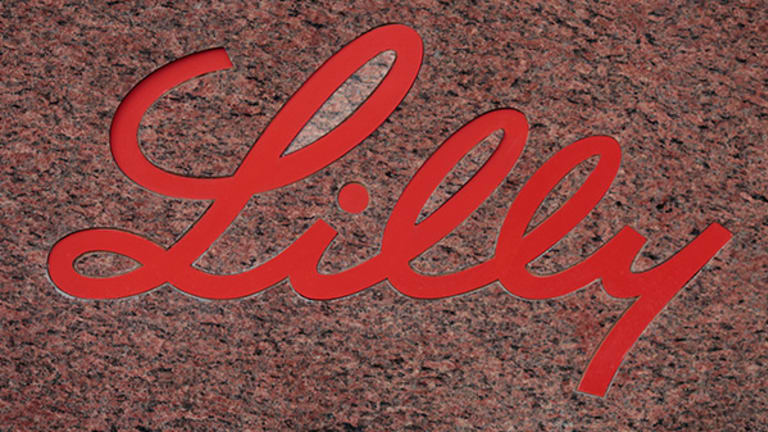 Eli Lilly Diabetes Drug Data Seen As 'Nothing Short Of Extraordinary'
Shares of Eli Lilly rallied yesterday after the company reported data from a study of its type 2 diabetes drug...
NEW YORK (TheStreet) -- Shares of pharmaceutical giant Eli Lilly (LLY) - Get Free Report rallied 6.5% yesterday after the company reported data from a study of its type 2 diabetes drug, but analysts see significantly more room for the stock to run following the "extraordinary" trial results.
BACKGROUND: Yesterday, Eli Lilly and partner Boehringer Ingelheim reported that Jardiance, an oral medication that belongs to a class of drugs called sodium-glucose co-transporter-2, or SGLT2, inhibitors, "significantly reduced the risk" of the combined endpoint of cardiovascular death, non-fatal heart attack or non-fatal stroke by 14% when added to standard of care in patients with type 2 diabetes at high risk of CV events. There was a 38% reduction in CV death, with no significant difference in the risk of non-fatal heart attack or non-fatal stroke, the companies added. Other SGLT2 inhibitors include AstraZeneca's (AZN) - Get Free Report Farxiga and Janssen Pharmaceuticals' (JNJ) - Get Free Report Invokana. Januvia, which is marketed by Merck (MRK) - Get Free Report , is an oral anti-diabetic drug from another class, the dipeptidyl peptidase-4, or DPP-4, inhibitor class. Other DPP-4 inhibitors currently on the market include AstraZeneca and Bristol-Myers' (BMY) - Get Free Report Onglyza and Novartis' (NVS) - Get Free Report Galvus.
EXTRAORDINARY DATA: Piper Jaffray analyst Richard Purkiss views yesterday's cardiovascular outcomes data for Eli Lilly's Jardiance in type 2 diabetics as "nothing short of extraordinary." Highlights are a 32% reduction in all-cause mortality and a lower serious adverse event rate than placebo, Purkiss told investors in a research note. Since Jardiance is the first anti-diabetic drug to ever show a CV outcomes benefit in a single study, it will likely be used in front of other drug classes in the management of type 2 diabetes, Purkiss contends. He keeps an Overweight rating on Eli Lilly with a $120 price target.
$6B PEAK SALES: Jefferies analyst Jeffrey Holford raised his price target for shares of Eli Lilly to $115 from $105 after upping his peak sales estimate for the Jardiance/Glyxambi franchise to $6B from $1.2B. Jardiance "missed" Street expectations yesterday of a 20% relative risk reduction on the primary composite outcome, but the 14% reduction in cardiovascular death or nonfatal stroke is still clinically relevant, Holford told investors. The analyst expects the SGLT2 class will overtake, but not destroy, the DPP-4 class, with Eli Lilly as the leader. He keeps a Buy rating on the stock.
PRICE ACTION: Eli Lilly closed yesterday up $5.46 to $89.91. Before yesterday's rally, the stock had been flat over the prior three months.
Reporting by Jason Keil.
The Fly
is a leading digital publisher of real-time financial news. Our financial market experts understand that news impacting stock prices can originate from anywhere, at any time. The Fly team scours all sources of company news, from mainstream to cutting-edge, then filters out the noise to deliver short-form stories consisting of only market moving content. Follow @theflynews on Twitter. For a free trial, click