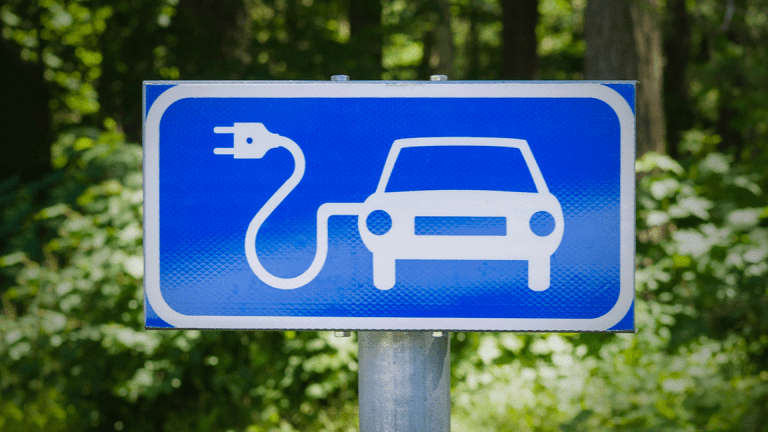 Publish date:
Why Electric Car Sales Could Spike 10 Times Higher in a Few Years
A recent poll shows that EV adoption could happen sooner than expected -- and that paints a rosy picture for Tesla's sales-growth trajectory.
A recent poll shows that EV adoption could happen sooner than expected -- and that paints a rosy picture for Tesla's sales-growth trajectory.
The results are in.  According to a study released by AAA on Tuesday, about one in five Americans say their next vehicle will be electric.
That's up from around 15% of customers who expected their next car to be electric just last year. That 33% spike in electric car intent likely has something to do with Tesla Inc.'s (TSLA) - Get Tesla Inc Report Model 3, which is finally hitting the road in meaningful numbers this year.
Tesla has a huge share of the U.S. electric car market, taking around 45% of the unit sales between January and June of last year, according to data from Forbes. If Tesla can hang onto even a sliver of that share with the Model 3, it'll be exposed to substantial demand.
Currently, there are more than 450,000 net Model 3 reservations with Tesla. Thing is, some investors have wondered about demand for the car once those reservations get filled.
Here's what the AAA numbers imply about Tesla's sales...
As of this writing, just under 1% of cars sold in the U.S. are plug-in electric. There is some precedent for much higher EV sales numbers, however. In California, electric vehicles now make up approximately 5% of all new car sales, a number that's boosted in part by statewide incentives and utility companies eager to put vehicles on the electric grid.
If just half of the consumers in the AAA poll (10% of those polled) actually followed through with purchasing an electric car in the next five years, U.S. demand for electric vehicles would ostensibly exceed 1.6 million vehicles. That's a 10x increase in electric car sales in the next half-decade, assuming zero total U.S. market growth between now and then.
And it paints a picture for Tesla remaining supply constrained, even as the Fremont, Calif., factory continues its production ramp up of the Model 3.
As electric vehicles and charging infrastructure become more commonplace, range-anxiety becomes less of a factor for auto consumers,  according to the poll. Instead, the key factor is price. Meanwhile, a recent report from UBS sees price parity between electric and internal combustion vehicles this year in some markets, with "true cost parity" by 2023.
In other words, consumers want electric cars as long as they don't have to pay a big premium to own them.
The key is producing cars at scale, which Tesla is currently in the process of working out.
As Elon Musk recently pointed out on Twitter, Tesla's Model 3 reservation numbers were built on the strength of its brand, not a marketing budget. That, plus oil prices that have rallied 50% in the last year, add some credence to the idea that Tesla will have little trouble selling as many cars as it can push out of Fremont.
This article is commentary by an independent contributor. At the time of publication, the author held no positions in the stocks mentioned.