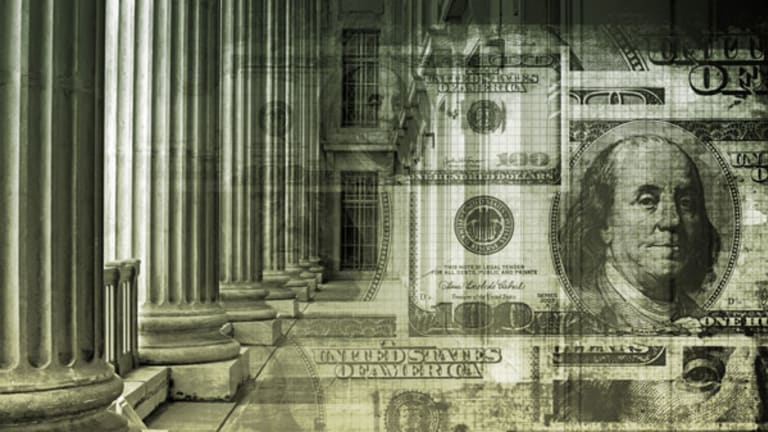 Einhorn's Chipotle Short Starved for Logic: Street Whispers
Einhorn may be fooling people on the rationale for his Chipotle short.
Einhorn may be fooling people on the rationale for his Chipotle short.
NEW YORK (
) --
Chipotle Mexican Grill
(CMG) - Get Report
shares are tanking to new one-year lows after the popular restaurant chain reported slightly weaker earnings than forecast third quarter earnings.
At first blush, Chipotle's falling shares would validate David Einhorn's
that the company is overvalued. However, in this instance, the famous Greenlight Capital short seller, who's correctly taken on
Lehman Brothers
and
Green Mountain Coffee Roasters
(GMCR)
, is being rewarded for being right for all of the wrong reasons.
That is if you take Einhorn's rationale for the short trade at face value.
Earlier in October, Chipotle shares were hit hard when Einhorn unveiled the high-flying restaurant stock as a new short position at the
Value Investing Congress
, citing the company's high price to earnings multiple and a competitive landscape marked by a resurgent Taco Bell, owned by
Yum! Brands
(YUM) - Get Report
. Now, after third quarter earnings came in slightly weaker than expected, the company's share fall is turning into a rout. Chipotle's lost roughly $2.4 billion in market cap and 30% in market value in the past month.
Einhorn made headlines for his theory that a new line of healthy Mexican fare at Taco Bell - Cantina Bowls -- would cut into Chipotle's customer base, hurting at the Denver, Colo-based chain's all-important earnings growth. Less emphasized in Einhorn's short thesis was Chipotle's expensive price-to-earnings multiple above 30 and the company's earnings trajectory as Chipotle turns from a novel restaurant to a mainstay in the fast-food industry.
As shares fall over 14% in early trading to $244 a share - levels not seen since early 2011 - it's the company's high PE multiple, slightly weaker than expected earnings and same store sales growth that are pushing the stock lower, not the impact of Taco Bell Cantina bowls. Meanwhile, rising commodity costs damper the company's once rosy earnings outlook.
Chipotle posted a $72.3 million profit, or $2.27 in earnings per share for the quarter, rising over 20% from year-ago levels of a $60.4 million profit, or $1.90 in EPS. Those figures came in slightly below consensus estimates of $2.29 in EPS, as revenue of $700.5 million fell less than 1% short of analyst estimates compiled by
Bloomberg
. More importantly, compared with the third quarter of 2011, revenue and profit growth slowed to about 20% from levels closer to 25% a year ago.
Chipotle chief financial officer Jack Hartung attributed part of the slowdown to soft consumer confidence - national data signals confidence nearing one-year highs - and an expected rise in meat and dairy costs as the summer's drought and corn shortfall puts upward pressure on commodity costs.
In weaker than expected third quarter earnings released on Friday,
McDonald's
(MCD) - Get Report
also forecast earnings pressures and highlighted a negative trend in comparable store sales.
When Einhorn made his presentation of Chipotle as a short, he made it a priority to emphasize the impact of Taco Bell, shouting a company slogan "taco, taco, Taco Bell" in a Midtown Manhattan ballroom. He even beckoned a room full of analysts, traders and journalists to go to the nearest Taco Bell and see why Cantina Bowls spell Chipotle's stock demise.
I followed Einhorn's advice, locating a dreary, underground Taco Bell in New York's Penn Station, and suffice to say Taco Bell's Cantina bowls are not the same as Chipotle's burrito bowls.
When making his presentation, Einhorn trotted out a survey conducted by Greenlight on roughly four thousand Chipotle and Taco Bell customers to see how both chains stacked up.
According to Einhorn, a majority saw little distinction between the two chains, in spite of big pricing differences. As Taco Bell rolls out its "Cantina" line of healthy Mexican food dishes, Einhorn says his short position is predicated on the company winning over price conscious Chipotle customers.
More likely is that the short will pay off for the simple reason that the interplay between Chiplotle's earnings multiple and its growth outlook had the stock overvalued heading into the third quarter.
At PE multiples in excess of 30, other fast-growing food and drinks chains have seen shares fall from record highs as earnings come in slightly below expectation. Notably,
Starbucks
(SBUX) - Get Report
shares have lost over 20% since the company
slightly and the stock retreated from a PE above 30.
On Friday, Wedbush Securities analyst Nick Setyan downgraded Chipotle from outperform and cut the company's price target to $270 from $350, citing the company's weaker than expected same store sales growth below 5% an its reluctance to spend on marketing that would drive customer traffic.
"We no longer expect increased marketing to drive incremental SSS growth ahead of expectations, and have lower confidence in another near-term price increase," wrote Setyan, in a Friday note to clients. Setyan underscored growth concerns and a cloudy commodity price outlook, but saw little evidence of the company's diminished standing as a healthy and popular fast food chain.
"Although we continue to believe Chipotle's pricing power remains intact, we have decreased confidence in another price increase to offset inflationary headwinds," wrote Setyan.
Commodity price headwinds, a maturing growth profile and weak marketing spending are different than an onslaught of earnings wrecking competition.
Meanwhile, instead of picking on companies with flaws in their business model -- as Einhorn did when rolling out a short trade in Green Mountain at this time last year -- the short seller simply appears to be picking on stocks that have run too far, too fast relative to earnings. Einhorn's Green Mountain short was as much about competition and poor cash flow dynamics, as it was about a highly critical view of the company's accounting and management practices.
To be seen is whether Einhorn's analysis as a gourmand stacks up to his discerning ability to comb through financial statements for overvalued and undervalued companies.
In fact, there are some big risks to the trade, namely that increased marketing spending may yet restore 5% same store sales growth. Meanwhile, the company's recently opened an Asian-themed ShopHouse restaurant brand that may revive earnings and open up new growth opportunities.
After taking on companies like
Allied Capital
in previous short trades, Einhorn wrote a groundbreaking exposition called
Fooling Some of the People All of the Time
on how to identify overvalued companies overrun by poor disclosure or an eroding market standing. In the case of Chipotle, it's Einhorn who may now be trying to play the fool's game.
At the Congress, Einhorn reiterated the short case for
Green Mountain Coffee Roasters
(GMCR)
and laid out why he is
on the earnings prospects of
General Motors
(GM) - Get Report
and
Cigna
(CI) - Get Report
, in spite of political and regulatory uncertainty that hangs over both stocks.
See why Bill Ackman may have forgotten about his J.C. Penney and Procter & Gamble
overhaul investments
and why Jana Partners' Agrium breakup pitch is a
for other big investing ideas presented at the Value Investing Congress.
Follow @agara2004
-- Written by Antoine Gara in New York