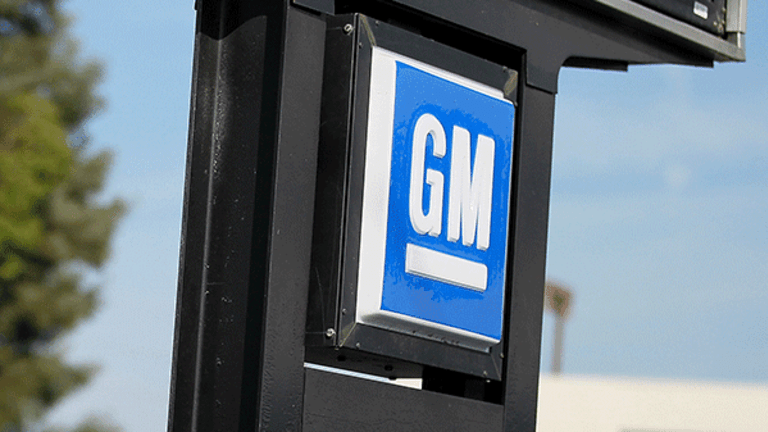 Einhorn's GM Director Battle Dealt Second Major Blow
Two top shareholder advisory firms are recommending that shareholders support General Motors' incumbent board, a major setback to the activist investor and his fund's director-battle.
A second major shareholder advisory firm is recommending that investors support General Motors' (GM) incumbent board, a major blow to activist investor David Einhorn and his fund's director-election battle and effort to force the automaker to split its stock into two classes.
At issue is Einhorn's Greenlight Capital, which is seeking to elect three dissident director candidates at GM's annual meeting, set for June 6.
Einhorn hopes his nominees, if elected, will push GM to split its stock into two classes, one that the manager said would "satisfy investors who want predictable income" and another that would "satisfy investors who are interested in more rapid earnings per share growth."
However, shareholder advisory firm Institutional Shareholder Services, in a report obtained by The Street late Friday, recommended that investors oppose Einhorn's director candidates and proposals. ISS said that the "dissident's dual- class share proposal" does not warrant support. It added that Einhorn "has not made a compelling case that change at the board level focusing on the implementation of its proposal is warranted."
The ISS recommendation came shortly after another shareholder advisory firm, Glass Lewis, said in a report obtained by The Street that it agreed with the position of GM's incumbent board, adding that "there are a number of risks and uncertainties associated with Greenlight's plan." The proxy adviser added that Einhorn's proposal is "speculative in nature" and "that the potential costs may outweigh the potential benefits."
In addition, Glass Lewis suggested that "the dual-share class structure would create competing interests among the holders of dividend shares and capital appreciation shares, introducing potential conflicts of interest as well as greater corporate governance complexity and uncertainty."
The advisory firm said that "in the absence of a compelling argument to the contrary, we are reticent to support the removal and replacement of incumbent directors."
ISS and Glass Lewis are the two main shareholder advisory firms, and their recommendations carry a lot of weight with investors, some of whom automatically vote their shares in lockstep with the ISS recommendations.
The two negative recommendations suggest that Einhorn isn't likely to have much success with his battle. In addition, Einhorn doesn't have much experience with director election proxy contests. He's only been involved in three previous proxy contests at much smaller, lower-profile companies, including New Century Financial Corp. in 2006, MI Developments in 2005 and at Mercer International Inc. in 2003. Greenlight, which typically launches short-selling activist campaigns, obtained concessions in settlements with New Century and Mercer International. However, a contest urging MI Developments to convert into a REIT failed overwhelmingly, according to FactSet.
In addition, the market never expressed much enthusiasm for Einhorn's campaign. The automaker's stock price only rose about 0.02% in April when Einhorn launched his director election battle to $33.94 a share. Since then, GM's shares have drifted downward and only rose up slightly to $32.78 a share recently. In addition, on Thursday, GM was accused of implementing devices designed to cheat diesel emissions tests, similar to those used by Volkswagen (VLKAY) , according to reports.
Even so, Einhorn has been accumulating more shares in recent weeks, quadrupling his GM stake to 54 million shares, or 3.6% of the company, according to quarterly filings that were issued earlier this month.
Greenlight Capital is seeking to elect Leo Hindery, Vinit Sethi and William Thorndike to the automaker's 11-person board. Hindery is managing partner of InterMedia Partners, Sethi is director of research at Greenlight and Thorndike is a managing director at private equity firm Housatonic Partners.
Glass Lewis defended GM's total shareholder returns under CEO Mary Barra and the incumbent board, adding that returns have been "reasonable, if not favorable." The adviser adding that the returns "suggest that the current board and management team are taking reasonable steps to oversee the business for the benefit of shareholders."
The advisory firm concluded that "ultimately" it was not convinced that a more aggressive approach is warranted.