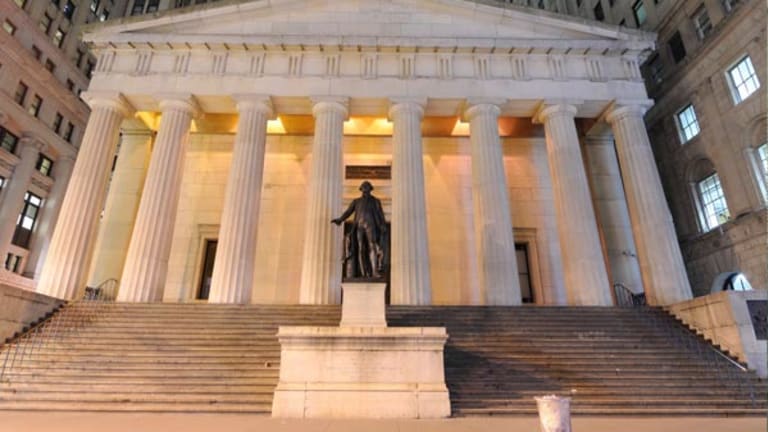 Publish date:
Einhorn and Berkowitz Clash Over St. Joe
David Einhorn has launched an attack on St. Joe. Bruce Berkowitz is buying more shares.
David Einhorn has launched an attack on St. Joe. Bruce Berkowitz is buying more shares.
BOSTON (TheStreet) -- Bruce Berkowitz and David Einhorn, two of the most successful value investors, are in a spat over one of Berkowitz's portfolio holdings, St. Joe Company (JOE) - Get Report.
Berkowitz, who runs
Fairholme Fund
(FAIRX) - Get Report
and
Fairholme Focused Income Fund
(FOCIX) - Get Report
, has delivered a 10-year annualized return of 10%. Einhorn, who runs
Greenlight Capital
, a long-short hedge fund, has produced annualized gains of 22% since his fund's 1996 inception.
At last week's New York Value Investing Congress, Einhorn unleashed a blistering presentation on St. Joe, a Berkowitz investment. Einhorn recommended that investors short the stock, suggesting that accounting fraud would eventually derail St. Joe.
The debate highlights an important investing tenet: Beauty is in the eye of the beholder, even when two individuals share a value investing philosophy. Both Einhorn and Berkowitz may, in fact, be right, but over what time frame? Since Einhorn's outcry, St. Joe's stock has tumbled 18%, hurting Berkowitz, who owns 29% of the company's outstanding shares. Berkowitz used the pullback to buy more St. Joe stock. Is he demonstrating or just simulating confidence?
This isn't the first time that Einhorn has derided a company whose stock he sold short. At a 2002 event, Einhorn announced his short position in
Allied Capital
, now part of
Ares Capital
(ARCC) - Get Report
, catalyzing a six-year conflict against Allied and the SEC, which entailed intense legal scrutiny. In efforts to quiet Einhorn, Allied's management obtained his phone records and accused him of market manipulation. The SEC conceded that Allied was misstating the value of its illiquid securities in 2007. Then, the financial crisis hit and Einhorn earned a profit from his short sale. He is also credited as one of the short-sellers who brought now-bankrupt
Lehman Brothers
down. Here he goes again, declaring the emperor has no clothes.
His campaign for transparency is admirable. As Einhorn details in his book
Fooling Some of the People, All of the Time
, regulators are inherently biased against short-sellers, even when the short-sellers are correct, because they have an entrenched interest in maintain the status quo, typically benefiting long investors. Regulators are naturally unwilling to admit that they've complied in furthering financial fiction, so they sometimes sweep issues under the rug.
Einhorn's presentation on St. Joe, a Florida-based real estate development company, was inflammatory. Titled
Field of Schemes: If You Build It, They Won't Come
, his 139-slide PowerPoint deck opens with a quote from Terrence Mann, a character from
Field of Dreams
. He goes on to ridicule former CEO Peter Rummell, once a
Disney
(DIS) - Get Report
"imagineer," citing a 2007 quote from the executive, in which he compared St. Joe's waterfront property to Nantucket, Hilton Head and Napa. The presentation includes photographs, contrasting the aforementioned destinations with St. Joe's undeveloped, overgrown properties.
Einhorn suggests that Joe's valuation of its properties is fraudulent and its business is at a stand-still. Certainly, the Florida housing market has been ravaged by the real estate decline. The average home-price drop has significantly exceeded the national average. And much of Joe's recent business has been selling its land rather than developing it. Einhorn suggests that property write-downs have much further to go to reflect market conditions. He demonstrates that recent sales of properties in the RiverTown development indicate a roughly 57% decline in lot value relative to the cost of development. Yet, the property is being carried on the balance sheet at a much higher multiple. Joe estimates value per property at roughly $400,000. But, Einhorn shows that the most recent sale, occurring in August 2010, was for two properties at $31,250 each.
Thus, in order to reflect market value, an impairment is necessary. Einhorn's analysis, though vitriolic, seems sound. He believes management is misleading investors, showcasing its WaterColor property, a gorgeous high-end development, in materials. WaterColor is roughly 90% developed and 80% sold. Its properties have moved because of their quality and location. Einhorn believes this is the exception rather than the rule. Given that the project is near completion, it will have an immaterial affect on St. Joe's performance going forward. He goes on to show that WaterSound, another high-end development, has sold its water-front properties and is now sitting on an inventory of interior lots. His analysis of other developments is equally expository. For example, the SummerCamp development is in Franklin County, in which 13% of the population resides in prison.
The bull case for St. Joe: The value of its land will be worth substantially more than it is currently in 20 years. The bear case: Right now, properties are grossly overvalued and management is covering its $50 million of annual operating costs by selling thousands of acres of undeveloped rural land each year. Thus, in 20 years, even if prices recover, St. Joe will have much less land at its disposal. Although Berkowitz may be correct and St. Joe's assets will appreciate considerably, given time, Einhorn makes a compelling argument that significant write-downs are necessary. Look for the debate to rage on in coming weeks.
-- Written by Jake Lynch in Boston.
RELATED STORIES:
10 Insurance Stocks That May Gain Up to 74%
Become a fan of TheStreet on Facebook.
Disclosure: TheStreet's editorial policy prohibits staff editors, reporters and analysts from holding positions in any individual stocks.