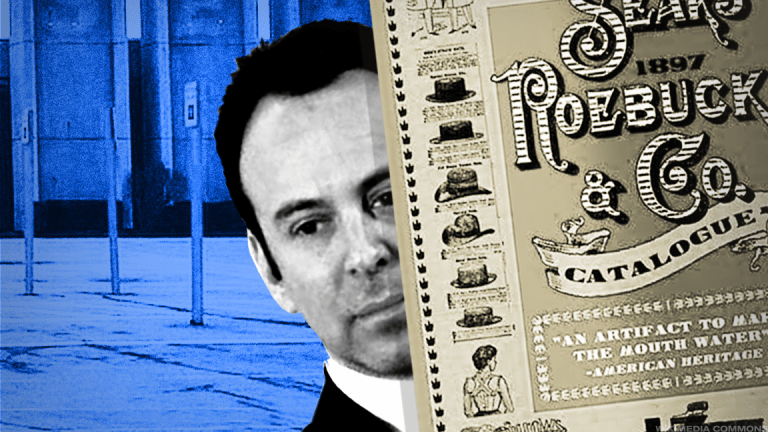 Sears CEO Was a Successful Investor Before the Chain's Woes Consumed Him
Before he took over struggling Sears, Eddie Lampert had lots of victories with activist campaigns.
Long before he got involved with troubled Sears Holdings Corp. (SHLD) , company CEO Eddie Lampert was an activist hedge-fund manager -- agitating privately (and successfully) for changes at targeted companies.
"He was basically an activist relational investor who sometimes got directors on boards," said Charles Elson, director of the Center for Corporate Governance at the University of Delaware. "His goals were [to] invest -- push for change in organizations -- and that's how he made his money."
But that all changed when Lampert became the architect of the 2004 Sears-Kmart merger that Sears Holdings Corp. Observers and people familiar with Lampert say that the Sears investment took up more and more of his time over the years. The financier slowly switched much of his focus from being an active outside investor to serving as an inside owner and operator -- and ultimately, Lampert took Sears' helm in 2013.
But despite the executive's best efforts, Sears stock has been on a downward spiral over the past few years. Driven partly by the growth of Amazon.com Inc. (AMZN) - Get Amazon.com, Inc. Report and e-commerce, the embattled retailer's share price has falling, trading recently at just $3.29 a share.
"He is off of activism now," Elson said. "Sears must take up all of his time now."
A Big Hit to Performance
The Sears investment has become a huge blemish on ESL Investments, the fund that Lampert founded in 1988.
According to a Jan. 10 activist securities filing, ESL Investments and Lampert own a 56.9% stake in Sears Holdings. But pushed downward by the Sears stake, ESL has suffered and now is a shadow of its former self.
According to a November report, it had an overall value of about $512 million, including the Sears allocation and a few other positions. That's way down from $3.5 billion during the same period of 2013.
An ESL Investments official did not return a call for comment.
A Strong Track Record Before Sears
Before getting involved with Sears, Lampert was an activist investor who had a focus on retail -- and a lot of success. According to FactSet, ESL Investments had launched seven campaigns at seven companies since 1996. For example, Lampert first took a 12% stake in auto-parts retailer AutoZone (AZO) - Get AutoZone, Inc. Report in 1999 and argued in a securities filing that AutoZone's operating performance didn't reflect the strength of its franchise, business position and culture.
He pushed for board seats and obtained a director position for himself later the same year after initiating discussions with management about ways to improve AZO's stock price. The investment steadily increased and by 2003, ESL owned about 26% of the stock. Lampert also held a director position until 2006, according to relationship-mapping service BoardEx, a unit of TheStreet.
ESL Investment's then-president William Crowley also obtained a seat on AutoZone's board between 2008 and 2012. (Crowley left ESL in 2012 after deciding not to move with the firm to Miami from Greenwich, Conn.) During the period of Crowley and Lampert's involvement, AutoZone's share price spiked from about $29 a share in mid-1999 to a whopping $380 a share in 2012 around the time that the fund cashed out its large position.
During their activism days, Lampert and Crowley were also was able to score directorships at car seller AutoNation Inc. (AN) - Get AutoNation, Inc. Report in 2002 after accumulating a large 23% stake the year before. Lampert's board position was held until 2007; Crowley held his board seat until 2013, according to BoardEx. ESL still holds a 17% stake in AutoNation, according to a December securities filing, and the car chain's share price has gone up from about $8 a share when the fund first made the investment to trade at $61.02 as of Wednesday's close.
ESL made its initial investment in AutoNation at prices ranging from $7.97 a share to $10 a share in September and October 2001. In addition, the firm has held large minority stakes in other well-known retailers in the past, including Big Lots (BIG) - Get Big Lots, Inc. Report and Gap (GPS) - Get Gap, Inc. Report .
Overall, the activist strategy did well for Lampert, who got his start in investing in the risk arbitrage department at Goldman Sachs & Co. (GS) - Get Goldman Sachs Group, Inc. Report . In 2004, CNN/Money reported that ESL Investments had returned an average of 29% a year for investors since its 1988 inception. That year, BusinessWeek also put him on their cover with the headline: "The Next Warren Buffett?"
However, the situation deteriorated substantially following ESL's Sears-Kmart investment.
It Wasn't Supposed to Turn Out This Way
Elson, who knows Lampert, said that ESL's strategy for Sears was based in part on the idea that the market was not accurately valuing the department store chain's real estate. He added that the thesis was also partly that sometimes companies can be very profitable even if they aren't growing.
The expectation among some at the time of the Sears-Kmart merger was that Lampert was going to immediately sell off Sears' real estate and turn Sears into a supersized real estate holding company. But that never happened. Elson noted that following Lampert's initial investment in 2004, the real estate market took a hit during the 2008 financial crisis, which contributed to Sears' troubles.
A person familiar with the situation noted that lately, investors have been disappointed with ESL's returns and have left the fund in droves. A key issue, the source said, was Lampert's decision to focus too much on one investment -- Sears.
The person added that Lampert's management style -- micromanaging, churning through executives and not giving top managers enough freedom to do their jobs -- didn't help. "He's the type of guy that has to focus on the details," the source said. "He's more of an investor than a manager."
This article originally appeared in TheStreet's sister publication TheDeal, which covers mergers and acquisitions. For more great coverage like this, click here.
More of What's Trending on TheStreet:
Employees of TheStreet are restricted from trading individual securities.