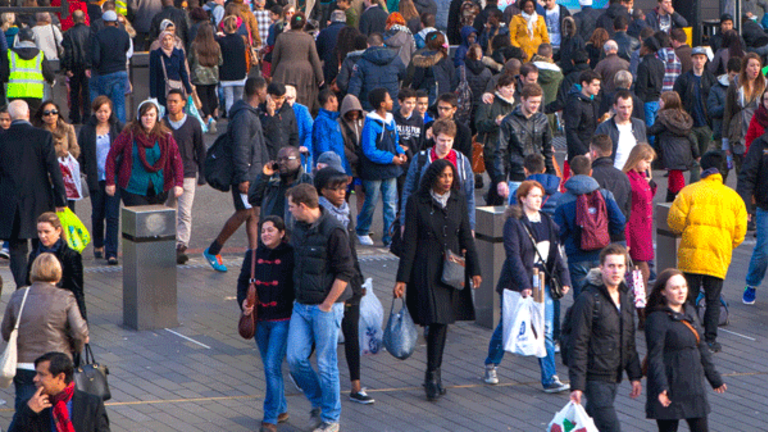 The U.S. economy grew faster during the third quarter than originally reported, expanding at a 3.2% annual pace as consumer spending decelerated less than the government originally said, and investment picked up as crude oil prices stabilized.
The performance narrowly topped mean forecasts for 3.1% growth in gross domestic product in surveys by Econoday and Dow Jones. The government last month estimated third-quarter growth at a 2.9% annual rate, but reports on industrial production, retail sales and other indicators issued after the initial estimate of GDP had pointed to a more-rapid expansion.
"It's a bit better than expected due to the large upward revision to consumer spending," said Richard Moody, chief economist at Regions Financial. "Ongoing weakness in business investment in equipment and machinery is still the biggest domestic concern."
More investors are becoming convinced that the Federal Reserve will raise its target range for short-term interest rates by a quarter percentage point on Dec. 14. Futures prices point to a 93.5% chance of a boost in the Fed rate to a range between 0.5% and 0.75%, according to CME Fedwatch.
Consumer spending, which makes up more than two-thirds of GDP, rose at a 2.8% annual clip during the quarter, higher than the 2.1% originally reported. That points to a better holiday season for retailers like Wal-Mart Stores (WMT) - Get Walmart Inc. Report and Amazon.com (AMZN) - Get Amazon.com, Inc. Report . Private investment spending climbed at a 2.1% rate, lower than the 3.1% first reported.
The big drops in estimated investment spending were for intellectual property products such as software, which rose at a 1% rate versus the 4% initially reported, hurting prospects for the likes of Oracle (ORCL) - Get Oracle Corporation Report and Microsoft (MSFT) - Get Microsoft Corporation (MSFT) Report , and on equipment, which fell at a 4.8% annual rate instead of 3.7%.
"There were some worrisome details," Moody's Analytics economist Ryan Sweet said in an e-mail. "Equipment spending was revised down along with intellectual property. The latter is important as strong gains are needed to eventually boost productivity growth."
Equipment spending is often heavily influenced by spending on oil drilling and exploration, and falling oil prices during part of the quarter may account for the dip.
There were positive surprises on corporate profits and on personal income.
Corporate profits, which weren't included in the initial GDP report, rose 2.8% from a year earlier, the first gain in six quarters, said Point72 Asset Management chief economist Dean Maki.
"This should be a positive influence on business investment spending in coming quarters,'' he said. "Overall this is a modestly better-than-expected report, which points to another solid gain in real GDP in the fourth quarter."
Personal income also rose more than expected, said Jim O'Sullivan, chief U.S. economist at High Frequency Economics. Nominal wage income growth was revised to a 6.7% annual rate in the second quarter, from 4.7%, and to 5.5% in the third quarter, from 4.8%, he said in an e-mail. 
"Surprises were more positive than negative," O'Sullivan said.
Inventory accumulation added less to the economy than initially estimated, boosting GDP by 0.49 percentage point instead of 0.61 percentage point. Net exports added 1.18 percentage points to the economy's annualized growth pace, compared with the 0.83 percentage-point addition reported earlier. 
The sharpest drop from the original report came from estimates of government spending. Governments at all levels boosted their spending by 0.2% annually, down from 0.5% in the initial report. The difference was a bigger-than-reported decline in state and local government spending.
This article is commentary by an independent contributor. At the time of publication, the author held no positions in the stocks mentioned.