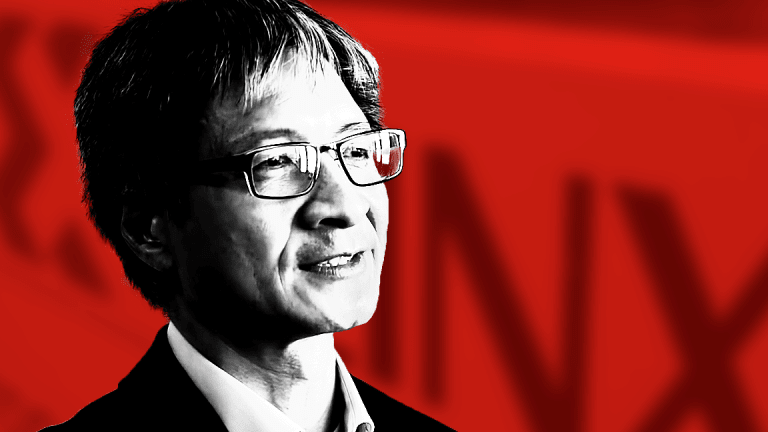 Xilinx CEO on U.S.'s Huawei Ban: We've Seen This Movie Before
The chipmaker was also hit last year with a U.S. ban against ZTE, so the move against Huawei is not an entirely new experience, CEO Victor Peng tells TheStreet.
Victor Peng, chief executive of programmable-chip maker Xilinx (XLNX) , has become somewhat accustomed to having his business upended by U.S. trade policy. Last year, one of his customers in China, telecom giant ZTE, was hit by a U.S. trade ban, just a month before Xilinx held its analyst day event.
This year, the U.S. Commerce Department issued another ban against another Xilinx customer, China's Huawei, the largest telecommunications company in the world, on the same day as Xilinx's analyst day, May 16.
In an interview with TheStreet following fiscal Q1 results Thursday evening in which Xilinx beat estimates but issued weaker-than-expected revenue guidance for the current quarter, Peng indicated that he's now somewhat more experienced in dealing with sudden trade upsets. That guidance, driven by the threat of Huawei impinging on results going forward has pushed down Xilinx shares Thursday morning by close to 3%, to $128.66.
"I don't want to say this is the same thing, but people have forgotten that this is a little bit of 'we've seen the same movie before,'" said Peng, referring to the ZTE action last year.
That ban was lifted shortly after it was imposed, and the company got back to business.
"I really hope we can resolve the fundamental issues around trade because China is an important market, and Huawei is an important customer," said Peng. Analysts on the call tried to get Peng to disclose exactly how much revenue Xilinx gets from Huawei, but Peng declined, save to reiterate that Huawei makes up less than 10% of Xilinx's revenue. He further noted that Xilinx has no single customer at the moment who make up more than 10% of its revenue.
While the company's Q1 revenue was consistent with its forecast back in May, and also in line with consensus estimates, the company's projection of revenue for this quarter, $800 million to $850 million, was below the average estimate of $853 million, a reflection of the fact the company expects to continue to forego some Huawei revenue this quarter. 
Asked if Xilinx needs to think about finding other sources of revenue to make up for Huawei if the ban should drag on for a very long time, Peng said that "obviously, internally, you think about and discuss, what does this mean? But we don't want to be rash, and it would be premature to jump to conclusions about how long this will last, it's only been two months" since the ban was instituted.
Peng said the Huawei ban is "a big thing," but that "it doesn't change anything about our strategic opportunity." 
People "shouldn't lose sight of the big picture," when it comes to Xilinx's future, said Peng. Newer products that Xilinx has introduced, such as its "ACAP" platform for things such as artificial intelligence computing, are "hugely transformative" of the company and will "disrupt" an established market controlled by Nvidia (NVDA) and Intel (INTC) , he said, and "I feel very good about that."
In talking to TheStreet, Peng said it will be hard for China to replace Xilinx's products, should the ban drag on. For example, Xilinx's field-programmable gate arrays, or "FPGAs," are commonly used in cellular base stations, especially for early designs. That makes the chips important for 5G wireless networking build-outs in China. 
Xilinx is one of only two outfits in the world with the capability to make these FPGAs, the other being Intel's Programmable Systems Group, according to Peng. "There's only us, and PSG, and we have been way ahead of them, so there's not a direct replacement," Peng said.
Chinese firms could ditch Xilinx's FPGAs in favor of application-specific integrated circuits (ASICs), which are less flexible but can do the same work, but "you can't turn on a dime and re-architect" products that have been months or years in the design process, said Peng. "Yes, they could use ASICs, but they can't just all of a sudden replace us with that."
With Xilinx shares up nearly 50% so far this year, TheStreet asked Peng was asked how he thinks investors should approach the stock. "Oh, gosh, obviously, I'm long on the company," said Peng. He then pointed to the company's strategy of going after numerous growth markets, asking rhetorically "how many companies have exposure to data center and 5G and auto and a diversified base that just helped in offsetting some of the more volatile ones?"
Save 76% with our Summer Break Sale. Subscribe to our premium site Real Money and become a smarter investor! Click here today to sign up!
Nvidia is a holding in Jim Cramer'sAction Alerts PLUS Charitable Trust Portfolio. Want to be alerted before Cramer buys or sells NVDA? Learn more now.
Tiernan Ray neither trades nor owns any shares of any companies mentioned in this article.