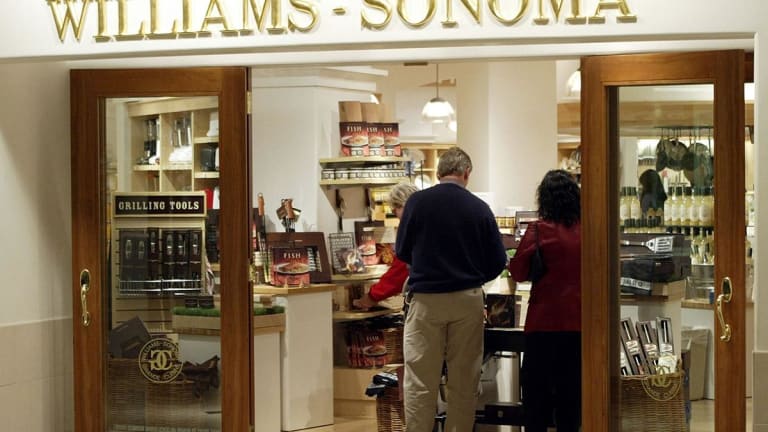 Williams-Sonoma Stock Seesaws After Hours Despite Strong Earnings
Household-furnishings retailer reported earnings that beat analysts' expectations.
Williams-Sonoma (WSM) - Get Free Report  after the Wednesday close reported fiscal-second-quarter earnings that beat analysts' expectations.
One of the largest e-commerce retailers in the U.S., the company reported GAAP EPS of 79 cents for the quarter ended Aug. 4 against 62 cents in the year-earlier quarter. Non-GAAP EPS was 87 cents, a 13% increase from a year earlier. The Bloomberg consensus estimate was 83 cents.
Second-quarter net revenue came in at $1.37 billion, up 7.5% year over year. The Bloomberg estimate was $1.31 billion.
Other highlights from the San Francisco company: 
Comparable brand revenue growth of 6.5%, primarily driven by an acceleration in comparable growth for West Elm and Pottery Barn to 17.5% and 4.2%, respectively.
GAAP operating margin of 6.3%; non-GAAP operating margin expansion of 10 basis points to 6.9%
Looking ahead at the full year, the company expects net revenue of $5.74 billion to $5.9 billion; comparable brand revenue growth of 3% to 6%; non-GAAP operating margin in line with 2018 and non-GAAP diluted EPS of $4.60 to $4.80.
Depreciation and amortization are anticipated to be $185 million to $195 million. And the specialty retailer of kitchenware and home furnishings plans to close 25 stores for a total store count of 600 by the end of 2019.
Williams-Sonoma has a hold rating, according to the 22 analysts polled by FactSet. Bloomberg's poll shows three buy ratings, 17 holds and four sell ratings on the stock.
Its target price is $61.20, according to analysts polled by FactSet. And its dividend yield is 2.8%.
The stock was oscillating between gaining 0.60% and losing 4% in after-hours trading, with the shares at $66 to $69 each.
Laura Alber, president and CEO, said in a statement:
"We continue to deliver very strong results. In the second quarter, comp revenue growth accelerated to 6.5%, while operating margin expanded and EPS grew double digits. The growth strategy that we outlined at the beginning of the year is driving results and giving us the competitive advantage to continue to outperform. West Elm, our biggest growth opportunity, continues to accelerate, the Pottery Barn brands have returned to strength, and our cross-brand initiatives such as The Key and Business-to-Business are becoming more impactful levers of growth. We are also improving the customer experience through innovation and experimentation, and we are seeing the results of this work fuel brand level performance across our portfolio. In addition, our data-driven performance marketing is producing outsized returns on our digital media investments."
Labor Day Sale: Join Jim Cramer's Club for Investors and Save.Get 57% off on your membership to Jim's Action Alerts PLUS club for investors.