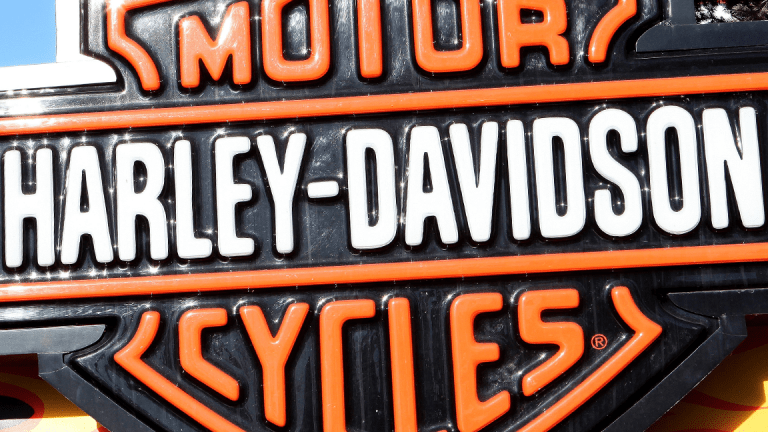 Harley-Davidson to Report After Enduring Trump Tariff Tirade
The motorcycle-maker is expected to report earnings of $1.41 per share on revenue of $1.42 billion.
Harley Davidson is revving up for a quarter that has been fueled by news of tariffs.
Harley-Davidson Inc. (HOG)  will announce second-quarter results before the bell on Tuesday, July 24, and the motorcycle manufacturer is expected to report earnings of $1.41 per share on revenue of $1.42 billion. Last year in the same period the company earned $1.48 a share, 10 cents above estimates. 
Tariff issues will be front and center for many investors given CEO Matthew Levatich's plans to shift some production overseas to offset European Union tariffs on its motorcycles, and analysts seem to think the move will be beneficial.
"Harley Davidson's plans to shift production of EU-bound motorcycles outside of the U.S. is couched as a response to a 25 percentage-point increase in EU tariffs, but more likely is a longer-term consideration given eroding demand and margin," said Bloomberg Intelligence senior industry analyst Kevin Tynan. "Passing along the added costs to European consumers, which Harley estimates at $2,200 per bike, would hurt demand in one of its more promising regions."
Meanwhile, Wedbush analyst James Hardiman said moving some of Harley's production overseas could be a long-term positive.
"Much like the Great Recession gave the company cover to renegotiate labor union contracts in 2009, the Trump tariffs, to some degree, give the company cover to shift production to lower cost labor markets," Hardiman wrote in a July 9 research note. "Harley noted that its preference is to make its motorcycles in the U.S., but that the shift to international production was its only sustainable choice to continue serving the EU."
President Donald Trump slammed Harley for its decision, writing in a tweet that "they will be taxed like never before."
Harley had been the apple of the president's eye earlier in his administration. On February 2, 2017, the president praised Harley executives for "buildings things in America."
The cost of the tariffs apparently pushed Harley to defy the president's word. Still, Morgan Stanley analyst Armintas Sinkevicius said Harley is engaging in a risky public relations strategy.
"Engaging the President directly on issues of foreign trade run the risk of core consumer sentiment moving outside of HOG's control," Sinkevicius wrote in late June. "Is it possible that HOG weighed the benefit of averting EU taxes by shifting US jobs overseas against the risk of alienating its core US base? It is possible, though the company has not said so."
And the EU tariffs are not the only cost Harley has to absorb, according to Wedbush, as the tariffs on steel and aluminum could prove to be even more costly than first anticipated.
"Raw materials represent 7% of [cost of goods sold] for the company, with steel and aluminum representing by far the two largest components of raw materials," Wedbush's Hardiman said. "While steel and aluminum prices had already begun to spike, we have only seen continued inflation over the past few months, and so we would expect the $15 million figure [that management estimated in the first quarter] to be significantly higher following [the second quarter], potentially double."
Shares of Harley-Davidson were little changed at $41.60 at 3:30 p.m. New York time.
There are five Buy, 15 Hold and 1 Sell ratings on the stock, according to Bloomberg data.