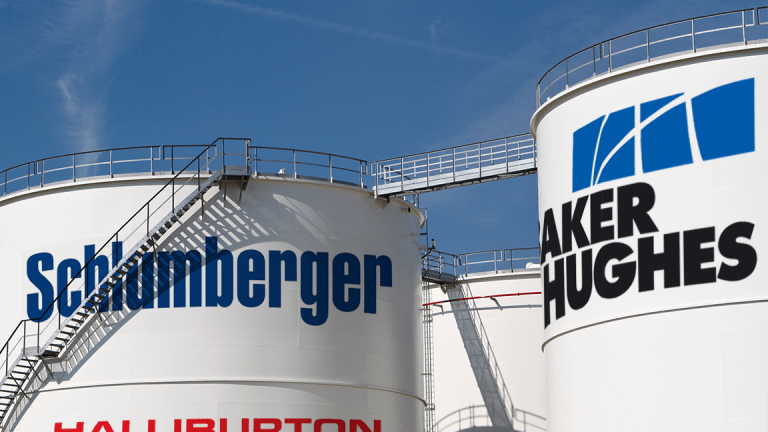 What Schlumberger, Halliburton, Baker Hughes Earnings Will Do for Energy Stocks
Analysts have curbed their expectations for oilfield services earnings over the past two months largely due to sand shortage issues that may lead to fewer completions by many of these companies.
Energy sector earnings season starts rolling later this week, and as always, the party will kick off with the so-called big three oilfield services providers: Schlumberger Ltd. (SLB) - Get Schlumberger N.V. Report , General Electric Co.'s (GE) - Get General Electric Company Report Baker Hughes (BHGE) - Get Baker Hughes, a GE Company Class A (BKR) Stock Price, News, Buy or Sell Rating Report , and Halliburton Co. (HAL) - Get Halliburton Company Report . 
Schlumberger is a holding in Jim Cramer's Action Alerts PLUS.
While oilfield services stocks have been riding the energy stock outperformance wave of late, investors are mostly still sitting on the sidelines, according to Tudor, Pickering, Holt & Co. analysts. 
That means first quarter earnings present a significant opportunity for management teams to potentially convince investors of the renewed merit for their stocks. 
"We've been around long enough to know that markets never behave exactly the way we expect, so given the current sky-high apathy level regarding the OFS space, there are bound to be some positive egative surprises (Q1 results and/or Q2+ outlook commentary) which draw at least some folks off the sidelines," the firm wrote in a Wednesday, April 18, research note.
Schlumberger - Paal Kibsgaard
Part of that game plan requires managing analysts' expectations ahead of earnings. Of the big three, Schlumberger has seemed to do the best job of that so far. 
"Masterful job by SLB of casting pall over market expectations for its Q1'18 results (we and Street now both down to 37c EPS) without actually precisely quantifying order of magnitude of transitory North America frac market headwinds (sand logistics, etc.)," the analysts wrote in a Wednesday note. "We've been to this (quarterly earnings) rodeo before with the global OFS bellwether, so we'll take the over on SLB's Q1 print, which suggests Street Q2 EPS (48c vs. our 46c) is probably in right ballpark."
Indeed, last month a number of analysts revised their earnings estimates for Schlumberger following management commentary on sand and logistics issues, including Seaport Global Securities LLC, which now expects earnings of 37 cents per share, as well. The shut down of a major railroad in the first quarter was causing shortages of sand noted by both Schlumberger and its competitor Halliburton, and with the two largest pumping companies in the US experiencing such significant shortages and delays, Seaport said it would not be surprised to see delays and disappointments in U.S. well completion rates and well production volumes in the near-term.
To be sure, as the largest oilfield services company in the world, Schlumberger's earnings are about more than just income and revenue numbers and North American sand issues. According to TPH, the market justifiably always looks to Schlumberger's international commentary as they have arguably the best international oil patch intelligence on the planet.
"But we're most curious to hear that the near-term transitory international earnings-recovery bridles (e.g., costs associated with asset reactivations) will be in rearview mirror come this summer," the firm wrote. "Regarding NAM onshore, SLB will never say, but we're looking for at least some qualitative color on the deployment pace for its recently acquired frac horsepower."
On Friday before the opening bell, Schlumberger is expected to report earnings of 37 cents per share on revenues of $7.8 billion, according to FactSet Research Systems Inc. Look for CEO Paal Kibsgaard to take the stage for a subsequent conference call in which the longtime CEO of the world's most dominant oilfield services provider should relay a cautiously optimistic message focusing on his company's best-in-class international presence.
Halliburton - Jeff Miller
For competitor Halliburton, discretion has been the key to managing market expectations this earnings season, but this is a fair stance to take, TPH said, given that we're coming off fourth quarter earnings in which oilfield services companies that disappointed were "were taken out back and put out of their misery."
In other words, the stock market was not kind to earnings misses in the oilfield services sector last go around, so no one can blame Halliburton for being wary of promising too much this quarter. 
Halliburton's relatively new CEO Jeff Miller and company have done well to telegraph the services provider's sand logistics dilemmas, which may be why analysts surveyed by FactSet expect earnings of 41 cents per share on sales of $5.75 billion. If Halliburton is in line with consensus estimates, it would mark a step back from its EPS of 53 cents on $5.94 billion in revenue -- the best earnings and sales numbers the company has hit in more than two years. 
TPH said in a Wednesday note it believes Halliburton's U.S. hydraulic fracturing stages completed have trended favorably during the first quarter, meaning March completions were better than February completions, which were better than January completions.
With that, the firm suggests Halliburton may be the boy who cried wolf for the first quarter, and therefore the company should trump even TPH's first-quarter earnings estimate of 42 cents per share, which is slightly above Wall Street's best guess. 
"Heaven help us if we're wrong as our recent client conversations suggest that there are more folks in our camp than there are investors who believe this Q1 earnings tale uncomfortably ends with the sheep/boy (and HAL stock) getting eaten," TPH wrote. "Working in HAL's favor is that most investors with whom we speak these days are convinced that the U.S. hydraulic fracturing services market is already (cyclically) oversupplied. We disagree and are happy to walk folks through our U.S. frac supply/demand work which illuminates why we feel as such. In the meantime, we're sticking with our bullish HAL stance as we believe the stock will see $60/share before it sees $40."
Halliburton, which closed at $50.89 per share Tuesday, reports earnings Monday ahead of the opening bell. 
Baker Hughes - Lorenzo Simonelli
Almost a year after Baker Hughes linked up with General Electric's oil and gas unit, the company finally seems to have gotten the proper footing organizationally, operationally and financially, according to analysts. 
That may be why the company's stock has taken off over the past six weeks, climbing almost 29% from $26.40 a share at the end of February to over $34 a share Wednesday.
But TPH is uncertain over what other catalysts approach the stock in the near term. Analysts surveyed by FactSet are calling for earnings of 6 cents per share for Baker Hughes, and TPH analysts think somewhere between that mark and their own 9-cents-per-share expectation would have a negligible effect on the stock. 
But one real potential needle mover, according to the firm, would be for a marked improvement in Baker Hughes' free cash flow, given the company reported a deficit in that category during its fiscal 2017. 
"We've confidence BHGE will deliver on this in FY'18...bonus would be if positive FCF already started flowing in Q1. We got too cute when BHGE stock was in high-$20s (couple weeks ago), so we'll tactically pick our spots on this one this spring/summer."
Wall Street's earnings expectations of 6 cents per share are well below the 15 cents per share Baker Hughes produced in the fourth quarter, as is the $5.43 billion in revenue expected this quarter compared to the $5.76 billion in the past frame. 
Similar to its majority shareholder General Electric, Baker Hughes reports earnings Friday morning before markets open. Expect Baker Hughes CEO Lorenzo Simonelli, who took the helm at the newly combined company after serving atop GE's oil and gas unit since 2013, to attempt to assure investors and analysts that the integration period is in the rear-view and his company is ready to start regaining market share after years of losing ground.
Of course, if you're looking for just one of these industry titans to add to your portfolio, however, Tudor, Pickering, Holt suggests leaning toward Halliburton, as the negative sentiment regarding U.S. hydraulic fracturing market supply and demand fundamentals is at a "fever pitch," and Halliburton is the most North American-levered player of the three.