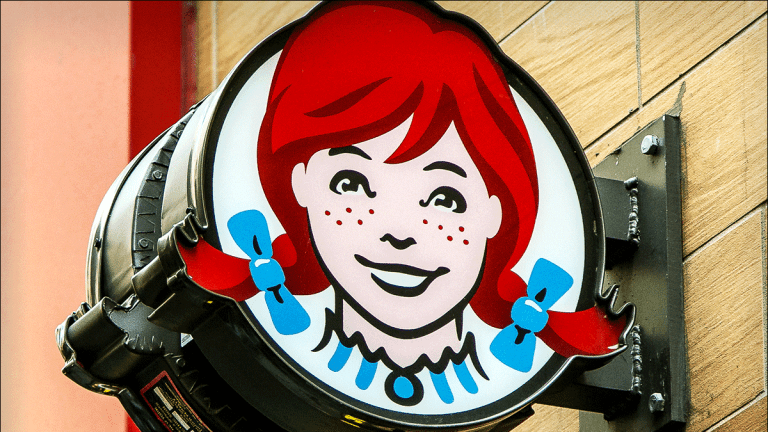 Wendy's Rings In Third-Quarter Earnings Beat, Better Outlook
Wendy's posts better-than-expected third-quarter earnings and sales amid a strong uptick in same-store sales.
Fast-food restaurant chain Wendy's (WEN) on Wednesday reported third-quarter earnings and sales that beat analysts' forecasts amid a strong uptick in same-store sales and an increase in franchise royalty revenue, which was aided by more new restaurant openings. 
The Dublin, Ohio-based company posted adjusted earnings before income, taxes, depreciation and amortization of $109.9 million, or 19 cents an adjusted share, vs. $107.2 million, or 17 cents, in the comparable year-ago quarter.
Analysts polled by FactSet had been expecting earnings of 15 cents a share. Sales rang in at $437.9 million, up from $400.6 million a year ago and ahead of analysts' forecasts of $434.4 million. Same-store sales in North America gained 4.4%; systemwide sales rose 5.5%. 
Shares of Wendy's went cold in September after the company said it was scaling back its adjusted per-share earnings outlook as part of a longer-term plan to invest about $20 billion to retrofit and support its U.S. franchisees to serve breakfast, including hiring more employees.
At the time, the company lowered its forecast for adjusted earnings per share to a drop of between 3.5% and 6.5% in 2019, vs. per-share earnings growth of between 3.5% and 7%.
The company tweaked that guidance on Wednesday, saying it now expects per-share adjusted earnings of between down 1.5% and up 1.5%. It also reiterated its financial guidance, stating it expects full-year systemwide sales of between $12 billion and $12.5 billion, and adjusted EBITDA of approximately $425 million to $435 million.
In a recent "Mad Money" Lightning round, TheStreet's Jim Cramer spoke highly of Wendy's, suggesting the company's focus on getting into the competitive breakfast market and hiring some 20,000 to do so shows it is serious about competing with the likes of McDonald's (MCD) and others. "I think that Wendy's is in good shape. I really like them," Cramer said.
Shares of Wendy's were down 0.66%, or 14 cents a share, at $20.70 in morning trading on Wednesday. They ended the day Tuesday up 1.36%, or 28 cents a share, at $20.84.