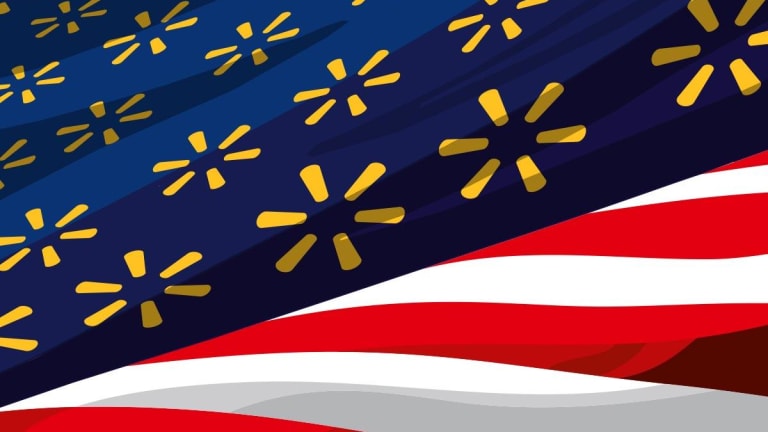 Walmart Has Booming Momentum That Amazon Should Fear
Wall Street analysts are still buzzing about Walmart's exciting quarterly turnaround.
Walmart (WMT) - Get Report is the comeback kid in retail. 
The retail giant didn't just beat Street-wide second-quarter earnings expectations it Walmart trounced them. Not since 2007's 'Great Recession' where Walmart last hit 40% e-commerce sales growth has the giant unleashed such stellar earnings. 
Here, we turn to TipRanks' data to see what Wall Street analysts are saying about Walmart's booming momentum.
The Flipkart Factor
Even though Walmart popped after its monster second quarter success, Raymond analyst Budd Bugatch downgraded Walmart from a Strong Buy to Outperform rating.
That said, it's important to always read between the lines. Bugatch is still quite bullish on the retail giant's story, hiking the price target from $100 to $107. In other words, the analyst calls for a confident 11% upside potential ahead. 
Bugatch gives kudos to Walmart's long-term approach as the company continues to invest in new world of retail prospects as well as growth geographies. Consider Walmart's $16 billion takeover of Indian e-commerce company Flipkart, for instance.
Walmart International president and CEO Judith McKenna believes, "Walmart and Flipkart will achieve more together than each of us could accomplish separately to contribute to the economic growth of India, creating a strong local business powered by Walmart."
"Our investment will benefit India by providing quality, affordable goods for customers, while creating new skilled jobs and opportunities for suppliers. As a company, we are transforming globally to make life even easier for customers, and we are delighted to learn from, contribute to and work with Flipkart to grow in India, one of the fastest-growing and most attractive retail markets in world," added McKenna.
Still, investments are a double-edged sword, and Bugatch understands this M&A play is set to drag consolidated operating earnings.
"The total drag for [2019 and 2020] operating earnings will depend on when the investment closes and the level of incremental investments needed to continue [to] grow the business going forward," explains the analyst.
A Top Analyst Gets More Confident
Guggenheim analyst Robert Drbul is a top analyst who continues to cheer from Walmart's bullish camp, even more so after the earnings knockout. Of the over 4,800 analysts we cover on TipRanks, Drbul is ranked at an impressive #83. 
In reaction to the "strong" print, the analyst reiterates a Buy rating on Walmart's stock while bumping up the price target from $100 to $110 (14% upside potential).
"The WMT U.S. comp was the strongest in >10 years (+4.5% vs. our +2%), led by grocery (strongest in 9 years), with broad strength continuing through back-to-school. Sam's Club comps rose 5% (strongest in 6 years)," cheers Drbul.
Moving forward, the analyst sees every reason to continue positive on Walmart's market opportunity: "We believe the business remains healthy, with inventory in great shape (-3.4% in total), traffic increasing (+2.2%), and e-commerce accelerating (+40% growth)."
An 'Exclamation Point' Kind of 2Q
Another bull celebrating in Walmart's corner: Citi Research's Kate McShane. Already at the end of last year, McShane joined the bulls on Walmart, upgrading from Neutral to Buy, thanks to strides in e-commerce.
"WMT's e-commerce operations are emerging as a true challenger to Amazon (AMZN) - Get Report ," McShane asserted, adding: "We sat on the sideline with this name in '17, which proved to be a big mistake...we think there is even more to come..."
At the close of December, McShane was betting on Walmart's "aggressive omnichannel strategy" to keep driving "significant sales growth."
Following earnings, McShane reiterates a Buy rating on Walmart's stock with a $113 price target. This suggests McShane still recognizes 18% in upside potential ahead. 
Ben Bienvenu of Stephens called Walmart's second quarter earnings pop ahead of the print. The analyst predicted: "We think Walmart can deliver second-quarter results that keep the stock grinding higher."
After the stellar second quarter, Bienvenu told TheStreet's Real Money publication: "Same store traffic has really increased since they started this investment [into the workforce]." In a nutshell, "I think today's results put an exclamation point on that," continues Bienvenu.
As such, the analyst reiterates an Overweight rating on Walmart's stock with a $118 price target. These are upbeat expectations, with Bienvenu anticipating Walmart shares have 23% more room to run. 
Bottom Line
Overall, the 'Moderate Buy' stock has drawn six bullish recommendations over the last three months. Though four analysts are playing it safe on Walmart from the sidelines, consensus expectations tell a positive story. The 12-month average price target stands tall at $106.00, marking 10% in upside potential. 
TipRanks.com offers exclusive insights for investors by focusing on the moves of experts: Analysts, Insiders, Bloggers, Hedge Fund Managers and more. See what the experts are saying about your stocks now at TipRanks.com. Author: Julie Lamb