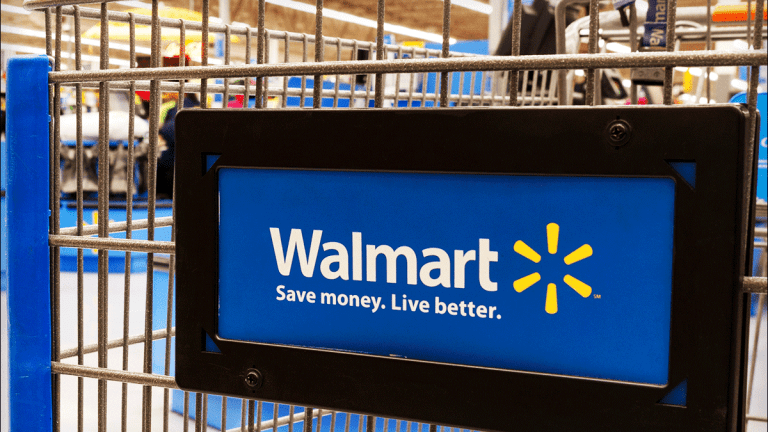 Walmart Gives Back Earnings Gains -- Here's How to Trade WMT Stock Now
Walmart stock has given up all its post-earnings gains, but key support appears to be holding. Here's what the charts say.
Walmart (WMT) stock gapped up to new all-time highs on Thursday morning, after the retailer's third-quarter earnings impressed Wall Street. 
Within a few hours of the open, though, those gains fizzled away. That can't be a good sign, right?
The reaction to the report has left some bulls scratching their heads. Walmart reported earnings of $1.16 a share, 7 cents ahead of expectations. While revenue of $128 billion was in line with estimates, sales grew 2.5% year-over-year and comparable-store sales growth of 3.2% beat expectations of 3.1%.
Finally, management gave a slight boost to its full-year earnings outlook.
By most accounts, it was a solid three months of business, and the next three should be sound as well. That's not doing much to comfort investors, though, with the shares about 1% down on the day.
With the mixed reaction to the results, Walmart is a worthy candidate for Real Money'sStock of the Day. Let's look at the charts.
Trading Walmart Stock
As you can see on the daily chart above, Walmart stock has done pretty well for the bulls over the past year. The shares opened for trading at $124.60 and hit a high of $125.38. But since then it's endured a steady pullback throughout the day.
But important for bulls will be to see if the shares can firm up in the $118 to $120 area.
First, $120 has been resistance for several months now. WMT stock finally closed above this mark on Wednesday -- just ahead of its earnings report -- and now after gapping higher, it would be a bullish sign to see bulls defending this level. So far, they are.
When prior resistance turns into support, it's a bullish development.
Further, Walmart stock has its 20-day and 50-day moving averages between the $118 and $120 zone. Particularly when it comes to the latter, it has played a notable role as support throughout 2019.
Below the 50-day moving average and WMT stock could make its way down to the $112.50 to $115 range. But let's not get ahead of our skis. The $120 level could very well hold, and if it does, a bounce back to the post-earnings high could be in the cards.
The bottom line: Bulls need to see $118 to $120 hold. Below and more consolidation is needed. Above and the post-earnings highs are on the table.
This article is commentary by an independent contributor. At the time of publication, the author had no positions in the stocks mentioned.