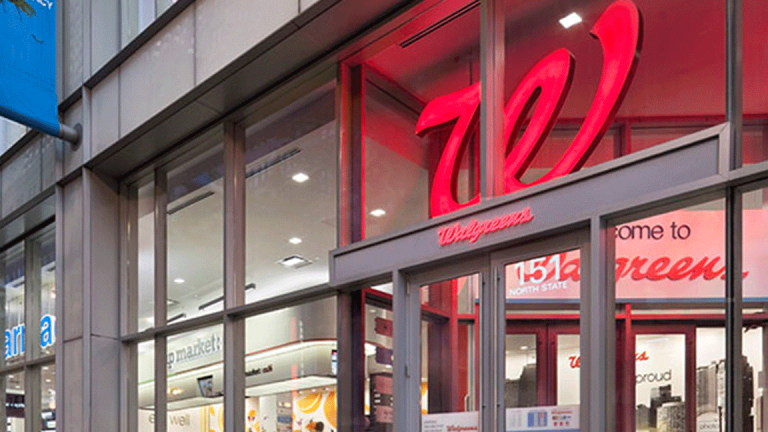 Walgreens Boots Alliance (WBA) - Get Walgreens Boots Alliance Inc Report posted weaker-than-expected second quarter earnings Tuesday and slashed its 2019 outlook, warning profits would be "roughly flat" from the previous year. 
Walgreens said earnings for the three months ending in February, the company's fiscal second quarter, came in at $1.64 per share, down 5.4% from the same period last year and well shy of the Street consensus forecast of $1.73 per share. Group sales, Walgreens said, rose 4.6% to $34.5 billion and matched analysts' forecasts of $34.57 billion.
Looking into the whole of 2019, Walgreens said it sees "roughly flat" profits, markedly lower than that 7% to 12% growth if had predicted, thanks in part to falling generic drug prices.
"The market challenges and macro trends we have been discussing for some time accelerated, resulting in the most difficult quarter we have had since the formation of Walgreens Boots Alliance," said CEO Stefano Pessina. "During the quarter, we saw significant reimbursement pressure, compounded by lower generic deflation, as well as continued consumer market challenges in the U.S. and UK."
"While we had begun initiatives to address these trends, our response was not rapid enough given market conditions, resulting in a disappointing quarter that did not meet our expectations, he added. "As a result, we are now expecting roughly flat adjusted EPS growth for fiscal 2019."
Dow component Walgreens shares were marked 13.1% lower at the start of trading Tuesday to change hands at $55.40 each, a move that would extend the stock's year-to-date decline to around 18.6%.
Last month, Walgreens' rival CVS Health Corp. (CVS) - Get CVS Health Corporation Report issued 2019 profit guidance that fell far short of Wall Street forecasts linked to "significant additional deterioration" in its long-term care business.
CVS said it sees cash flow from operations in the range of $9.8 billion to $10.3 billion and full-year GAAP earnings of between $4.88 and $5.08 per share, or $6.68 to $6.88 on an adjusted basis, well below the Refinitiv forecast of $7.41 per share and the 2018 tally of $7.08 per share.
CVS shares were marked 3.7% lower at $52.18 each in pre-market trading following the Walgreens earnings release, extending a year-to-date decline to around 21%.
 Investing Education Quick Clips | A Playlist for Your Portfolio