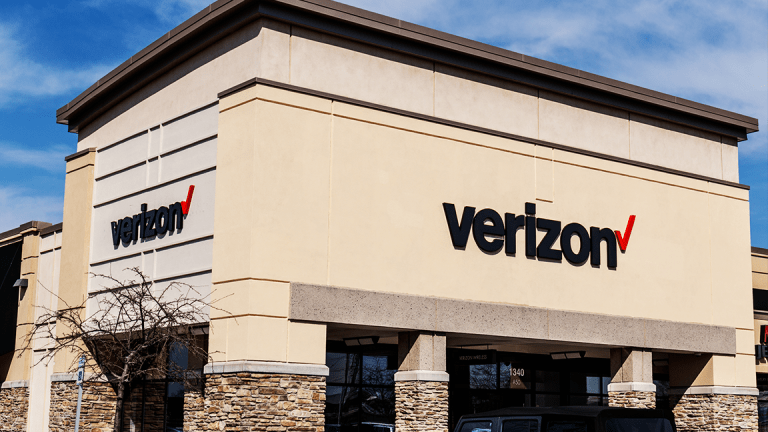 Verizon Communications  (VZ) - Get Verizon Communications Inc. Report reports second-quarter earnings before the opening bell on Thur., Aug. 1. My call is to buy weakness to its "reversion to the mean," which is the 200-week simple moving average at $51.33, and sell strength to its semiannual pivot at $58.63.
The telecommunications giant must have a positive reaction to earnings or face a "death cross" (which is a sell signal) on its daily chart. If this happens, the risk is to its "reversion to the mean."
Verizon is a component of the Dow Jones Industrial Average and has been a perennial member of the "Dogs of the Dow". The stock is cheap, with a P/E ratio of 12.04 and a dividend yield of 4.22%, according to Macrotrends.
Verizion closed Tuesday at $56.63 up just 0.7% year to date and up 8.3% from its 2019 low of $52.28 set on Jan. 30. The stock is 7.5% below its 2019 high of $61.19, set on March 17.
Analysts expect Verizon to earn $1.20 per share when it reports Thursday morning premarket. Earnings will focus on Verizon Wireless and the status of implementation of its 5G network. Some say its Wireline services will be a drag on earnings, which relies on legacy technologies. The company also feels pressure from consumers who are cutting the cord to cable TV. Streaming video services such as Netflix, Amazon and Hulu are becoming alternative platforms. A positive that goes unnoticed is that Verizon owns the content and email platforms Yahoo! and AOL, which is a solid Internet platform known as Oath.
The Daily Chart for Verizon
Courtesy of Refinitiv XENITH
Verizon has been above a "golden cross" since July 26, 2018, but the chart clearly shows that the 50-day simple moving average at $57.29 is converging to the 200-day simple moving average at $57.11. A negative reaction to earnings will push the 50-day below the 200-day, causing a "death cross," which warns that lower prices lie ahead. The close of $56.22 on Dec. 31 was an important input to my proprietary analytics and its annual risky level remains at $62.95, which is above its all-time intraday high of $62.30 set in October 1999. The close of $57.13 on June 28 was an important input into may proprietary analysis. The second half risky level is $58.63, with a third-quarter risky level at $62.80.
The Weekly Chart for Verizon
Courtesy of Refinitiv XENITH
The weekly chart for Verizon will be negative if the stock ends this week below its five-week modified moving average at $57.09. The stock is above its 200-week simple moving average or "reversion to the mean" at $51.33. The 12x3x3 weekly slow stochastic is projected to decline to 44.59 this week down from 47.82 on July 26.
Trading Strategy: Buy weakness to the 200-week simple moving average at $51.33 and reduce holdings on strength to the semiannual, quarterly and annual risky levels at $58.63, $62.80 and $62.95, respectively.
Summer Break Sale: Subscribe to Real Money and Save 76%
Join Real Money, our premium site for active investors, and enjoy exclusive access to real-time market analysis from Jim Cramer and more than 20 columnists hand-picked by him.
How to use my value levels and risky levels:
Value levels and risky levels are based upon the last nine weekly, monthly, quarterly, semiannual and annual closes. The first set of levels was based upon the closes on Dec. 31. The original annual level remains in play. The weekly level changes each week. The monthly level was changed at the end of each month, the latest on June 28. The quarterly level was changed at the end of June. My theory is that nine years of volatility between closes are enough to assume that all possible bullish or bearish events for the stock are factored in. To capture share price volatility investors should buy on weakness to a value level and reduce holdings on strength to a risky level. A pivot is a value level or risky level that was violated within its time horizon. Pivots act as magnets that have a high probability of being tested again before its time horizon expires.
Disclosure: The author has no positions in any stocks mentioned and no plans to initiate any positions within the next 72 hours.