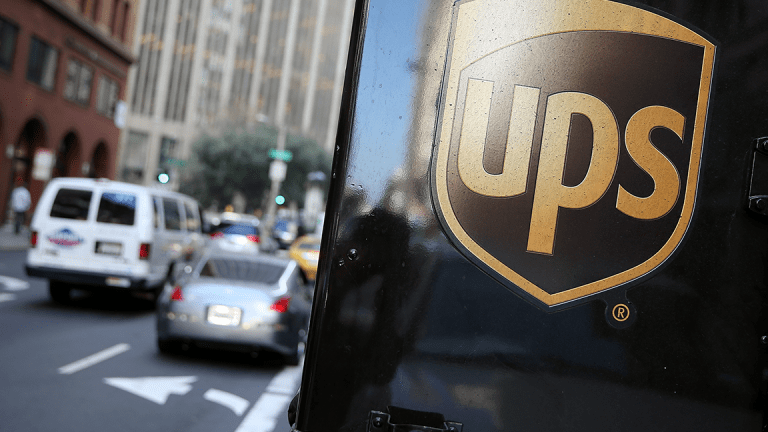 Publish date:
UPS Rises After Better-Than-Expected Revenue
The Atlanta-based package delivery company posts earnings of $1.55 a share on revenue of $17.1 billion.
The Atlanta-based package delivery company posts earnings of $1.55 a share on revenue of $17.1 billion.
United Parcel Service Inc. (UPS) - Get Report  rose Thursday, April 26, after posting better-than-expected first-quarter revenue even as winter weather costs weighed on the U.S. segment's operating results.
The Atlanta-based company reported earnings of $1.55 a share, relatively in-line with analysts' expectations. Revenue rose 10% to $17.1 billion, surpassing estimates of $16.87 billion, according to FactSet.
"Top-line growth in our business was strong across all business segments, reflecting the power of UPS's global solutions and continued favorable economic conditions," UPS Chairman and CEO David Abney said in a statement. "When combined with our transformation initiatives, these favorable trends position UPS for strong returns going forward."
The company's U.S. domestic segment revenue was $10.2 billion, up 7.2% year over year, although operating profit of $756 million included headwinds from severe winter weather of $85 million. Revenue per piece increased 2.6%.
For the international segment, revenue rose to $3.53 billion, up from $3.07 billion a year ago. Operating profit rose 15% to $594 million.
UPS shares rose 1.6%to $110.37 at 9:35 a.m. New York time. 
For the full year, the world's largest package delivery company expects adjusted earnings to be in a range of $7.03 to $7.37 a share. Analysts anticipate earnings of $7.25, according to FactSet.
UPS forecast free cash flow of $4.5 billion to $5 billion for the year and capital expenditures between $6.5 billion and $7 billion.
"Our focused business strategies are producing strong results in both the International and Supply Chain segments," UPS Chief Financial Officer Richard Peretz said. "The benefits from our investments, new multi-year transformation efficiencies and stronger pricing position us well for shareowner value creation."