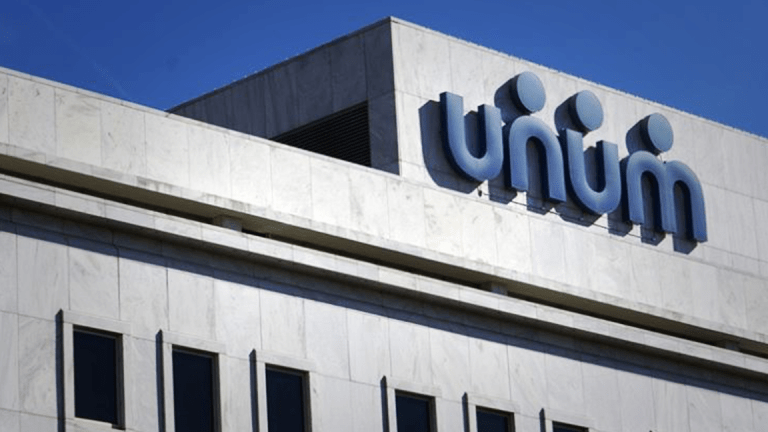 Unum Falls as Long-Term Care Loss Ratio May Prompt Reserve Charge
The interest-adjusted loss ratio for the LTC business was 96.6%, compared to 88.6% during the same period a year prior.
Unum Group (UNM) - Get Unum Group Report shares tumbled Wednesday, May 2, as the insurance company's long-term care book raised concerns among analysts about potential reserve charges.
The LTC interest-adjusted loss ratio "cast a shadow over otherwise solid underwriting results," Evercore ISI analyst Thomas Gallagher said, and there's now a higher chance that Unum will need to take a statutory charge related to LTC reserves. Evercore rates Unum stock at Underperform with a $45 price target. 
The interest-adjusted loss ratio for the LTC business was 96.6%, compared to 88.6% during the same period a year prior. Management previously gave guidance of 85% to 90% for the LTC interest-adjusted loss ratio. The increase this quarter was related to higher claims incidence and less favorable policy terminations, Unum said. This would mark the third quarter that the interest-adjusted loss ratio is above 93%, and a higher percentage is less favorable.
"That could reflect normal volatility, or indicate claims experience is worsening," Wells Fargo analyst Sean Dargan said in a May 1 research note. The firm rates Unum at Market Perform with a $53 price target.
Shares fell 15.2% to $40.62 at 11 a.m. Wednesday.
The LTC business, particularly LTC reserves, are under pressure because of the "extension of claim durations with cognitive impaired claimants living longer," Gallagher said in early March. Investors have been particularly watchful of the LTC business after General Electric Co. (GE) - Get General Electric Company Report took a $6.2 billion after-tax charge during the fourth quarter and committed to contributing $15 billion over the next six years to bolster its legacy insurance portfolio.
Fellow insurance company Manulife Financial Corp. (MFC) - Get Manulife Financial Corporation Report , which also has LTC exposure, fell 2.3% ahead of its quarterly financial results that will be released after the bell Wednesday.
Chattanooga, Tenn.-based Unum Tuesday evening reported a net income of $273.5 million, or $1.23 on a per-share basis. Earnings, excluding net after-tax realized investment gains and losses, were $1.24 per share, a penny shy of estimates. Revenue of $2.9 billion narrowly topped analysts' expectations of $2.88 billion.
The earnings miss was driven by a two-cent loss of Closed Block earnings, which was "the result of an elevated LTC benefit ratio, partially offset by favorable Individual Disability experience," Keefe, Bruyette & Woods analyst Ryan Krueger said in a May 1 research note. The firm maintained its Market Perform rating and its $57 price target on Unum stock.
"Our core business lines continue to operate well, while our Closed Block results, particularly the long-term care line, remain volatile," Jack McGarry, Unum's chief financial officer, said during the conference call with analysts.
Unum's Closed Block segment, which encompasses the run-off LTC business, saw premium income decline 4.7% year over year due to policy terminations and maturities for the individual disability line of business. The premium income specifically for LTC decreased "slightly due primarily to policy terminations, partially offset by rate increases."
"We continued to see good overall trends with our long-term care rate increase program, which we believe is the most effective way to manage the long-term care block over the long term," McGarry said.
J.P. Morgan analyst Jimmy Bhullar expects Unum to continue seeking price hikes to offset margin deterioration in the LTC book.
Still, Bhullar said LTC reserve charges are a major concern as low interest rates and deteriorating industry-wide claims trends tend to drive reserve charges over time.
"Unum's LTC reserves assume an investment yield of about 5.0% in 2018 and 2019, roughly in-line with actual earned yields, but the assumption grades up to 6.5% to 6.75% thereafter," Bhullar said. "Aside from rates, UNM's LTC reserves are susceptible to deteriorating industry-wide claims trends due to increasing life expectancies and healthcare cost inflation."