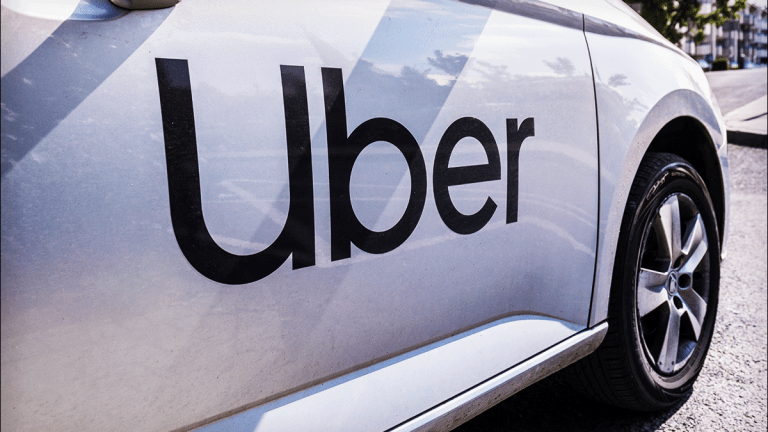 Uber Slumps to Record Low As Q3 Earnings, IPO Lockup Expiry Pressure Shares
Uber shares traded sharply lower Tuesday after the ride sharing group posted a wider third quarter loss even as it insisted it will ultimately turn a profit by 2021.
Uber Technologies (UBER) - Get Free Report shares traded sharply lower Tuesday, falling to the lowest intraday level on record, after the ride sharing group posted a wider third quarter loss even as it insisted it will ultimately turn a profit by 2021.
Uber said its loss for the three months ending in September was pegged at 68 cents per share, beating the 80 cent loss Wall Street analysts had been anticipating but swinging from a 59 cent profit over the same period last year. The loss, however, was set against improving revenues, which rose 30% from the same period last year to $3.53 billion as gross bookings jumped 29% to $16.47 billion. 
"In terms of our 2021 targets, we will -- these are targets at this point and we haven't given formal guidance for 2021, but I will tell you that this will -- we believe that we will be in a position to deliver very strong both top line and bottom line growth," Uber CEO Dara Khosrowshahi told investors on a conference call late Monday. "As a company at scale, there will always be trade-offs that we have to make, but we're prepared to make those trade-offs. And I think those kinds of tough trade-offs actually are positive first of the company, but we want to be working on the very best ideas, not just the average ideas."
"We're excited about the 2021 consolidated EBITDA profitability target that we have out there. And we hope that we've shown you that we can execute against not just delivering top line growth, but also top line growth with discipline," he added. "We can only do so with the really, really hard work of all of our employees on a global basis and also the partnership of the cities that we work with and our drivers, etc. None of this will be possible without them."
Uber shares were marked 8.75% lower at the start of trading Tuesday to change hands at $28.35 each, the lowest on record and a move that would leave the stock more than 37% south of its May 10 IPO price of $45 with a market value of $52.8 billion.
Uber Eats, the group's food delivery service, saw revenues rise 64% to $645 million, a far greater percentage gain than the company saw for ride revenues, which rose 19% to $2.895 billion. Freight revenues, Uber said, were 78% higher than last year at $218 million.
"Uber's third quarter results showed continued growth at scale," said Canaccord Genuity analyst Michael Graham. " Although bookings, MAPC, and trips were slightly below our estimates, Adjusted Net Revenue was ~6% ahead of our model thanks to improving take rates in the rides business, reflecting reduced rider incentives and migration towards higher-value trips."
"While Eats bookings were slightly below estimates, it seems clear Eats is gaining significant share with 77% bookings growth in a market that is likely growing more slowly," added Graham, who carries a $55 price target and a buy rating on Uber stock.