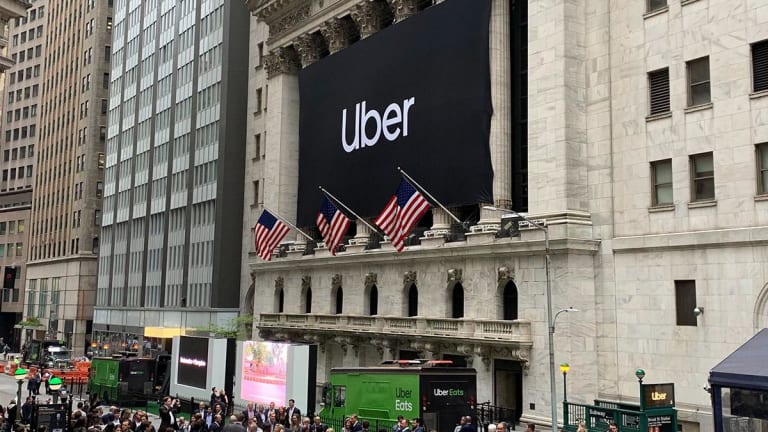 Uber Beats Earnings, Raises Guidance but Stock Falls: What Wall Street's Saying
Analysts saw a number of negative points in the quarter, although they note the company's fundamentals seem to be improving.
Shares of Uber (UBER) - Get Free Report  fell sharply Tuesday after the company posted solid quarterly results and guidance, but burned more cash than expected.
Many analysts reduced their price targets, as the positive results were accompanied by several negative points. Several analysts also argued for a slightly lower price-to-sales multiple on the basis of decelerating revenue growth.
The stock fell 7.5% to $28.74 Tuesday. Monday after the close, Uber reported an adjusted net loss of 68 cents per share, narrower than Wall Street's expected loss of 70 cents. Revenue grew 30% to $3.813 billion, beating analysts estimates of $3.628 billion. However, gross bookings, an indication of how much Uber took in on its platform before paying driver and other fees, came in at $16.5 billion, missing estimates of $16.7 billion. And the number of monthly active users on the platform came in at 103 million vs. 107 million expected. Negative free cash flow was $1.007 billion, a wider loss than the expected $713 million.
Management did raise guidance for the full year of 2019, saying it now expects an adjusted EBITDA loss of between $2.8 billion and $2.9 billion. That's better than its previous guidance for a loss of $3 billion to $3.2 billion.
Here's what analysts said:
D.A. Davidson & Co., Neutral, Price Target Reduced From $44 to $35
"Our '20 and '21 revenue estimates decline by 3% and 10%, respectively, due primarily to more conservative Eats growth assumptions. Our 2020 EBITDA estimate improves by roughly $1,288M to $(1,170)M, and we now forecast 2021 consolidated EBITDA of roughly breakeven (vs. a loss of $1,685M prior). We lower our price target from $44 to $35, implying 3.3 times our 2020 enterprise value-to-sales (vs. 4.1 times multiple prior). UBER delivered a solid but somewhat mixed 3Q. Eats growth vs. profitability trade-off - UBER's broader strategy for Eats is unchanged, but mgmt sounds more willing to make the tough decisions quicker when it comes to balancing growth vs. profitability. Ridesharing margin upside will be a key driver."
White told TheStreet "Given that UBER's 3Q EBITDA loss improved by $71M sequentially vs. 2Q, we expected a similar directional improvement in free cash flow loss as well. However, we did not get that in 3Q (free cash flow was effectively flat vs. 2Q'19)." changes in working capital contributed to the cash burn amount, White noted, although he did say "This is something to keep an eye on, but not something we're particularly worried about at this point."
- Tom White
Wedbush Securities, Outperform, Price Target Reduced From $58 to $45
"The profit goal for 2021 is admirable but the Street wants to see metrics beat across the board as this quarter was below what bulls were hoping for. Overall this was a B- quarter by Dara & Co. as the company missed underlying bookings and ridesharing metrics which will be viewed mixed to negatively by the Street. The headline numbers were good enough and increased transparency around the business units will be a step in the right direction, however. We're seeing the rationalization in Rides come through with better than expected bookings, revenue, ANR, and take rate. We lower our price target to $45 from $58 on largely unchanged revenue estimates which implies 4 times expected 2020 enterprise value-to-revenue. Despite the clearer path to profitability, mixed results and still-negative investor sentiment is leading to a lower target multiple." 
- Dan Ives
Goldman Sachs, Buy, Price Target Reduced From $56 to $44
"Our 12-month price target goes to $44 from $56, as it is now based on 4x our revised expected 2020 enterprise value-to-sales (vs. 4.5 times prior on comp group multiple compression, slower growth. We revise our 2019-2021 bookings / EBITDA estimates -9% / +$840mn per year on average to reflect the results alongside the net impact of a more rational competitive environment in larger markets, reduced spend, and platform efficiency."
- Heath Terry
Citi, Buy, Price Target Unchanged at $45
"More positives than negatives as Q3 demonstrates clear improvements in Rides fundamentals, while the new target for a total-company adjusted EBITDA profit in full-year 2021 implies at least roughly $1.3 billion upside to 2021 consensus EBITDA and roughly $0.8 billion to our model. We think these positives offset Q3 Eats softness, which shouldn't come as a surprise given recent signs of competitive pressures that Uber shares appear to have already reacted to (Eats accounts for roughly $5/share in our sum-of-the-parts analysis). While the near-term stock focus understandably remains on the lockup, we view Q3 as a positive step for the fundamental story." 
RBC Capital Markets, Outperform, Price Target Increased From $62 to $64
"All in, Q3 Fundamental Trends were mixed, with Gross Bookings decelerating 5 points to 32% year-over-year (ex-foreign exchange), Adjusted Net Revenue accelerating 9 points to 35% year-over-year, and EBITDA losses improving $70 million quarter-over-quarter.  '20 Bookings and Revenue estimates largely unchanged, but '20 EBITDA losses improve 60% to $1.2 billion loss. Price target bumped up from $62 to $64 on '21 valuation roll-forward." 
- Mark Mahaney