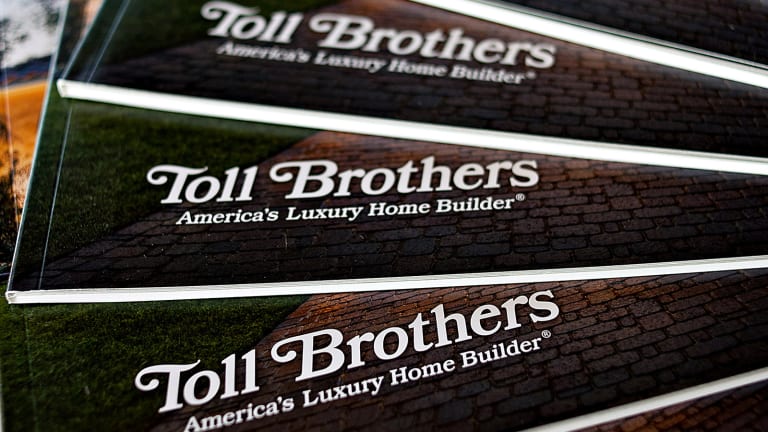 Toll Brothers Earnings Will Indicate Health of Housing
Buy Toll Brothers on weakness to its semiannual value level at $36.79. The luxury builder reports after the close on May 21.
Toll Brothers  (TOL) is the homebuilder that focuses on luxury homes; but many housing experts say that's a tough market in 2019. My call is to buy the stock on weakness to its semiannual value level at $36.79.
Let's check the pulse of the housing market.
The HAHB Housing Market Index
On May 15, the National Association of Home Builders announced that their Housing Market Index rose three points to 66 in May. This reading has been above 60 for the past four months. The NAHB forecasts solid demand for single-family homes after a wet winter and low overall supply. However, affordability remains a headwind despite mortgage rates down to about 4%. Labor and a shortage of suitable land and rising material costs are challenging.
On May 16, the U.S. Housing and Urban Development and Commerce Department reported that single-family starts increased to an annual rate of 854,000 in April up from 785,000 in March. The NAHB is worried about soft building permits, home affordability and higher construction costs.
Monthly Graph of the NAHB HMI vs. Single-Family Housing Starts
Courtesy of the National Association of Home Builders
The blue line is the Housing Market Index and the red line is single-family starts delayed by one month. Note that single-family starts peaked around 1.8 million in mid-2005, which is when the homebuilder stocks peaked. Note that in a robust housing market, starts are higher on the graph than the index. The market for single-family starts is thus a drag on the U.S. economy.
Scorecard for the Five Homebuilders
Toll Brothers has a gain of 13.9% year to date and is in bull market territory 30.8% above its Oct. 22 low of $28.68. The stock is also in correction territory, 14.4% below its May 8 high of $43.81. Longer term, Toll is 36.1% below its July 2005 all-time intraday high of $58.67.
Analysts expect Toll to report earnings of 77 cents per share when they report after the closing bell on May 21. The luxury builder has a P/E ratio of 7.86 and a dividend yield of 1.15%, according to Macrotrend. Year-over-year earnings are expected to slip, so guidance will be important. The homebuilder expects home deliveries to be between 1,650 units and 1,850 units, down from 1,886 units a year ago.
The Daily Chart for Toll Brothers
Courtesy of Refinitiv XENITH
Toll Brothers has been above a "golden cross" since March 5 when the 50-day simple moving average rose above the 200-day simple moving average, indicating that higher prices lie ahead. The stock set its 2019 intraday high of $39.58 on May 16. The Dec. 31 close of $32.93 was an important input to my proprietary analytics and its semiannual pivot at $36.79, which has been a magnet since Jan. 31. The annual risky level is above the chart at $48.16. The close of $36.20 on March 29 was an input to my analytics and the result is a second-quarter risky level at $41.13. The April 30 close of $38.10 was an input to my analytics and a value level for May is $34.33.
The Weekly Chart for Toll Brothers
Courtesy of Refinitiv XENITH
Toll Brothers will have a negative weekly chart if the stock ends below its five-week modified moving average of $37.72. The stock is above its 200-week simple moving average or "reversion to the mean" at $35.77 since the week of March 29. The 12x3x3 weekly slow stochastic reading is projected to slip to 76.98 this week down from 79.81 on May 17.
Trading Strategy: Buy weakness to the semiannual pivot at $36.79 and to its monthly value level of $34.33. Reduce holdings on strength to the quarterly and annual risky levels at $41.13 and $48.16, respectively.
How to use my value levels and risky levels:
Value levels and risky levels are based upon the last nine weekly, monthly, quarterly, semiannual and annual closes. The first set of levels was based upon the closes on Dec. 31. The original semiannual and annual levels remain in play. The weekly level changes each week; the monthly level was changed at the end of January, February, March and April. The quarterly level was changed at the end of March. My theory is that nine years of volatility between closes are enough to assume that all possible bullish or bearish events for the stock are factored in. To capture share price volatility investors should buy on weakness to a value level and reduce holdings on strength to a risky level. A pivot is a value level or risky level that was violated within its time horizon. Pivots act as magnets that have a high probability of being tested again before its time horizon expires.
Disclosure: The author has no positions in any stocks mentioned and no plans to initiate any positions within the next 72 hours.