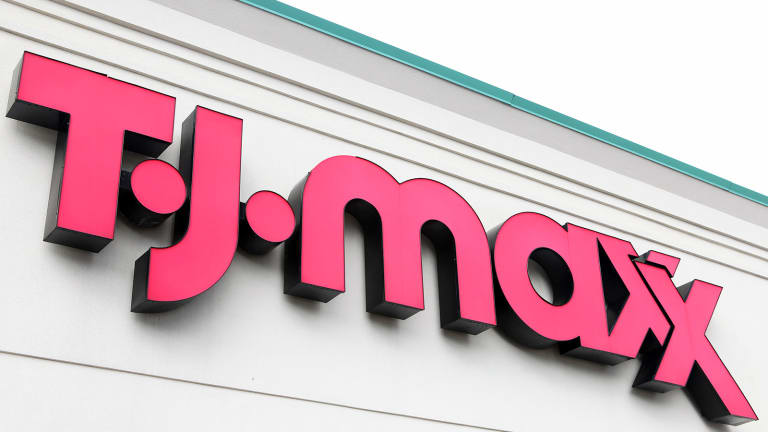 T.J.Maxx, Marshalls Parent TJX Sales Rise, Dividend Gets a Boost
Fiscal fourth-quarter earnings match analysts' forecasts amid strong same-store sales.
Off-price fashion and apparel retailer TJX  (TJX) - Get TJX Companies Inc Report on Wednesday reported better-than-expected fiscal fourth-quarter earnings amid strong same-store sales, despite intense competition from other brick-and-mortar retailers.
Net income for the fourth quarter was $842 million, or 68 cents a diluted share, vs. 877 million, or 69 cents in the comparable year-earlier quarter. Adjusted fourth-quarter diluted earnings were 59 cents a share, the same as in the prior year. The results matched analysts' estimates.
Same-store sales, a key performance measure among retailers, rose 6%, above the company's own expectations and a gain of 4% from the previous year.
"Our excellent values on great brands and great gift-giving assortments resonated with consumers around the globe this holiday season, and once again this quarter, our apparel and home businesses were both strong," CEO Ernie Herrman said in a statement.
For the full year ended Feb. 2, TJX reported net income of $3.1 billion, or $2.43 a diluted share, vs. $2.6 billion, or $2.02 a diluted share in the comparable year-earlier period. Adjusted fiscal 2019 diluted per-share earnings were $2.11 vs. $1.93 in the prior year.
Separately, the company said it plans to increase its quarterly dividend to 23 cents a share. The board has also approved a new $1.5 billion stock repurchase program. All told, TJX plans to repurchase approximately $1.75 billion to $2.25 billion of its common stock through its fiscal year ending Feb. 1, 2020.
Shares of TJX were up 54 cents at $50.27 in early trading on the New York Stock Exchange Wednesday.