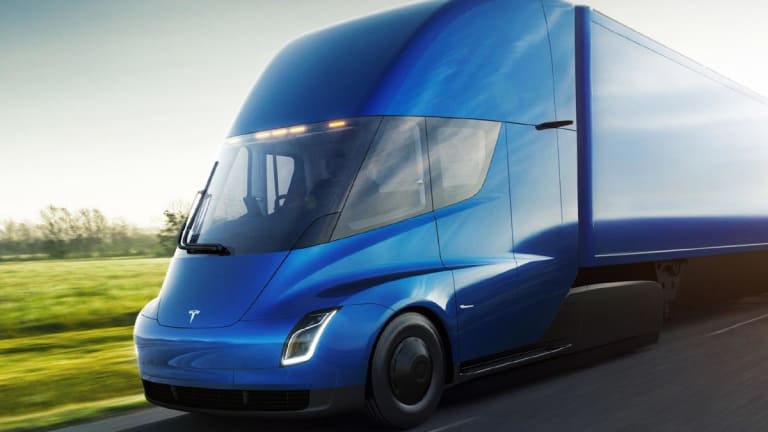 Time for a Tesla Victory? Top Wall Street Analysts React to 2Q Earnings
Tesla's second quarter earnings print cues a turnaround in drive, but top analysts are mixed.
Vroom. 
Electric auto maker Tesla (TSLA) - Get Report  pulled off success in its second quarter earnings call Wednesday night. Shares share leaping 10% Thursday despite Tesla posting a sharper loss than what analysts had anticipated. Here's why.
The challenged tech giant stood by its encouraging guidance. Expect the company to turn a profit in its third and fourth quarter, CEO Elon Musk said. In fact, Musk says to bet on positive GAAP income coupled with cash flow "every quarter from here on out."
Musk asserts: "From an operating plant standpoint, from onwards I really want to emphasize our goal is to be profitable and cash flow positive for every quarter going forward."
This certainly takes heat off Musk's back from the last earnings call. The over-tired and over-worked CEO had criticized analysts for asking "boring, bonehead questions." It's a new day, and a new earnings call. This time around Musk made amends with analysts: "My apologies for not being polite on the prior call."
Wall Street seems to be applauding Musk's apology as Tesla eyes a profitable turnaround. What are the best Tesla experts on the Street saying today?
TipRanks tracks the activity of over 4,800 Wall Street analysts. Here, we turn to the Tesla stock page on TipRanks to discover the latest ratings from analysts.
The Bull Case
Tesla did so well on its second quarter it won itself a new bull. Oppenheimer's Colin Rusch is a five-star analyst who just upgraded Tesla's stock to an Outperform rating. The analyst sets a new price target of $385 on Tesla (18% upside potential).
Notably, Rusch has an impressive track record when it comes to betting successfully on Tesla. The analyst realizes 96.0% in average profits on the stock. It's Rush's first bullish recommendation on Tesla since last June, so the analyst is not taking the move to upgrade lightly. 
"While we have been cautious on Model 3 ramp, we believe gross margin performance on Model 3 will carry the stock over the next 12+ months," cheers Rusch.
While the analyst acknowledges "some recent price pressure," average selling prices on the Model S and X haven't wavered from "relatively elevated levels." Rusch's prediction: "We would not be surprised to see a similar scenario play out for Model 3."
The bull case.
The Sidelined
Musk's apology was brilliantly received. KeyBanc's Brad Erickson believes this is "maybe the most valuable apology of all time." It is a smart move on Musk's part. Erickson notes, "the CEO worked to restore some faith and credibility with investors that he can be a plus to the investment narrative, not a minus."
That said, the analyst holds tight to his Sector Weight rating, citing Tesla's lofty valuation. 
Adam Jonas of Morgan Stanley stands cautiously optimistic on Tesla's story from the sidelines. There needs to be more proof in the pudding and light shed on last night's outlook comments.
One point of caution: Jonas pokes holes in Musk's call to bring positive cash to the table, "including operating cash inflows and capital expenditures, as well as the normal inflow of cash received from non-recourse financing activities on leased vehicles and solar products." This suggests various outcomes for the how factor on Musk generating the free cash flow.
To Tesla's credit, the analyst sees healthy return potential for the stock even from the sidelines. Jonas maintains an Equal Weight rating on Tesla's stock with a $291 price target (11% upside potential). 
The Bear Case
Needham's Rajvindra Gill is a Tesla bear as of June, and he sees no reason to budge from the negative camp. While "cash burn slows down for the moment," Gill believes "contradictions persist" in Tesla's narrative.
Worthy of note, Gill has earned a ranking of #32 on Wall Street. The top analyst reiterates an Underperform rating on Tesla's stock fresh on the heels of the print.
"We believe TSLA is rapidly exhausting its high-end backlog, as lead times are falling to 1-3 months. What we are concerned about is: what's the true level of demand for the $35k base model as we exit the year, how does demand change once the $7,500 credit declines, what % of the 420k net reservations are for the $35k model and will cancellations accelerate? These questions and the astronomical valuation cause us to reiterate our stance."
Glancing ahead, Gill angles for positive free cash flow "for the next two quarters," but trouble brews by 2019. Look out for the "FCF burn in '19."
The bear case.
Wall Street's Verdict
The 'Hold' stock exhibits a mix of Street-wide sentiment -- a mix of 8 buy, 4 hold, and 5 sell ratings over the last three months. However, are consensus expectations geared to the optimistic?
Consider that the 12-month average price target stands tall at $324.62, marking nearly 8% in upside potential. While the Tesla story absolutely has analysts cautious, there's room to run just yet. 
TipRanks.com offers exclusive insights for investors by focusing on the moves of experts: Analysts, Insiders, Bloggers, Hedge Fund Managers and more. See what the experts are saying about your stocks now at TipRanks.com. Author: Julie Lamb.