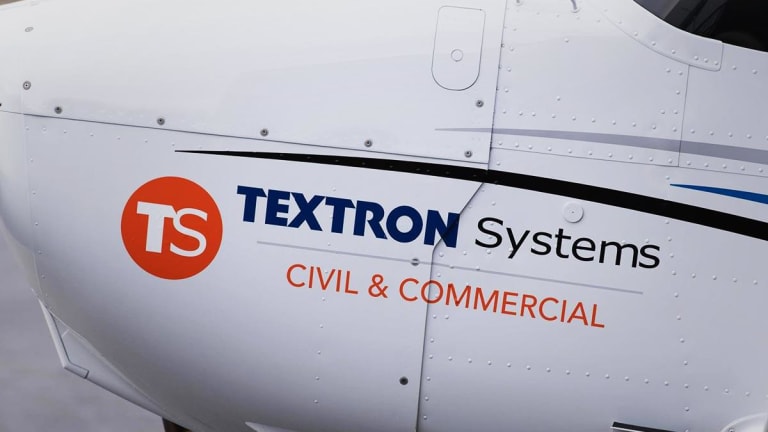 Textron Soars as Earnings Top Wall Street Estimates
Shares of aerospace and aviation company Textron surge on higher-than-expected earnings.
Shares of Textron (TXT) - Get Textron Inc. Report jumped more than 7% on Wednesday after the company reported better-than-expected first-quarter earnings despite a dip in year-over-year profit.
The Providence, Rhode Island-based plane and helicopter maker reported net income of $179 million, or 76 cents an adjusted share, compared with $189 million, or 72 cents, a year earlier. Analysts polled by FactSet had expected earnings of 70 cents an adjusted share.
Revenue in the quarter dropped 5.7% from the year-earlier period to $3.11 billion and missed consensus estimates of $3.23 billion. Revenue declined modestly in Textron Systems, Bell and Industrial units, which was partly offset by a 12% jump in the core aviation segment, the company said.
The aviation unit delivered 44 jets, up from 36 last year, and 44 commercial turboprops, up from 29 last year. Meanwhile, Bell delivered 30 commercial helicopters in the quarter, down from 46 last year.
Textron CEO Scott Donnelly credited strong performance from the company's aviation and Bell helicopter production segments for the results, while the company's systems and industrials business underperformed compared with the same quarter last year.
For 2019, Textron reiterated its per-share earnings guidance, saying it expects earnings from continuing operations in the range of $3.55 to $3.75.