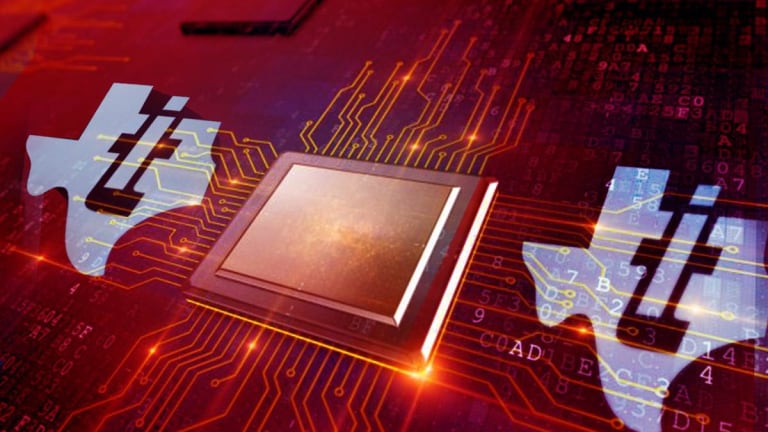 Texas Instruments Tumbles Following Soft Guidance: 5 Key Takeaways
The analog chip giant sparked a broader chip stock selloff after missing Q3 revenue estimates and issuing a light Q4 outlook.
Texas Instruments  (TXN) - Get Free Report is giving back a chunk of its 2019 gains following its Q3 report, and is taking many peers lower with it.
On Tuesday afternoon, TI reported Q3 revenue of $3.77 billion (down 11% annually) and GAAP EPS of $1.49 (down 6%). Revenue missed a $3.82 billion consensus analyst estimate, while EPS, which got a 9-cent boost from one-time items that weren't in TI's original guidance, was above a $1.42 consensus.
TI also guided for Q4 revenue of $3.07 billion to $3.33 billion (down 22% to 28%) and EPS of $0.91 to $1.09, below consensus estimates of $3.59 billion and $1.28. The EPS guidance includes a $0.09-per-share tax benefit.
TI's stock fell 9.8% in after-hours trading to $116.00. Shares had gone into earning up 36% in 2019, and 28% over the last 12 months. The gains had left TI trading for 22 times its expected 2020 EPS -- a higher forward earnings multiple than that sported by many of its peers.
Regardless, the disappointing numbers and commentary provided by TI, which is the world's biggest analog chipmaker and also a major supplier of microcontrollers (MCUs) and other embedded processors, sparked broader after-hours selling among chip stocks. The Philadelphia Semiconductor Index (SOXX) - Get Free Report fell more than 2%, and TI rivals such as Analog Devices (ADI) - Get Free Report , NXP Semiconductors (NXPI) - Get Free Report , Microchip Technology (MCHP) - Get Free Report and ON Semiconductor (ON) - Get Free Report dropped more than 3%.
Here are some notable takeaways from TI's Q3 report and earnings call.
1. TI Says the Demand Weakness It's Witnessing Is Broad-Based
"There [are] an increasing number of reports of macroeconomic weakness, with trade tensions as the primary contributor," said investor relations chief Dave Pahl on TI's earnings call. "Consistent with this, the weakness [we saw] in the third quarter was broad-based across all markets and most sectors."
CFO Rafael Lizardi offered similar commentary. "[Our] sense is that customers are just far more cautious than they were certainly a year ago, but even 90 days ago," he said. "And the consistency of that breadth of weakness supports that this is a macro situation that is driving the further weakness that we're seeing."
Worth noting: TI's outlook and commentary differs quite a lot from what Taiwan Semiconductor (TSM) - Get Free Report , by far the world's biggest chip contract manufacturer (foundry), delivered last week. Differences between each company's end-market exposure -- a larger portion of TSMC's sales are tied to smartphones, PCs and data center hardware, while a larger portion of TI's sales are tied to automotive, industrial and mobile infrastructure end-markets -- likely has something to do with the difference. The strong demand that TSMC is generally seeing for its cutting-edge, 7-nanometer (7nm), manufacturing process node also appears to be a factor.
2. Sales to Telecom Equipment Clients Were Particularly Weak
Pahl disclosed that TI's sales for the communications equipment end-market, which have benefited in recent quarters from early 5G-related orders, fell by about 20% sequentially and 35% annually in Q3. He also noted that the biggest revenue declines for TI's embedded processing business, which collectively saw revenue drop 19%, came from the automotive and telecom equipment markets.
Sales to industrial, automotive and "personal electronics" end-markets were each said to have dropped by a high-single digit percentage annually. Sales to the "enterprise systems" end-market are said to have declined by an unspecified amount.
Edward Jones analyst Logan Purk called TI's sales to the telecom equipment market "disappointing," in light of the strength the company has seen from this vertical in prior quarters. Regarding TI's automotive revenue, he noted that the weakness TI is seeing in this area fits with the sluggishness seen in global auto sales.
3. Management Received Pointed Questions About TI's Market Share and Chinese Orders
Bank of America analyst Vivek Arya asked whether TI's Q4 outlook is indicative of share loss. Pahl responded by arguing that market share needs to be judged over multiple quarters, and by noting that none of TI's products account for more than 0.8% of its revenue.
Later, Credit Suisse's John Pitzer asked why -- unlike TI's analog business, which is performing in line with peers -- the company's embedded processing business is underperforming its peer group. In response, Pahl reiterated that TI is seeing broad-based weakness, and that embedded processing's performance shouldn't be judged by one quarter alone.
And amid some signs that Huawei and certain other Chinese OEMs have been stockpiling chip inventory due to trade tensions, Evercore's C.J. Muse asked if TI saw Chinese order pull-ins earlier this year that are exacerbating its current weakness. Pahl said he wouldn't rule out the possibility that pull-ins happened, but also suggested that Chinese sales are being impacted more by seasonality.
4. Financial Execution Remains Solid
While TI's revenue fell 11% annually in Q3, its gross margin fell by a relatively modest 0.9 percentage points to 64.9%. In addition, the company's GAAP operating expenses fell by about 1% annually to $778 million.
Thanks to its financial discipline, TI's free cash flow (FCF) is up by 2% annually on a trailing 12-month basis to $6.03 billion, even though the company has reported revenue declines for each of its last four quarters.
5. Stock Buybacks Cooled
TI spent $456 million on buybacks in Q3, down from $863 million in Q2. On the call, Deutsche Bank's Ross Seymore indicated that TI spent less on buybacks in Q3 than in any quarter since Q2 2012.
For his part, Lizardi noted that on a trailing 12-month basis, TI has spent $7.4 billion on buybacks and dividends -- a figure equal to 122% of its FCF over this time. He also reiterated TI's goal of returning 100% of its FCF via buybacks and dividends.
Either way, with TI's shares having dropped to their lowest levels since early July following the Q3 report, its decision to refrain from major buybacks in Q3 is looking good right now.