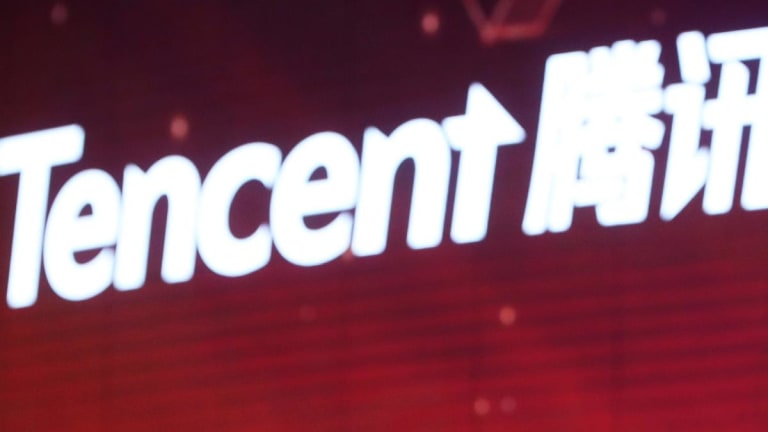 Tencent Posts Record Q4 Profit Slump as China Video Game Ban Hives Earnings
Tencent Holdings posted its biggest profit decline in more than a decade Thursday, as a nine-month ban on new video game approvals in China clipped the tech giant's bottom line.
Tencent Holdings Ltd.  (TCEHY) posted its biggest-even profit decline Tursday, as a nine-month ban on new video game approvals in China clipped the tech giant's bottom line. 
Tencent said net profit for the three months ending in December came in at 14.299 billion yuan, missing the consensus forecast and falling 32% from the same period in 2017. Group revenues, however, rose 28% to a record 84.9 billion and were marked well ahead of analysts' estimates of  83 billion. Smartphone games sales rose 19% to 19 billion, Tencent said and were up 24% for the whole of 2018 to 77.8 billion.
Tencent said it had eight new video games approved over the final quarter of last year, but noted that a "sizeable backlog" in applications to the state would mean a slower pace of releases throughout 2019. 
"In China, our popular smart phone games expanded our user base and increased time spent," the company said. "We have taken the lead in introducing the Healthy Gameplay System to assist parents in managing the amount of time their children spend playing games."
"We upgraded the system last September by introducing measures to strengthen real-name verification, and implementing game time limits for children players, as well as spending alerts to their parents."
Tencent's U.S.-listed shares closed at $47 each in New York trading Wednesday, after falling 0.13% on the session to trim their year-to-date gain to around 19% and values Asia's biggest tech company at around $445 billion.
China's gaming industry generates around $38 billion a year in sales, according to estimates, as developers tap into a social media landscape that boasts around 700 million daily users. Government officials, however, are keen to slow the industry's growth, and issued curbs on new game approvals last year and new guidelines for time spent playing last week.
"The use of electronic products for non-learning purposes should not exceed 15 minutes and should not be more than one hour per day," the Education Ministry said in a statement that included advice on taking frequent gaming breaks. The younger the children, "the shorter the time for continuous use of electronic products," the Ministry urged.
Tencent's two main online platforms -- WeChat and Weixin -- saw average user slow to 1.4% from the last quarter buts still attracted nearly 1.1 billion users each month and grew 11% from the same period last year.