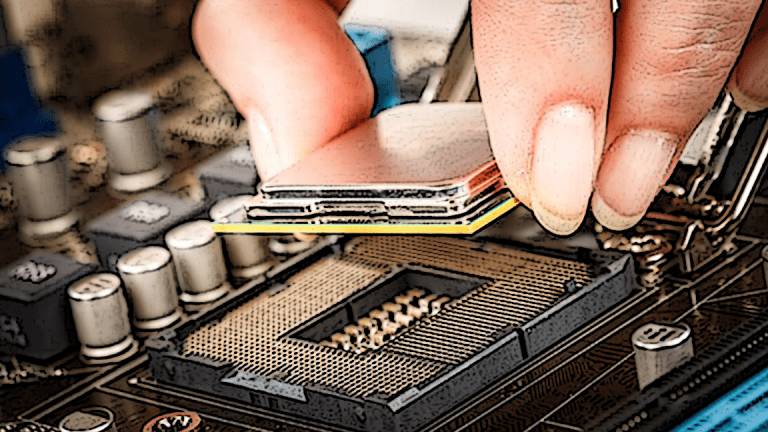 Taiwan Semiconductor Mfg. Co. Ltd., (TSM) - Get Taiwan Semiconductor Manufacturing Co., Ltd. Sponsored ADR Report the world's biggest contract chipmaker and a lead supplier for Apple Inc. (AAPL) - Get Apple Inc. (AAPL) Report iPhones, posted tepid fourth quarter earnings Thursday but cautioned that near-term sales would slide the most in 10 years as global smartphone markets continue to slow.
TSMC said net profit for the three months ending in December rose 0.7% to T$99.98.billion ($3.24 billion), as revenues rose to $9.4 billion. Both figures came in largely on par with analysts' forecast. The group's current-quarter outlook, however, suggests a steep, 14% decline in group revenues to around $7.4 billion, the most since 2009, and echoes previous warnings from rival chipmaker Samsung Electronics (SSNLF) and of course its key U.S. customer Apple.
"Moving into first quarter 2019, we anticipate our business will be dampened by the overall weakening of the macroeconomic outlook, mobile product seasonality, and high levels of inventory in the semiconductor supply chain," said CFO Lora Ho, with chairman Mark Liu telling reporters that drop in high-end smartphone demand "came a little bit sudden", adding that the inventory in the supply chain is quite a lot."
TSM's U.S.-listed shares were marked 0.7% lower in the opening minutes of trading in New York Thursday and changing hands at $35.49 each, extending their three-month decline past 11%.
European tech stocks were weaker throughout the session, with the Stoxx 600 Technology subindex sliding 1.3% as stocks in Apple's supply-chain such as STMicroelectronics (STM) - Get STMicroelectronics NV ADR RegS Report were marked 2.95% lower at €12.18 each in Amsterdam and Dialog Semiconductor plc (DLGNF) , an Anglo-German chipmaker listed in Frankfurt whose power-management chip technology was recently licensed to Apple in a 600 million deal, fell 1% to €22.18 each.
Swiss-listed AMS (AMSSY) , which designs facial recognition sensors thought to be used in Apple's iPhones, fel 4.61% to €23.60 each while Apple shares were marked 0.77% lower to $153.74 each in New York.
Infineon Technologies AG (IFNNY) , Europe's biggest chipmaker, was marked 2.9% lower at €17.80 while  ASML Holding NV (ASML) - Get ASML Holding NV ADR Report slipped 1.77% to €1376.68 in Amsterdam.
Apple's shock sales warning earlier this month, which it pegged to slowing demand in China, was echoed by its main rival Samsung, which said fourth quarter profits would likely come in at around 10.8 trillion Korean won ($9.67 billion), well shy of the market consensus of 13.2 trillion won, with sales falling 11% to 59 trillion won.
Samsung only has a 1% share of the China handset market, compared to around 9% for Apple, but its chips and screens make their way into handsets made by Huawei Technologies, as well as Apple's iPhones, and that segment comprises a much larger portion of its operating profits.
"Operating profits sharply decreased due to lackluster demand in the memory division and intensifying competition in the smartphone sector," Samsung said in a rare explanatory statement alongside the earnings forecast. "Memory demand will rebound in the second half with the release of new CPUs and smartphones."
Both Samsung and Apple have grown increasing reliant on China sales to boost revenues and improve their bottom lines, with the Seoul, South-Korea-based tech giant generating, for the first time on record, more from China (27.4 billion Korean won) than from the United States (21.79 billion won) over the first half of last year.
Apple's China sales, meanwhile, grew 16% over the company's 2018 fiscal year, which ended in October, to $51.9 billion, and now represent about a fifth of total revenues. China sales are about a third of Samsung's total revenues.
Domestic handset makers such as Huawei, Xiaomi, Oppo and Vivo, however, have consistently grown their market share in China on the back of cheaper, more customer-focused phones that appeal to China's specific demands, such as photo enhancements and longer battery life.
That said, it's a market that's also slowing fast: According to the International Data Corp., China's mobile phone shipments fell 8.8% last year, nearly triple the 3.3% global decline, and will have no better than flat growth for the whole of 2018. China's Academy of Information and Communications Tech, a research institute directed by the Ministry of Industry and Information Technology, pegs the 2018 decline at 15.5%