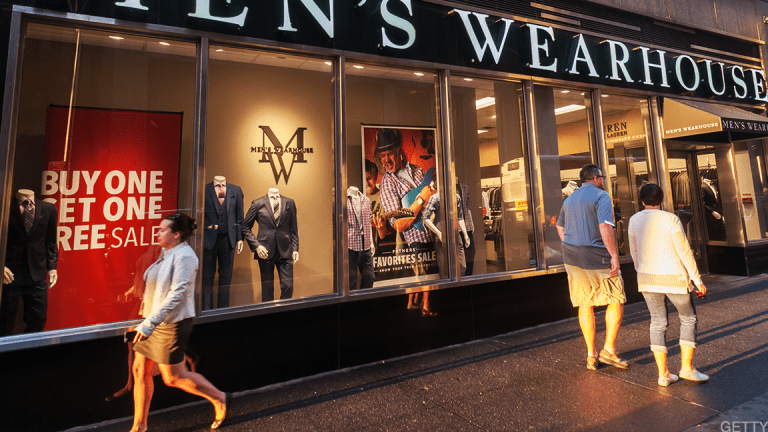 Tailored Brands Unravels After Reducing Full-Year Guidance
The owner of Men's Wearhouse and Joseph A. Bank lowers full-year guidance.
Shares of Tailored Brands Inc. (TLRD) - Get Report unraveled Thursday after the retailer reduced its full-year guidance.
Tailored Brands' (TLRD) - Get Report stock declined 27.2% to $14.66 on Thursday. Shares ended the trading day Wednesday up 30 cents, or 1.5%, at $20.14.
The company, which owns well-known menswear brands including Men's Wearhouse and Joseph A. Bank, after the market close on Wednesday reported fourth-quarter adjusted net earnings of $51.4 million compared to $36.9 million a year ago.
Adjusted diluted earnings per share came in at $1.01 vs. 75 cents in the year-earlier period.
Fueling the selloff, however, was the company's reduction in its full-year earnings guidance. Tailored Brands said it now expects full-year earnings in the range of $2.30-$2.35 a share, down from $2.35-$2.50 a share, due to weaker-than-anticipated comparable sales in the third quarter.
Two research firms lowered their ratings on the company's stock. Zacks Investment Research downgraded shares of Tailored Brands to a "sell" from a "hold" on Wednesday, while ValueEngine did the same thing a day earlier.