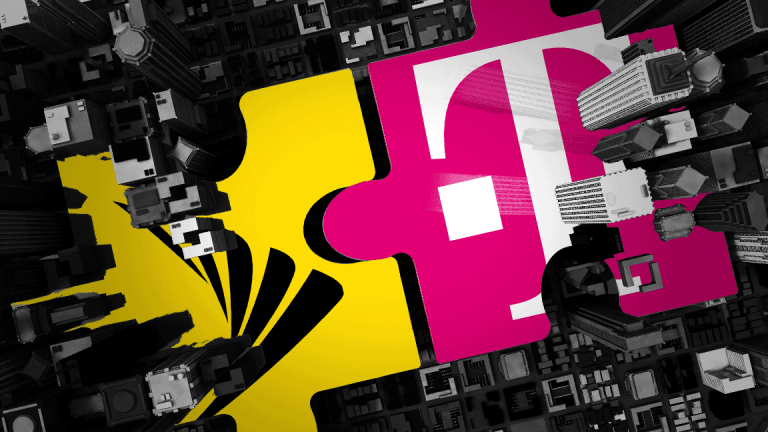 Sprint Slides After Q4 Loss Underscores Need For T-Mobile Merger Approval
Sprint posts a slump in new phone subscribers as the country's fourth-largest carrier prepares to merge with rival T-Mobile US.
Sprint Corp. (S) shares were lower Wednesday following a weaker-than-expected fourth quarter earnings report that included a slump in new phone subscribers to the country's fourth-largest carrier as it prepares to merge with rival T-Mobile US (TMUS) .
Sprint reported a wider-than-expected loss of 53 cents per share for the three months ending in March, its fiscal fourth quarter, and said it lost a net 189,000 phone subscribers at the same time. Operating revenues improved 4.4% to $8.441 billion, the company said, but the average revenue per user narrowed to $43.25, underscoring the group's struggle to compete in a fiercely-competitive U.S. market as a standalone company and the impetus for its $26 billion merger with T-Mobile.
"We are making the best of the limited financial and low-band spectrum resources that we have," CEO Michel Combes told investors on a conference call late Tuesday. "Nevertheless, we're hopeful to complete our merger with T-Mobile, which will allow the combined company to have the breadth and the depth of spectrum to provide a truly consistent national-wide 5G experience."
"As a standalone company, we like to scale to keep pace with the bigger carriers, AT&T and Verizon, in sustained capital investments," he added. "And without additional low-band spectrum, we will face challenges to provide customers with consistency or coverage comparable to that of the two big carriers."
Sprint shares were down 3.1% on Wednesday to $5.61.
Looking into the 2019 year, Sprint said it expects earnings to fall between $400 million to $500 million over the June quarter, as wireless revenues retreat, and trimmed its capex plans to around $2.9 billion even as it launches 5G networks in nine cities around the U.S. and prepares a new line-up of 5G-compliant phones for release over the next few months.
However, CFO Andrew Davies told investors that the company wouldn't provide full-year earnings guidance owing to the late-stage of its merger plans with T-Mobile, with the two sides now see completing at the end of July given the U.S. Justice Department's Antitrust Division's reluctance to approve the combination.
"We remain sidelined on Sprint due to the merger, though believe that Sprint would have difficulty remaining competitive as a standalone company," said Oppenheimer analyst Timothy Horan. "While 5G rollouts should soften churn and help subscriber metrics early on, the path ahead isn't clear."