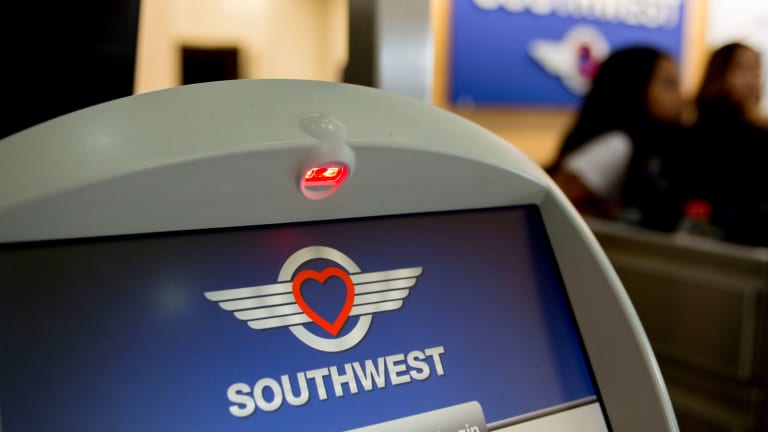 Southwest Posts Record Earnings Despite MAX Hit; Plans to Depart Newark
Southwest Airlines reports record second-quarter earnings as new routes and strong air-passenger traffic offset the ongoing impact of the Boeing MAX groundings. The airline also says it is leaving Newark airport.
Southwest Airlines (LUV) on Thursday reported record second-quarter earnings as new routes and strong air-passenger traffic offset the ongoing impact of the Boeing (BA) Max groundings, which have forced it and other airlines to load passengers onto other types of planes.
The company also said it plans to depart Newark airport before the end of this year.
The Dallas-based company posted net income of $741 million, or $1.37 a share, vs. $733 million, or $1.27 a share, in the comparable year-ago period. Analysts polled by FactSet had been collectively expecting per-share earnings of $1.34. Revenue for the quarter came in at $5.91 billion, slightly below consensus estimates of $5.93 billion.
"Our financial and operational performance was remarkably strong considering the impact of the grounding of the Boeing 737 MAX 8 aircraft, which reduced operating income an estimated $175 million in second quarter, alone," CEO Gary Kelly said in a statement.
As part of its own second-quarter results, Boeing last week said it was taking a $4.9 billion after-tax charge for "potential concessions and other considerations to customers for disruptions related to the 737 MAX grounding."
Kelly noted in the statement that Southwest has had preliminary discussions with Boeing regarding compensation for damages.
Unit revenue increased 6.8%, driven mainly by a passenger revenue yield increase of 4.2%, and a load factor increase of 1.7 points. Unit costs increased 7.5%.
For the third quarter of 2019, Southwest expects RASM to increase 3% to 5% from last year. CASM, excluding fuel, is expected to rise 9% to 11%.
Going forward, Southwest cautioned that the impact of the MAX groundings will continue to put a strain on costs. 
"The MAX groundings, and the resulting available seat mile (ASM, or capacity) decline, put significant pressure on second quarter 2019 unit costs," the airline said. "We expect unit cost penalties for second half 2019 due to the MAX groundings, as well."
Southwest also said it will "cease operations" at Newark Liberty International Airport and consolidate its presence in New York at LaGuardia Airport, effective Nov. 3.
"The financial results at Newark have been below expectations, despite the efforts of our excellent Team at Newark," Kelly said. 
Shares of Southwest were up 0.79% at $55.15 in late morning trading after being down nearly 4%.