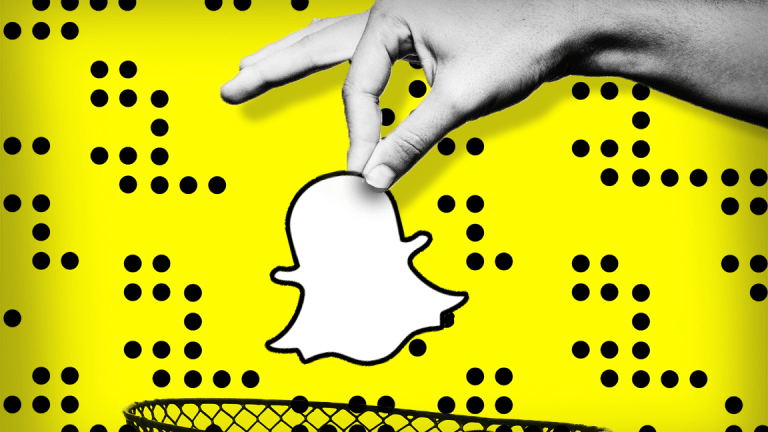 Why Snap May Not Recover From a Brutal First Quarter
Snap's stock crashed after the company said the widely criticized redesign would have a 'substantial' impact on growth, dropping more than 16% during pre-market trading Wednesday.
After Snap Inc. (SNAP) - Get Snap, Inc. Class A Report warned investors of Snapchat's redesign slowing second quarter advertising revenue Tuesday, experts say the company has a tough road ahead to winning over users and becoming profitable.
The company reported adjusted loss per share of 17 cents a share for first quarter, in line with analysts estimates, and group sales of $230.7 million, missed analysts' estimates of $244.5 million. Daily active users on the social media platform rose by 15% to 191 million, below analysts' expectations.
GBH Insights analyst Daniel Ives called the company's first quarter "a major setback, proving that this 'one trick pony' cannot expand its tentacles and increase engagement [and] ad growth potential into 2018."
"While this app redesign is the right move in our opinion, there has been clear backlash to this strategy based on petitions and other wide ranging negative commentary...among SNAP's core user base over the last few months," Ives wrote in a research note, referencing distaste for the new look among millennial influencers like celebrity Kylie Jenner.
Wedbush analyst Michael Pachter said that while there is a "runway for growth," there is not a clear path for Snap to become profitable asSnap's economic losses are likely to exceed $1 billion in 2018.
To make matters worse, Pachter said that Snap's management did not adequately acknowledge investors' concerns on the conference call on Tuesday.
"They can't fix their problems until they acknowledge that they have problems," Pachter said. He maintained the firm's neutral rating and lowered price target from $12.50 to $10.
Snap stock was down 17.3% at $11.69 during morning trading Wednesday. In the past five days the stock has dropped 23.1%, and has declined 23.5% since the beginning of the year.
Jefferies analyst Brent Thill wrote that despite the trouble that lies ahead for the company, Snap still gives advertisers new tools and the ability to access millennials, who are "difficult to reach."
GBH Insights' Ives lowered price target from $24 to $14 while Jefferies' Thill said that the firm maintains its hold rating on the stock and lowered its price target down from $17 to $14.
Snap's executives also told investors that they expect the company's growth rate to "decelerate substantially" in the second quarter.
"Our redesign created some headwinds in our revenue this quarter by disrupting user behavior and creating some apprehension among our advertising partners," said Evan Spiegel, Snap's co-founder and CEO.