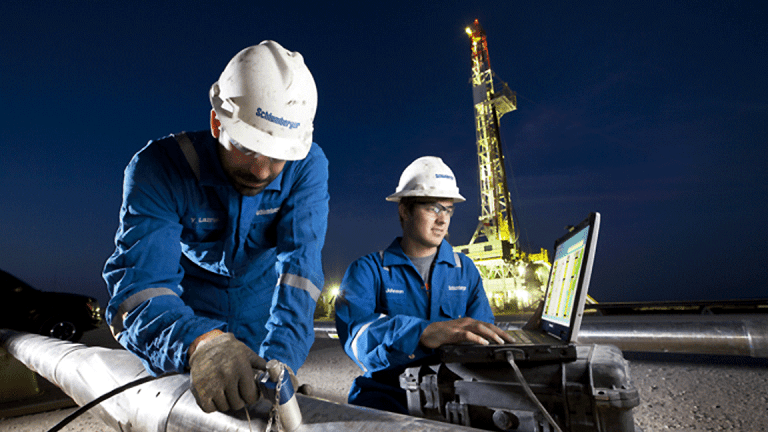 Schlumberger Gains as International Outlook Offsets In-Line Results
The company is looking favorably upon international markets in the coming months as the turnaround of the drilling industry starts to take hold.
Schlumberger Ltd. (SLB) - Get Schlumberger N.V. Report  shares gained after the world's largest oilfield services provider reported second quarter earnings that were in-line with analysts' expectations Friday, July 20, and delivered a positive outlook for its prospects in the international drilling arena. 
Houston-based Schlumberger said it earned 43 cents a share in the second quarter, excluding one-time charges, on $8.3 billion in revenue. Analysts surveyed by FactSet expected 42 cents a share in earnings on $8.36 billion in sales. 
Schlumberger's stock rose more than 2% shortly after the opening bell Friday to trade at $68.24 a share.
The key takeaways from the company's press release, according to Evercore Partners Inc. analyst James West, are that North American revenue advanced 12%; international revenue grew 6% — despite flat sequential revenue in Russia — largely thanks to an 18% increase in Asia and Australia, a 9% improvement in Africa and Europe and a 3% bump in Latin America; pricing improved during the second quarter as a number of large projects absorbed spare capacity; full utilization internationally is anticipated in the fourth quarter; and supply-demand fundamentals are evolving favorably in global oil markets.
Tudor, Pickering, Holt & Co. analysts agreed, writing in a note to clients Friday that the market wasn't expecting fireworks from Schlumberger given the company updated guidance a month ago to telegraph lower than previously expected numbers. 
"Rather, we're encouraged that global OFS bellwether SLB is seeing emergence of broader-based international recovery and some pricing green shoots, albeit not outsized ones at this nascent stage of the international upswing," the firm wrote. 
TPH also noted that top-line growth was skewed toward North America, but the firm fully expects international to make up much of the company's growth in 2019 and beyond. 
"Although the last four years have been marked by the deepest downturn in generations, we have capitalized on a number of market opportunities while simultaneously transforming our company to be even more competitive in the broad-based recovery that is now emerging,' CEO Paal Kibsgaard said in Friday's release. "The expansion of our portfolio has significantly increased our total addressable market by 50% and we have reached new levels of efficiency in all our activities. We are primed and ready to capture the growth opportunities coming from the positive market fundamentals, and we are excited by the activity and pricing opportunities that the new industry landscape presents."